Using an analytics platform can initially be intimidating for those new to using technology like this. Or those accustomed to traditional means of processing and analyzing data. A variety of platforms exist, each with its own unique features and advantages.
Choosing which platform to use, or to even use one in the first place, may seem overwhelming since there are so many options available. Not to mention, it can be difficult for someone new to this technology to understand what features to look out for.
Throughout this guide, we will help you make sense of the process by walking through exactly how to choose an Analytics platform that is right for your needs. We'll cover some essential background information about these tools as well as tips on how to get started using them successfully!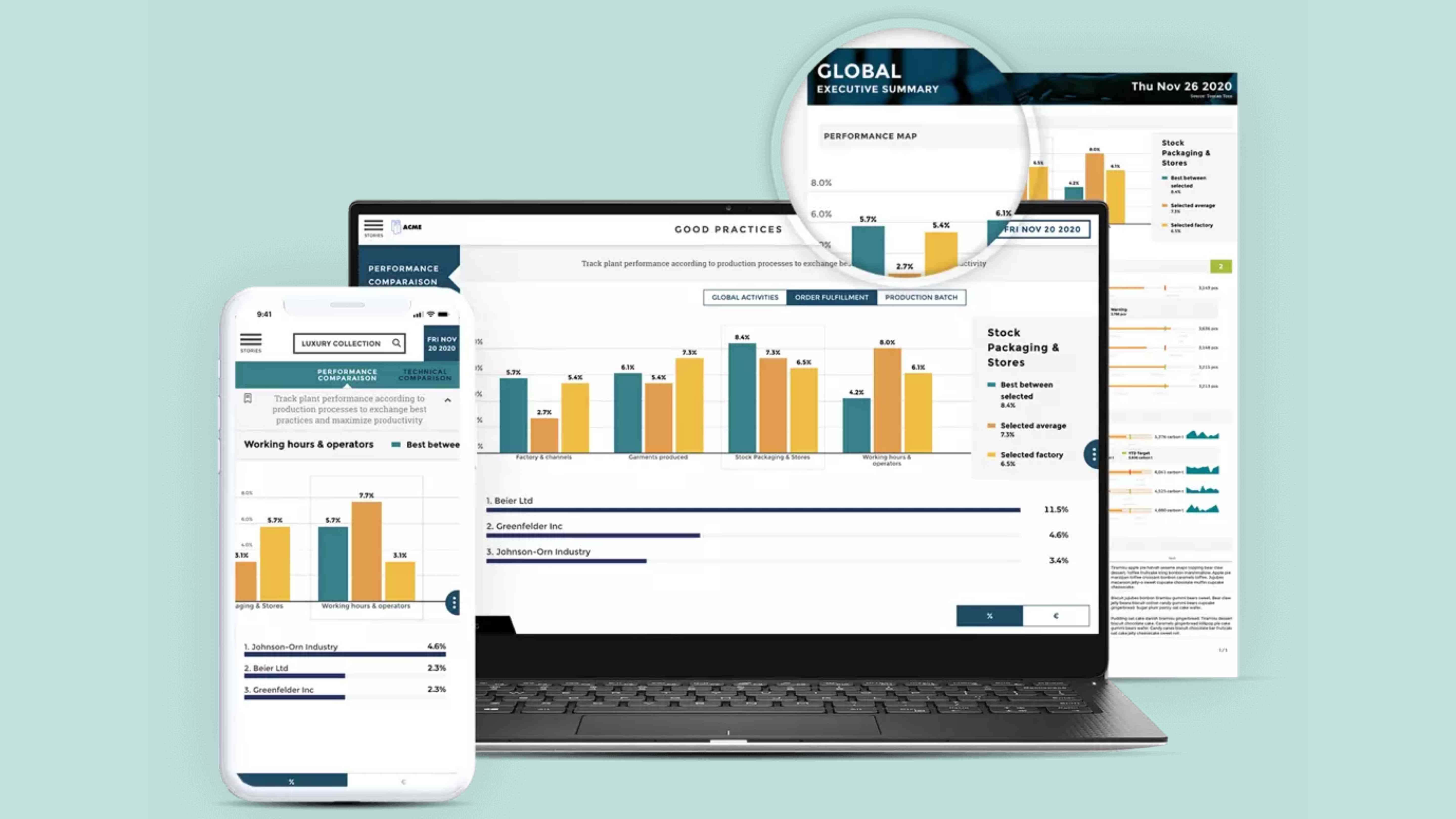 First Things First: What is an Analytics Platform Used For?
If you find yourself wondering, 'what is an analytics platform?' then you may not know that these are online tools designed to help your business. They provide business departments and data science teams with a streamlined means of processing and analyzing large data sets. This is done through the use of intuitive and quick visualization tools.
What Benefits Will Businesses Typically Receive
The potential benefits for your business are not something that you should take lightly. For this reason, the average adoption rate of analytics platforms is anywhere between 85–90%! Here are some of the most noteworthy perks that businesses typically report:
21% increase in revenue from data
7% increase in-store productivity
215 % ROI
2x as many strategic projects
20 days saved a year for executives
10 minutes to create your first data story
14% increase in conversion of prospects to customers
With figures such as these, it is no wonder that analytics platforms are becoming more and more popular within the business community. As we can see, most businesses will make better use of their data using an analytics platform and use this information to increase their overall efficiency and revenue.
How to Use an Analytics Platform for the First Time
Once you get started using an analytics platform for the first time, you will quickly see why analytics platforms are easy to install & use. Let's go ahead and walk through the steps of how to connect your first data source.
1. Consider Many Platforms
To get started, you should spend plenty of time researching and considering the various available platforms to find one that is right for your needs. There's a lot of information out there, and it can be easy to get overwhelmed by all of the options.
Not only will this take some time, but you'll also want to determine whether or not any prerequisites exist, such as having certain types of data or having specific needs in terms of what you are looking to accomplish.
With that said, it will be beneficial for you to consider the following factors when evaluating platforms:
What types of data sources do they support?
What is your budget range?
How much time & effort will this take up on your part?
Do you need to invest in training?
How will this impact your workflow and daily routine?
Take a look at tutorials for each platform, if possible, to get a better idea of how to use it. Also, be sure to check out the support resources that come with each platform for help and guidance along your journey!
2. Connecting Your Data
The trickiest part of getting started for many businesses is figuring out the best way to connect their data. You'll want to make sure that you have a good strategy in place for this part of the process, as it doesn't always go smoothly and may take some trial-and-error before getting things working correctly.
As discussed further below, some platforms offer data connectors, which allow you to connect with a wide range of data sources. In contrast, others might require you to prepare and upload specific files manually.
3. Making Charts & Graphs
Once your data is connected to the platform, you will be ready to start using the platform to make graphs and charts.
Depending on your platform, there will be a variety of different charts and graphs to choose from. During your background research, it's essential to know what kind of charts and graphs you want to create so that you can find the platform that best suits your needs.
In general, though, the process of making charts and graphs is similar across platforms: choose which data set(s) you want to use for your chart/graph and then follow any additional on-screen instructions.
Besides Making Graphs, What's the Point of Using an Analytics Platform
As we make clear, there are a wide range of benefits to using an analytics platform. But what is an analytics platform used for, outside of creating graphs, you might wonder? Let's go ahead and explore some of the main reasons that businesses and data scientists will use an analytics platform:
Efficiently Prep and Clean Data
While it's not impossible to clean data on your own, using a platform can make this process much less time-consuming. You'll be able to upload files that are ready for analysis without spending hours preparing them yourself. As a result, those who handle data will spend more time on the parts of their job that they enjoy.
Make Data-Based Decisions
As somebody in charge of your company, you need to know how to make sound data-based decisions.
While it's certainly possible to use your own knowledge and intuition to do this, you will be much better off if you have access to an analytics platform that can provide real-time information when needed.
With the right kind of insights & recommendations at hand, your business is much more likely to stay afloat during times of growth and change.
Save Money & Time While Staying On Top of Data
One of the most immediate reasons you should use an analytics platform is that it allows you to save money and time. As mentioned, executives typically receive 20 more days a year, and businesses usually generate a 215% ROI when they switch to an analytics platform.
Not to mention, they allow you to stay on top of your data better than ever before, which is crucial for staying competitive in today's market.
Things to Look For When Choosing an Analytics Platform
If you are still searching around different platforms, you might still be a little unsure how to choose the best analytics platform. Let's continue by covering some of the things you should look for before making your decision.
Number of Data Connectors
As we have discussed, various data sources can be used with an analytics platform. You will want to find out how many and which ones they support before choosing one for yourself. If it doesn't work well with specific data sources that you use, it might be a bad fit for your company.
Data connector is the term used to refer to the different data sources that an analytics platform has built-in support for. In addition to offering plenty of data connectors, the platform should constantly update them to ensure quick & smooth updates of your data.
Aesthetic Quality of Graphs & Customization Options
More than likely, you are in this for the graphs. After all, that is what you're going to use to communicate your findings with the rest of your team. The best analytics platform will offer a variety of graph styles and customization options so that you can create graphs/charts from scratch when needed.
Check for the total number of graphs, the type of graphs they offer, and what customization features are included.
Features that Align with Business Needs
Each business has different needs that your analytics platform should be able to keep up. As a result, you must look at the features of each platform and see how they align with your company's business needs.
Some things worth looking into are data connectors, customization options, ease of use, adoption tools (FAQs, tutorials, customer support). At the end of the day, the features that your company needs will vary depending on your industry. Some businesses might value the ability to embed graphs on their website, as an example. In any case, it's worth looking into what the standard features are for each platform to see if they would be helpful for you.
Simplify the Process of Analyzing Data
As we hope to clarify, there are many talking points when we discuss how an analytics platform can assist with data analysis. Let's look at how you can simplify the process of analyzing data using an analytics platform.
Create Custom Charts to Tell a Story for Your Data
Without charts and graphs that illustrate your datasets, you simply will not have the effective ability to communicate what your data is saying. Diagrams make it easier to turn your data into a story so that you can display what is happening quickly with your team and clients.
As we have mentioned, there are many different types of graphs/charts to choose from when creating custom charts, so you need to find out which one works best for the data you're analyzing. Most platforms will offer various options, so be sure to check if a particular graph you need is provided.
Become More Efficient as a Company
We want to make clear that charts and graphs will help you notice trends right away and become better at addressing problems head-on. As a result, it will make your company more efficient.
Not to mention, analyzing data becomes a lot easier when you have an analytics platform at your fingertips 24/365. You don't need to worry about pulling up spreadsheets and getting the rest of the team together because everything is in one place for easy access at any time that you need it.
Monitor Workflow Faster than Ever
If you make full use of your data using an analytics platform, one of the benefits you will immediately receive is the ability to monitor workflow faster than ever.
Pick out the metrics that you want to use for monitoring workflow, and keep the data updated. This way, you can see exactly what is happening with your data and address problems before they become too serious.
Process Your Data Faster than Ever with an Analytics Platform
In addition to having all the tools in your arsenal for analyzing data, the time involved in the processing and uploading of your data is a serious concern for those otherwise on the fence between using an analytics platform or not.
This is where tools like automated data upload come into play and the ability to analyze multiple datasets at once. This way, you can spend less time worrying about uploading/processing and more time exploring it for valuable insights. If you want to learn more about why an analytics platform will simplify data processing, read on.
Upload Times are Often Instant
Unless you manually upload a large CSV file, data connectors usually take only a few seconds to connect your data to the platform. As we have discussed, one of the most important aspects is making sure that you are uploading accurate and thorough datasets.
As a result, you should be extra diligent when selecting what source(s) you want to use for uploading. Please do your best to compile all of the necessary data from each source into one place, and upload it all at once. That way, you'll be able to avoid uploading incorrect information or any missing pieces of the puzzle that can lead your processing astray.
Graph Suggestions Help You Get Started on Analyzing Your Data
Once you upload your data, you will often find automatic suggestions for how to begin your analysis. This can be very helpful for those immediately unsure how to best process their data into charts and graphs.
For example, you might have a graph suggestion that suggests the best way to visualize your time-series data to be easy to read and understand. This can save some of the headaches otherwise spent trying to figure out precisely what type of graphs/charts would help analyze your dataset.
We Have Tons of Information For You to Check Out
Here at Toucan Toco, we believe in the success and efficiency of your business. We also understand that the investment to use an analytics platform might be a little scary, so we are here to help you out.
Suppose you want to learn more about analytics platforms. In that case, our site offers a complete library of information that you can reference while comparing different platforms, deciding which one to use, what features to look out for, how to use the platform, and much more. Check out our blog! We have tons of helpful information to get you started on the right foot with your business data.