Billions of secure predictions every week, 3500+ third-party data sets, 2x to 7x better price performance on high-concurrency and low latency real-world analytics. These are the promises that Amazon Redshift offers its users as one of the most popular and capable data warehouses in the world. The platform's simplicity, usability for the non-technical user, and blistering performance is heralded by thousands of users around the globe. Companies are beginning to notice, making the shift to the tech giant's data storage solution.
What does that mean for non-AWS reporting and BI tools? Added AWS connectors that can seamlessly access a user's Redshift data. Many existing solutions are partnering with AWS Redshift to seamlessly integrate their data with a user's existing data stack. Because no BI/reporting tool is the right fit for everyone, we're here to compare and contrast the best AWS Redshift data solution for you.
We'll be using the 3 most important criteria to judge these tools:
0-code environment (no code required)
Built for non-technical users
Easy to use on the backend (No stability issues or glitches)


Based on these three categories, here's how the best Redshift BI and reporting tools stack up: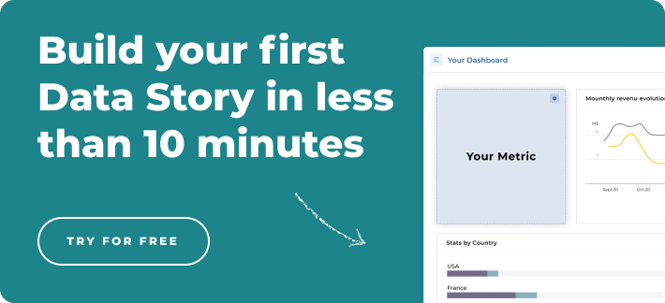 01.

Toucan Toco
0-code environment
✅
Built for non-technical users
✅
Easy to use backend
✅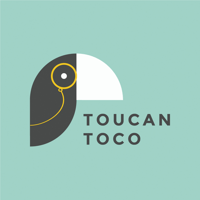 Toucan is a top embedded analytics provider, finding favor from users due to its simplicity and best-in-class visualizations. The cloud-based platform's ease of use is its top differentiator, making data accessible for every professional looking for rapid and lucid insights. Toucan is a 0-code platform, making it extremely easy for non-technical users to gain insights from data. Although data storytelling and simplicity are Toucan's bread and butter, the ease of application building and excellent customer onboarding is also renowned.
In March 2022, Toucan extended its already existing partnership with Redshift as a third-party connector. Enterprises running on Amazon Redshift can quickly tap into the Toucan platform to design and share powerful dashboards without a need for technical database skills. This means that non-experts can now harness their Redshift data and pair it with the benefits of Toucan's embedded analytics. What are the results of that pairing?
Added value across the pipeline

Data intelligence seamlessly translating into business productivity

Less burden on IT DevOps resources
These benefits to Toucan's partnership with Redshift ensure a smooth embedded analytics experience for any use case.
02.

Tableau
0-code environment
🚫
Built for non-technical users
🚫
Easy to use backend
✅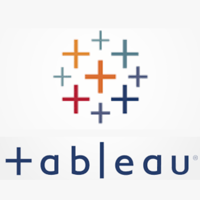 Tableau is a data visualization solution that has gained popularity as a top choice by consumers. Although the platform does not require its users to learn a proprietary coding language and advertises drag and drop building for its visualizations, it is not a code-free platform. Though not the most challenging solution to use on this list, it is also not as easy as Toucan. Depending on your use case, building advanced models and visualizations in Tableau requires knowledge of Python and R, making it a specialist tool in demanding situations. Two other downsides of Tableau are a lack of customer service and its high pricing.
Tableau's Redshift capabilities are smooth and efficient according to G2 customer reviews, and the firm provides a manual on the best way to optimize the connection between the two tools. Like Toucan, Tableau partners with Redshift's Amazon cloud infrastructure, meaning users can access their AWS applications inside Tableau's interface.
03.

Power BI
0-code environment
🚫
Built for non-technical users
🚫
Easy to use backend
🚫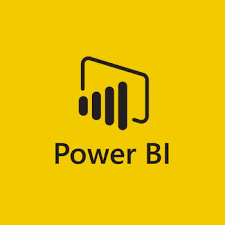 As a popular BI solution, Power BI is Microsoft's most advanced BI offering. Unfortunately, the platform has been plagued by some pretty serious problems. Users are reporting the following issues:
Steep learning curve
Difficulties with importing large and complex data sets
A limited number of visuals
Glitches when exporting visuals
Slow database extraction times
Even with its advertised Redshift capabilities, the firm's questionable customer service, steep learning curve, and unreliable performance make Power BI impossible to recommend for a customer expecting a reliable Redshift solution.
04.

Sisense
0-code environment
🚫
Built for non-technical users
🚫
Easy to use backend
🚫
Another popular firm that offers embedded analytics and BI offerings, Sisense, also partnered with AWS to bring their customers the option of Redshift integration. Although the firm has many reputable companies in its portfolio of customers, the average consumer reports issues with some promises Sisense is making. Here are some examples, according to G2 reviewers:
"Without proper monitoring and siloing, it is easy to experience a lot of down/lag time. Periscope also requires SQL knowledge."

"The SQL learning curve is steep, very steep."

"It has fewer functionalities compared to other popular tools like Tableau, Power BI etc. Also, it is less intuitive compared to others. There is an add-on hassle of building cubes first and then presenting to a chart structure. It becomes difficult for the developer to understand the logic of cube building and then modeling it. Straight-forward implementation of charts is not present."
Unfortunately, based on these reviews, we cannot recommend Sisense since it does not satisfy the three most important categories for a high-performing Redshift analytics tool. Its heavy SQL integration, difficult backend data manipulation, and data team requirement clearly push the firm down the pecking order when it comes to Redshift-supported data tools.
05.

Looker
0-code environment
🚫
Built for non-technical users
🚫
Easy to use backend
🚫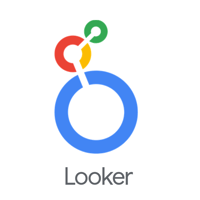 Looker, though a subsidiary of Google, may be the most challenging BI tool to use on this list. PowerBI, Tableau, and Sisense all have steep learning curves, but Looker takes the learning curve to the highest level. To put it simply: you will need a Looker specialist on your data team to benefit from its capabilities. Using Looker requires the knowledge of LookML, Google's unique scripting language. To be fair to Google, LookML is the easiest proprietary scripting language to use. Looker is strictly an enterprise tool, with the company envisioning the tool being operated by a qualified team of data professionals to extract its full potential. This level of technical expertise is reflected throughout the product throughout all stages of the product.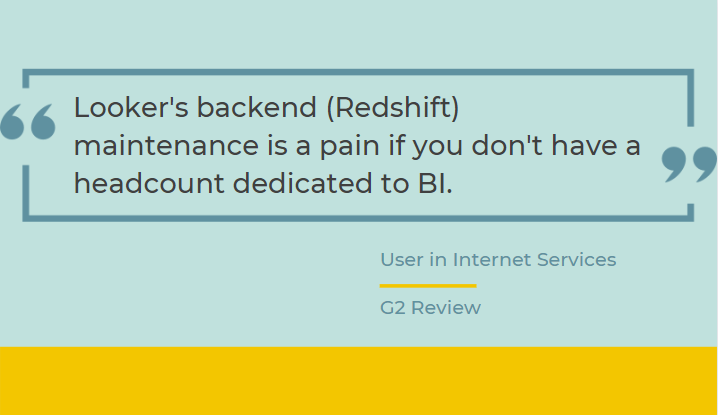 While the tool does not satisfy the three criteria for an exemplary Redshift tool, it has the potential to be a very useful tool. For firms with multimillion-dollar data budgets, the platform can perform well as long as you have a team of specialists manning the helm.
The Ultimate Redshift Data Tool
I know that at this point in the article, you'll say that we judged ourselves favorably compared to the other solutions we selected. The truth is that many of the most popular Redshift data solutions are outdated, difficult to use, and expensive. While we believe that Toucan's offering is the best bang for your buck, we also understand that businesses have different needs that can be met by other tools.
When it comes to AWS Redshift, integration must be seamless and the backend operations of a platform play an integral role in the connection's efficiency. Each solution can offer that to varying levels, and as always, we encourage you to ask around and do your research!