No matter where you look, embedded analytics is now part of nearly every SaaS solution out there. With data as the new oil, embedded analytics in SaaS is a critical pipeline that converts raw information into a customer-readable format. That's why software providers are eager to make business intelligence (BI) part of their value proposition.
For CRM, this could mean insights into which channel is bringing in the most sales. For supply chain management software, embedded BI can tell manufacturers how their shipments are moving across the distribution network. Embedded analytics can reveal key people insights to improve productivity and reduce HR costs.
The potential of embedded analytics in SaaS is endless. So, how do you go about integrating analytics capabilities into your software application? There are two ways to go about this — you can either BUILD or BUY.
Understanding What the BUILD vs. BUY Question Means for Your Company
Right off the bat, it's vital to understand why you need embedded analytics on your platform. We spoke to Kate Hrebeniuk — Kate is a Senior BI developer at Building Engines, a company that delivers specialized solutions for commercial real estate. She said that in today's customer-centric world, embedded analytics is a way to empower and inform.
"If you create a software product that allows users to create data, you must give your users access to this data. For example, Apple's operating system breaks down phone usage into areas like productivity, creativity, entertainment, etc. Users can look at the data they have themselves generated and arrive at valuable insights," says Kate.
The same principle applies to enterprise solutions, as well. Whether you're catering to end-customers like Apple or creating a B2B product like HR, CRM, or supply chain tools, embedded analytics can set your software apart from competitors. Lilia Stoyanov, CEO at Transformify, agrees: "Customers always want to keep an eye on analytics. You can use embedded BI to drive users in the right direction — SaaS, today, is really about informed decision making."
Now comes the all-important question of BUILDing vs. BUYing embedded analytics capabilities. There are pros and cons to both sides, and the best-embedded analytics solution will depend on your project requirements and priorities.
Varying Project Methodologies and What Works Best
Needless to say, BUY will help shrink project timelines as you enjoy an out-of-the-box solution. At Building Engines, Kate works closely with clients to assess their unique requirements and goals. Once this is assessed, Kate arrives at a problem statement which forms the basis for internal discussions on embedded analytics in that specific SaaS product. The internal discussions helped to create sophisticated visualizations that are rapidly embedded on the customer's platform.
For companies that choose to BUY embedded analytics instead of BUILD, Kate had a valuable piece of advice: "You must have an agile process in place. Going agile will ensure that product owners receive regular feedback from the customer and iterate to deliver the best embedded analytics solution possible."
BUILDing embedded analytics from the ground up also has its advantages. Intense customization and organization-specific security protocols are the two benefits you can expect if you're on this side of the BUILD vs BUY debate in embedded analytics. Lilia leans towards this methodology, motivated by different needs from every client and the needs for Transformify to adjust specifically.
Her Client Success team reaches out and talks to her customer base. As she describes: 'We begin by asking 'Are you missing anything right now?' We avoid technical questions and focus squarely on the value generated by our SaaS solution. Embedded analytics might be the right fit, in which case we commence technical decisions and start BUILDING." In that case, the BUILDING approach ensures specific customization to every client need.
Still Unsure? Here's How These Analytics Experts Chose Between BUILD vs. BUY
Kate is all for ready-to-deploy embedded analytics in SaaS. It brings three undeniable benefits:
The development and delivery process is far simpler, requiring lesser coding efforts.
It can prove cost-effective in the long run. But, remember to assess the cost of investing in a third-party provider against profits generated from the embedded analytics functionality on your SaaS platform recommends Kate.
Time-to-market is accelerated, as knowledge of development languages isn't a pre-requisite.
"So you have the data. Now, your primary concern should be to help your customers — attention should be on delivering the best-embedded analytics solutions and solving customer problems, rather than BUILDING it on your own from scratch," she adds.
Interestingly, Kate and Lilia are on the same page when it comes to customer-centricity. Lilia believes that once your embedded analytics-led SaaS platform gains traction, users could be asking for custom features that are hard to deliver with a third-party vendor. Apart from this, she lists two reasons for choosing to BUILD instead of BUY.
Building embedded analytics gives you intellectual proprietorship over the innovation. You can reuse and configure it as you like, without any IP infringement worries.
The cost of integration can be lower in some cases. "We were integrating Tableau, but it was so expensive to customize, that at the end the result was slower than BUILDING and out-of-sync with client requirements," comments Lilia.
The Bottom Line: The Best Embedded Analytics Depends on a Careful Capability Analysis
If you don't know the answer to the BUILD vs. BUY debate in embedded analytics yet, it's time, as they say, to look inwards.
The issue of build vs. buy: how to choose the right embedded analytics strategy is a game-changer for software providers today. Here's a quick checklist drawn from our years of experience and exclusive insights from Kate and Lilia to help you decide.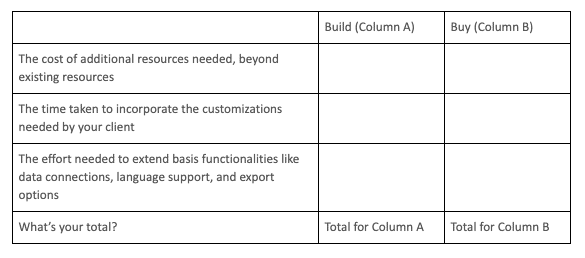 Conduct a thorough evaluation of both BUILD and BUY possibilities in your embedded analytics project and fill up the empty fields. If the value in one column significantly exceeds the other, it's a pretty clear sign as to the choice you should explore.
Remember, rapid time-to-market, a reduced total cost of ownership and industry-standard security are among the key benefits driving companies like Building Engines to BUY embedded BI capabilities. And with the right provider, you can achieve an exceptional degree of customization at par with end-client needs. To know more, discover our work here.