Domo is a modern BI platform that promises to cater to the analytics needs of companies big and small. As they branch out into embed analytics, they have made big promises that include "digitally connecting all your people, your data and your systems, empowering them to collaborate better" and more.
Wow. That sounds amazing! But how do these promises stack up to the reality of the product? Why does their pricing seem lower than other solutions with similar capabilities? How do they make claims that seem to be so far beyond the rest of the market that they are nearly magical in their promises? In this article, we dissect it all and get into the nitty-gritty reality of Domo — all based on actual reviews from actual Domo users.
To start off, let's review the Domo platform. Domo's "modern" BI platform consists of 7 major elements. Claimed to be "revolutionary, a giant leap in the analytics and tech space," when you look a bit closer you will find that the 7 stages are quite commonplace in nearly every other leading analytics solution in the industry. Here's what they offer: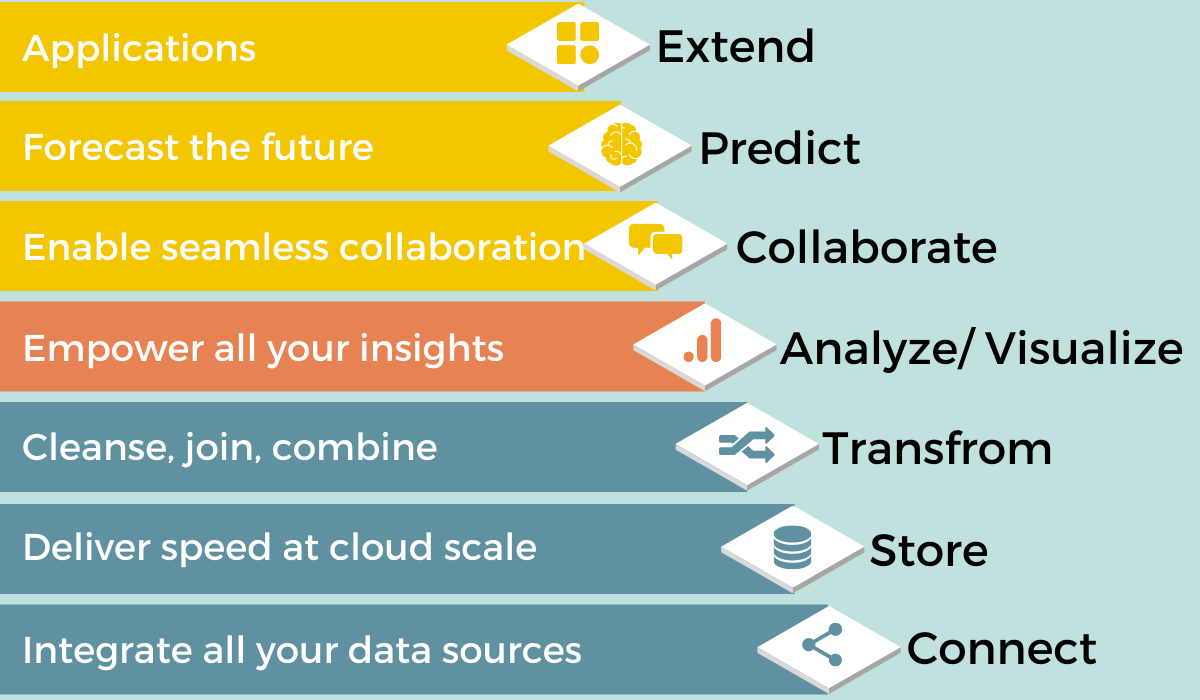 Given that this is a pretty well-used framework, How does Domo manage to implement it in such a way to leapfrog other solutions? Good question.
We did a deep dive into every stage and feature of Domo to figure out what was going on. It starts with a bit of slight of hand…
Domo trials are not intended for potential buyers to see a simulation of how their data would look in a real, production environment. Rather, it is just an opportunity to sell without considering the logistical challenges. This is best represented by the experience of this G2 reviewer from last year.
"Sales function is really misleading, I had technical problems during the trial and they asked to call to help, which was great. However, the person who called was an ADM who couldn't provide technical support at all and wanted to close a 10k deal on the first call so he could ask a technical person to help."
If even your trial environment is put behind a paywall and seen as a money-making opportunity, we can't imagine how many more promises are heavily reliant on your monetary capabilities. But that is just the tip of the iceberg. Let us go through each stage and address the major issues users in the past have had.
Stage 1:

Clunky data integration and storing
Domo's tagline is, "connect data no matter the size volume or source". What they forgot to mention is that this comes at a steep price to customers. Domo struggles in the way it organizes its data. The dataflows and datasets have very limited change control or merge options. This means that if you have multiple developers working on a Domo project — a very common occurrence in all but the smallest organizations — you're setting yourself up for conflicts and overwriting. Ouch! This is what a reviewer from G2 had to say,
"... advertised that it "easily" integrates with any system, including proprietary systems (which it definitely does not ... you need a robust Data Analyst / Dev. team to really take advantage of this)"
We know there is a better way of doing this because at Toucan we do it better. Toucan has AnyConnect, which can connect to any data source with just a few clicks, manipulating data just as you have it stored. This way there are no issues with data flow, clunky storage or inflated storage fees. Just easy, effective and efficient data connections.
Stage 2:

Slow data filtering and reports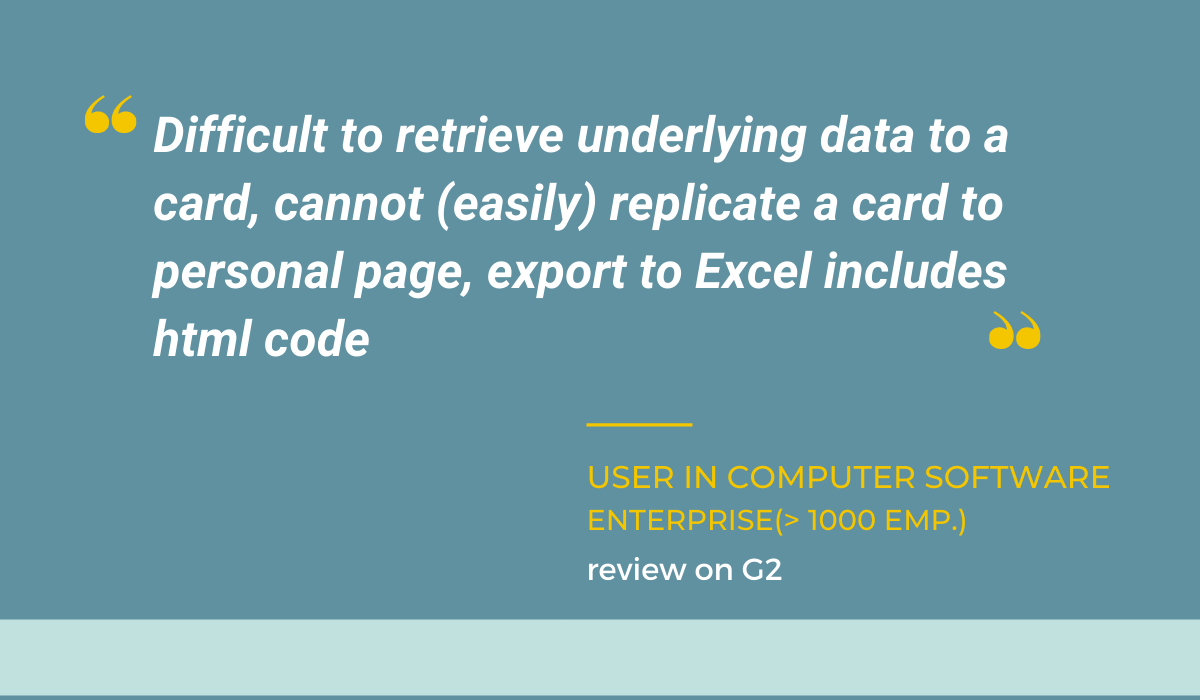 Let us assume for now that Domo was able to import all your data without a glitch. The next issue arises with slow data filtering. This is especially true for large groups of data. And the filtering may not be fully accurate as Domo does not aggregate analytics around content. Thus the same piece of content can show up as separate line items while filtering data on Domo.
The tough-to-navigate UX doesn't just affect data filtering and manipulation. It extends to creating graphs, navigation and usability. Users have found inconsistent breadcrumbs that break the flow of data. Non-technical users especially have struggled to grasp and navigate a platform that seems extremely unintuitive and made complex, increasing dependency on their support team, without regard to end users.
The process of data filtering and manipulation can be made extremely easy and intuitive. Just look at Youprep by Toucan. It's designed to ensure that users of all technical levels can use, filter and manipulate data without needing assistance. With context everywhere, Toucan is one of the most intuitive platforms on the market. You can build your first data story in less than 10 minutes. Don't believe it, try it for yourself.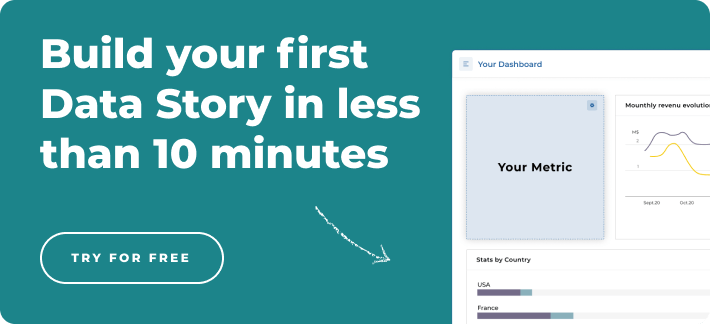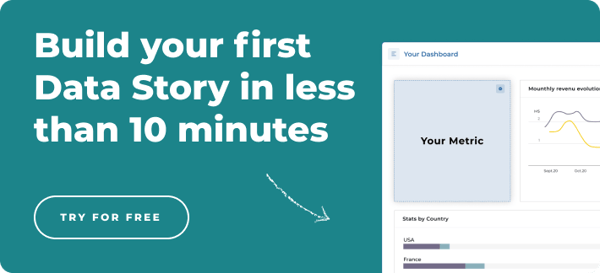 Stage 3:

Limited personalization
This is one of those "what I ordered vs what I got" moments. Since Domo is newly expanding into embedded analytics they have begun to experiment with customization capabilities. And their users are the testers. In this particular aspect, they don't just lag behind Toucan, but also PowerBI, Tableau, and Qlik.
According to G2 reviews from real Domo users, the lack of personalization isn't restricted to analytics design. Here is what one user has to say,
"Creating advanced analytics and calculations can be confusing and has a steep learning curve."
If you do not have a dedicated team of analytics experts who are ready to invest time and effort into learning the ins and outs of Domo in order for you to create a usable analytics platform, then you are better off with a more user-friendly option. Like Toucan. Our software doesn't need experts or effort to customize and use. It is built around the concept of guided analytics making it as easy to use as slack and as customizable as your wardrobe.
Stage 4:

Self-service that requires experts
No, that's not a typo. That's the reality as reported by frustrated Domo users. Self-service is supposed to mean that users get actionable insights from their analytics without needing external help.
Domo had a different definition when they promised self-service to users, Domo seems to mean that they have 150 pre-made charts that users can adjust and tweak. Ok, but what if you need more detailed analytics? What if your business isn't encompassed in those 150 charts offered by Domo? Buckle up for a steep learning curve that is going to be both aggravating and annoying to the point that you will probably consider hiring a Domo expert to do the work for you. This is because most of Domo's learning resources are virtual courses. If you want more hands-on help, you can upgrade to their "Diamond" bundle to get a maximum of 6 days where someone from Domo will help you learn the application. Sounds pricy.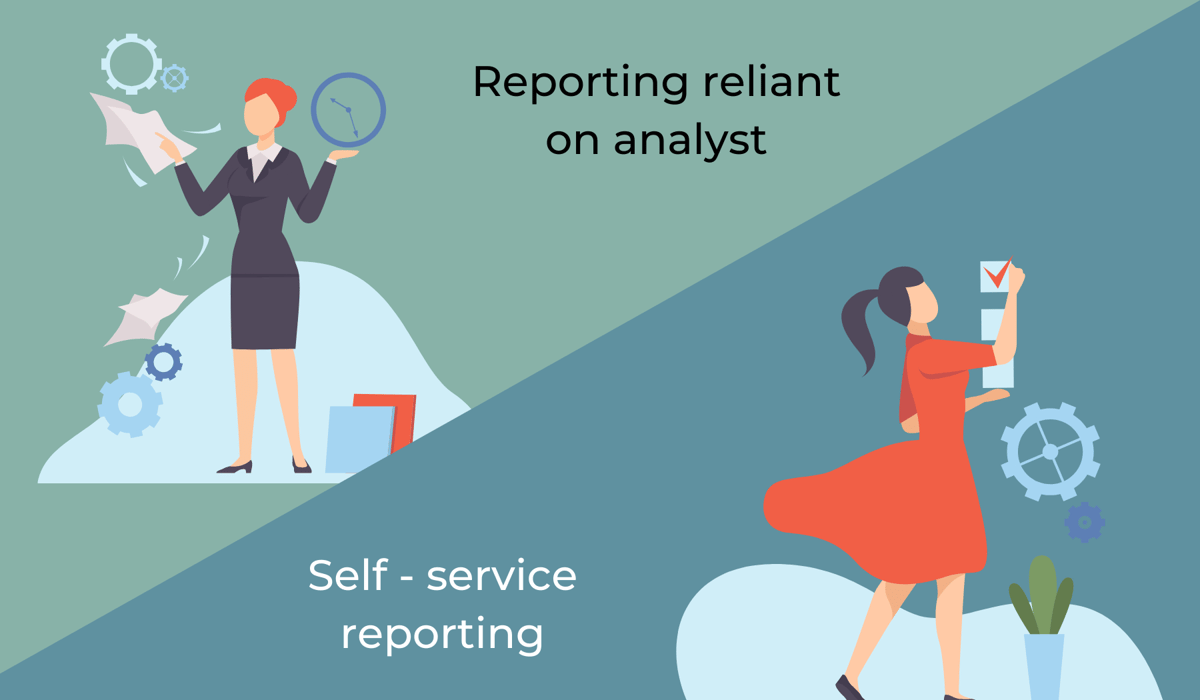 This is exactly what Toucan is fighting against. Data shouldn't be the sole domain of the enlightened few — the data elite. Toucan's mission is to democratize data so every user within an organization can manipulate, play with and understand analytics. We want managers and decision-makers to have their own access to insights to promote the flourishing of ideas, get more minds working and in the end help your company reach new heights.
Stage 5:

Weak automated external reporting
With Domo, there is no "ad-hoc" reporting. There is no way to access the data sets either for end-users either. So what if you discover the need for a specific type of report that could help you secure your next round of funding tomorrow? Well with Domo, you will just have to do without that report. Or hire experts to build a new report.
During the initial sales process, Domo will convince you that no ad hoc reporting is a good thing. This hand-waving, "don't look behind the curtain" routine might be because they want to present a lower price for the solution and compete with more full-featured analytics solutions on price alone. Once you have signed your contract, they will reveal that ad-hoc reporting is indeed available but at a higher price point. So don't count on any ad how, on-the-fly reports — they're reserved only for their highest-paying accounts and not available to small and mid-sized companies who need it the most.
At Toucan you can have more than ad-hoc reports, with effective ways to communicate them to all users. If headers and descriptions aren't enough. You can add insights, tips, HKPIs and glossary terms for the report. The report can be easily shared as a PDF via email or slack with annotations that you would like to make. And all the features are available to every user of Toucan since we don't believe in paywalls or hidden fees during a sale.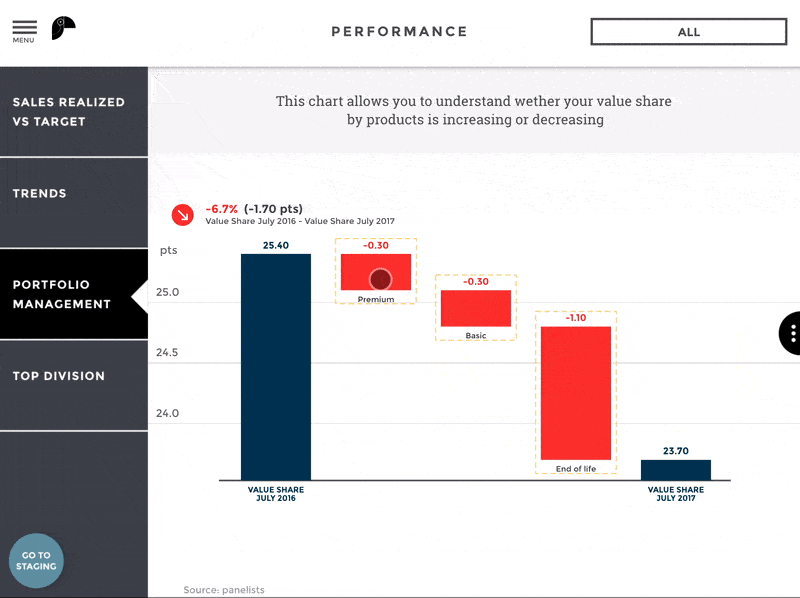 Domo's security is an all-or-nothing kind of deal. Firstly, there are only 4-5 roles to choose from, and even when you have chosen the roles, they either have a read-only or update all permission. There is no middle ground to be found. It makes managing data sets from a security and provisioning aspect cumbersome. Domo is seriously lacking a change control/enterprise governance. This is what a G2 reviewer has to say about Domo this past year,
"The security and admin setup and options are very less which leads us to go back to the vendor a lot. Too expensive for mid-tier firms which use it mainly for internal projects"
A lot of analytics solutions have powerful data governance and security but only Toucan adds a layer of simplicity to it. This is because our entire application was designed with non-technical users in mind. The "view as" feature allows admins to see how the application would look at each governance or security level. This ensures that all user views have enough information for the users to gain actionable insights and make informed decisions.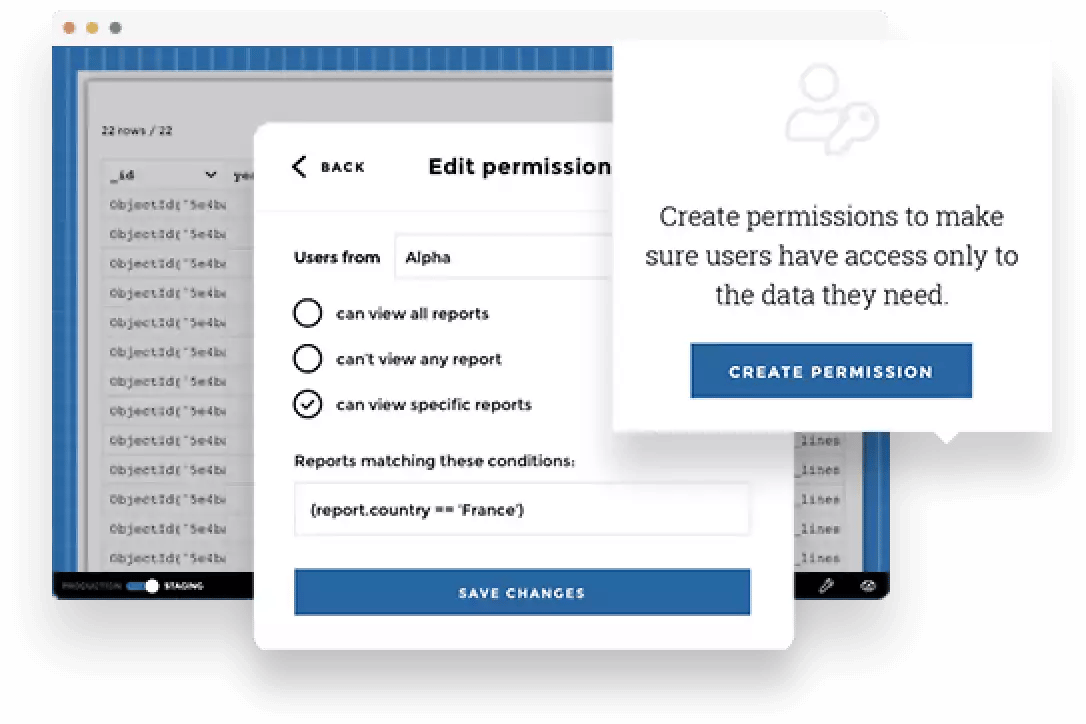 Stage 7:

Nickel & Dime Pricing
Every organization hopes to scale. And as your organization grows so should your analytics. But at Domo, growth isn't measured by your success but rather just your storage. When you sign on you only get 10 million rows of storage. This might seem a lot a first but data builds up. If you want more storage you will have to shell out at least another $10,000 for each additional 50 million rows, to ensure you have enough space to operate your analytics smoothly. In a world run by data, data continues to grow and Domo is waiting to capitalize on exactly that. Here is what a G2 reviewer had to say.
"There is a VERY steep Onboarding fee for them [Domo] to help you set everything up and get up and running. This is necessary I believe to be able to use the product however this can be a pretty tough pill to swallow when considering other business intelligence platforms do not have such a large upfront cost involved with the use of their products."
It isn't wrong to increases price as your customer grows, but that growth should be measured in terms of users. Growing your team and expanding your company is what we consider to be true growth at Toucan. This makes sure you don't feel limited by your data and we essentially tie our growth to yours, making Toucan more invested in its users than any other analytics solution in the market. Toucan includes everything you need — from connectors to prep to visualization - to mobile - to collaboration. We don't believe in the "nickel & dime" approach. We believe true scalability comes from democratizing data and providing actionable insights to every user within an organization. So, see how we can help you succeed.