How would you react if I told you about Swile and Qonto? Immediately, you respond that they are two major technology companies. As a result of their rapid growth, they have completed several hundred million dollars worth of fundraising. A rapid growth rate implies delivering software solutions to several thousand customers in a short period of time. This is an extremely challenging task.
However, these are not the only challenges they face. It is also necessary for them to issue and collect payments and make transfers among different banking entities. Financial markets are highly regulated and validation processes are often spread over long periods of time, so what can be done to reconcile all of these constraints? The technology could not have been built in such a short time frame and with such ambitious growth plans. Their solution was to purchase the product of another company that offered an embedded finance solution: Treezor.
The growth of Swile and Qonto has been supported by an unknown third player, whose technology is ready for scalability.
When evaluating whether to build or buy software, it can be difficult to identify the ideal criteria. It is important to always ask yourself the question of what creating or purchasing a product will cost regardless of your level of business maturity.
Here, we offer a set of criteria that can be used to guide your decision.
THE 4 ADVANTAGES OF BUYING A SOLUTION
Fast-time-to-market: get user feedback quickly.
When purchasing a solution, you must ensure that it will be executed quickly so that you can obtain feedback from users. It can be tempting to begin the development of a new product line, but it will take some time for you to offer a first version to your users. By purchasing, you can quickly deploy a solution that covers 80% of the user's needs. Then, you will have the opportunity to collect the necessary information so that you may begin the construction and cover 100% of these requirements. Using this approach, you can start to generate revenue faster and reduce the risk of investing in a new product line. Additionally, you can get feedback from users and make the necessary changes in a timely manner like VRM solutions did.
Reduce Risk - why build if you're not sure of the market?
When launching a new product or a new feature, it is advisable to test and make the first proof of concept without investing too much time or money. Deploying a first build version takes much longer than deploying a purchased solution. With the first set of data and comments collected, you can gather information to determine whether your new feature meets the expectations of your market. You should collect your first data regarding usage rates and time-to-click, and determine if you require an in-house solution to meet 100% of your users' needs. This will help you decide if you need to invest more resources to create a fully customized version, or if a purchased solution is the better option the way Storyslab did. Additionally, you can use customer feedback to see which features are most important to prioritize.
Save Money - Consider Maintenance Costs
Purchasing a solution may seem counterintuitive, but it can actually save you money. Prior to embarking on an in-house project, it is important to ask yourself the following questions. It is common for people to overlook maintenance costs over the course of a tool's life.
Consider the development of software as an example.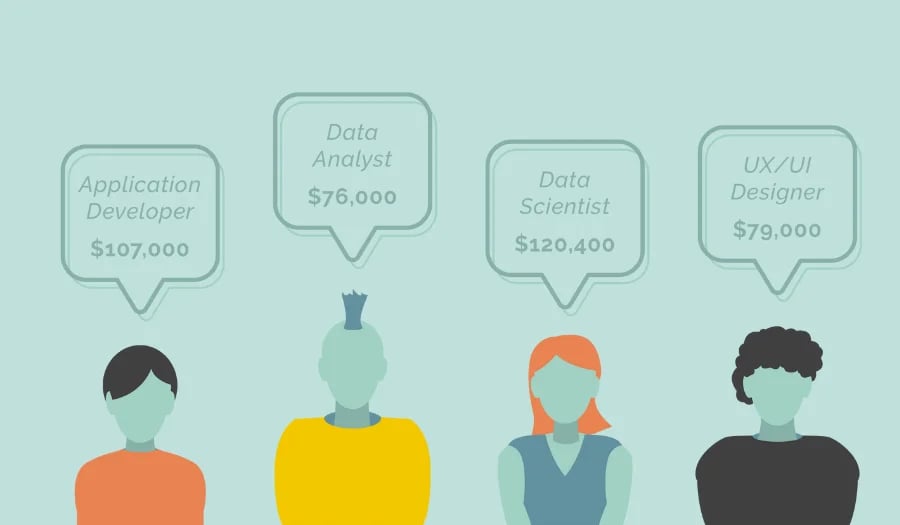 The average salary of a software developer in the US is around $90k. It takes around 2 developers to maintain the new build and they can do it in 6 months for the first iteration.
The total cost of getting a first build is (90 x 2)/2 = $90k
It takes another 6 months to get a product that satisfies all of your user's needs with a lifespan of at least 5 years needing 20% of employee time for maintenance. This gives the following calculation:
Development: ($90k*2) / 2 = $90k
Maintenance over 5 years = $90k x 0.4 x 2 = $72k
Total: $252k
If we observe the situation only through the prism of price, it becomes interesting to build if the software costs us more than 252k€ for 5 years or approximately $4,200 per month. So should you build or buy just simply based on price? Deloitte chose to buy.
Make use of expertise and delegate technical responsibilities
When purchasing a software solution, it is important to remember that you will have the assistance of industry experts. In this way, you are able to enhance the skills of your employees and prevent the need for specific recruitment. Outsourcing technical issues is also a part of buying.
It is often underestimated how much mental effort is involved in maintaining an in-house tool. You can protect your teams from technical complications and bugs by delegating them to the solution provider. This will allow them to remain focused on the core of your product. Before you begin an in-house project, you should keep in mind that software is a complex project that will undoubtedly be affected by unforeseen circumstances. This was the reason Onbrane decided to buy.
We have glimpsed at some of the arguments that support buying, but this article is also about finding the right time to build a solution. Here are 4 times you should build in-house instead of buy.
4 SITUATIONS IN WHICH TO BUILD
Immature market or nonexistent product
Even though technology is developing very rapidly, the solutions available on the market may not yet meet your needs. In this case, unfortunately, it will be necessary to build it from scratch. It is generally a good idea to ask yourself how important this new feature is to your project.
The majority of mature software is licensed per user, which can be restrictive. Using software that is already well established on the market will be difficult if you have specific demands. It is unlikely that they will modify their roadmap as a result of your request. If you are very clear about what you need and how to achieve it, building may be the right choice. The possibility of partnering with another company to build with four hands is also available to you. This can be the foundation of a partnership.
It may seem obvious, but you cannot buy anything without cash. You will have no choice but to build as your only solution. But you should check if any fundraising projects are currently underway before you start, as it may help you put your product roadmap into perspective. You should also keep in mind that buying is often the most economical option.
Having your product at the heart of your business, and wishing to offer an innovative solution within your market, the purchase of software will not be able to respond to your needs. This will require you to develop your product in a manner that meets the product vision as well as the needs of your customers. This is an innovative approach that must be unique to your company. It will be impossible for you to take shortcuts when it comes to this. The important thing to remember is that you can always buy innovations to test them out, analyze the market reception before embarking on a full development process for them.
Conclusion
To summarize the arguments presented here, the conclusion is that building should be undertaken only when absolutely necessary. The construction process requires strong mobilization of internal resources and disrupts your roadmap. It is also often forgotten that managing an in-house system involves significant human resource costs. Buying involves a certain degree of risk but in the end, ends up being cheaper and less stressful than building.
We at Toucan provide businesses with an analytics platform for communicating with their customers and driving engagement. More than 4 million Toucan views are viewed each year as a result of the best user experience on any device. With our no-code, cloud-based platform, you can reduce development costs with a quick and seamless implementation process.