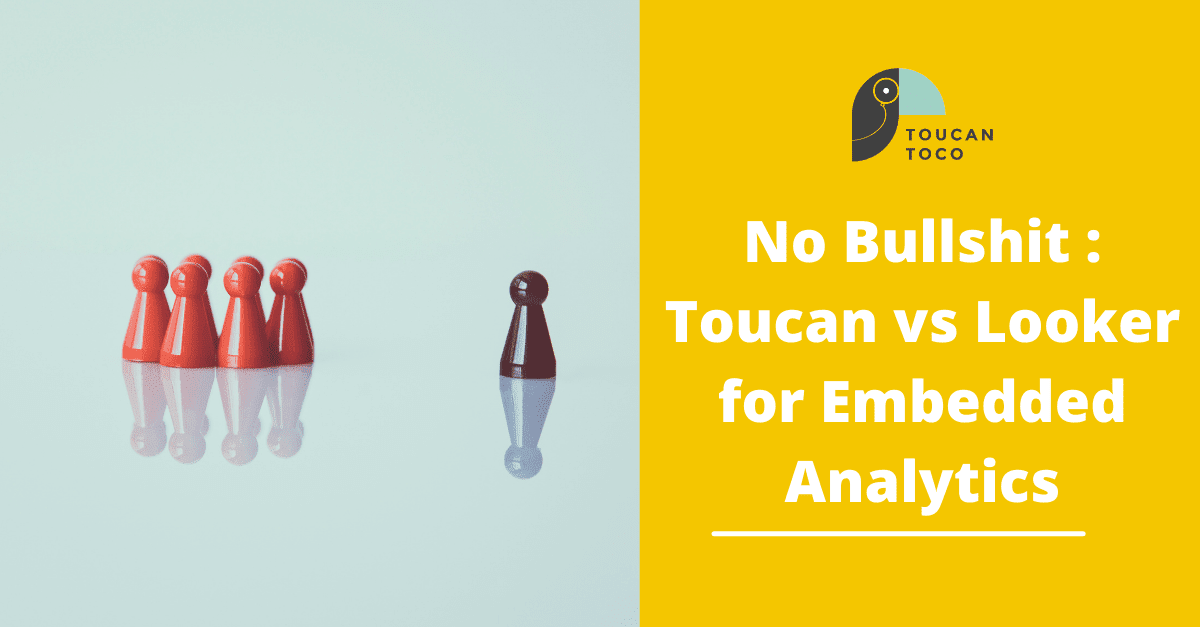 Both Looker and Toucan have emerged as viable embedded analytics solutions in recent years. With the boom in embedded analytics and higher adoption rates across the board, both of these firms are fighting to deliver the best possible product for their clients. Let's see how they stack up.
1. Production
At its core, Looker isn't an embedded analytics company. It's a great data exploration tool that offers embedded analytics as a bonus feature to its BI and big data analytics software.
It's great for a lot of things, but simple production isn't one of them. Looker still uses legacy iFrames, and user management is a 100% manual process, with a lot of effort duplication.
As there is no central admin interface, maintenance is a major bugbear – every customization and update, minor or major, for each one of your embeds is done manually and individually.
At Toucan, our main goal is to make your teams' life easier, so they can focus on what matters most: building your core product. We invest in research & development (R&D) so you don't have to, to bring you the best & latest tools and innovations in this space.
Our solution relies on secure web components, and we are constantly working to reduce the grunt work involved in embedded maintenance. Our tools can help to provision bulk operations, centrally manage customizations, and generally make your PM's life a lot easier!
2. Builder and end-user training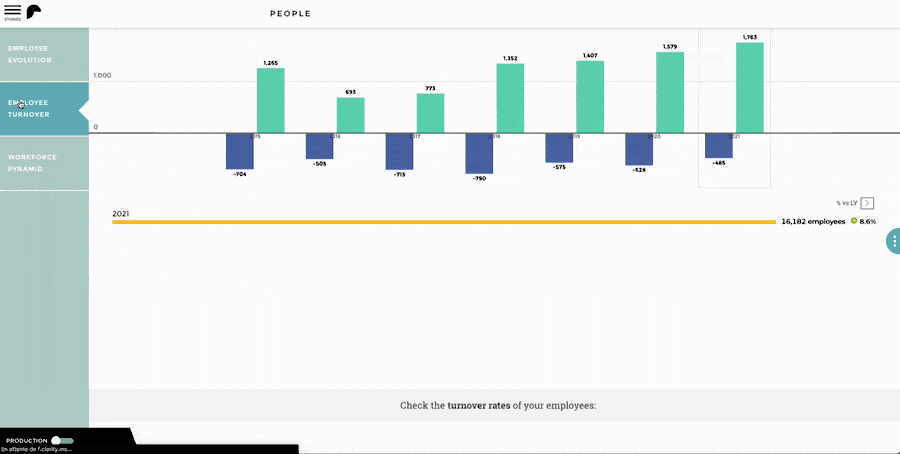 One of the key criteria you should be considering when picking an embedded analytics tool is how it fits with both your builders and your users' skills and level of understanding.
In order to use Looker, your builders need to master a proprietary modeling language known as LookML. The language is not easy to pick up, which makes the tool even more challenging to learn.
When analytics tools leverage proprietary technologies, it forces your teams to learn and maintain new things instead of focusing on providing value for your customers. You shouldn't have to pull a data scientist or a product developer away from their work to fix a line chart…
As for your users, ask yourself this: do you intend to train and support your users on a third-party product?
A complex embedded analytics solution means that your users have to learn the basics of data science and analytics to make sense of Looker-enabled features in order to use your product, which has an impact on adoption.
Alternatively, you can choose a data democratization approach that makes the benefits of analytics accessible to technical and non-technical users alike. Looker might be a handy explanatory tool for your internal users, but you need data democratization to reach the 99% of the user base who aren't data analysts.
Toucan follows data democratization principles to ease the learning curve – particularly in the UX, onboarding, and collaboration aspects. An engaging UX, contextualized and tutorial-driven onboarding, and collaboration features like PDF bursts cut down your training needs and enhance user value. Our philosophy is simple: easy to use with no proprietary technologies. In the long term, this means greater adoption and cost savings.
3. Integration
Looker is a powerful solution, but it sits as a separate tool in your product, with limited user options.
What this means is that it offers limited integration and interaction with the host application or product, limited customization capabilities (e.g., no custom fonts), doesn't provide API connectors, and only connects to SQL-like databases. Your builders will have to spend a lot of time on manual configuration and individually customizing each visualization.
Toucan Toco is much better at blending in with your product. Not only are our visualizations fully customizable (including colors and fonts), but they are fully untraceable: your users won't have a way of telling that the analytics in your product is in fact powered by Toucan. Also, in the spirit of leveraging what you built everywhere, Toucan provides an API connector available for your every need.
The result is more seamless integration, stickier features for the end-user, and extensibility for a variety of data sources.
4. Scalability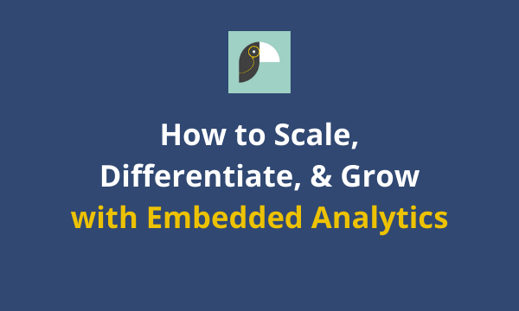 No two products are alike, and no two products have the same growth journeys. One of the key reasons why companies look for alternatives to Looker is the growing level of dependency that comes with scaling.
Since Looker was purchased by Google, it is incentivized to make you consume more of Google Cloud resources. It might offer lower upfront costs initially, but in the long run, Looker will (naturally) plan on you shifting your usage to Google Cloud as much as possible.
In contrast, Toucan has 0 margins when it comes to data hosting, our customers are paying at market price, nothing more!
Also, since Looker is using a proprietary programming language, switching to another vendor or building on your current analytics is very painful, meaning you will have to rebuild everything from scratch or pay massive transition costs. That's why we chose to rely on open-source MongoDB when building Toucan, ensuring zero vendor lock-in.
Looking for an alternative to Looker, say no more!
Here's a quick rundown of Toucan vs. Looker for easy reference:
Looker
Toucan Toco
Production
Uses legacy iFrames

User management is 100% manual

No central admin interface

R&D in Embedded analytics

Secure web components

Centralized bulk provisioning

Builder and end-user training
Proprietary LookML technology

Complex to use

Better suited for internal reporting

Data democratization

Tutorial-driven onboarding

Integration
Poor embeddability

Limited customization

Only connects to SQL-like databases

Full customization: colors, logos, fonts, and more.

Fully white labeled and untraceable

API connector to leverage what you built

Scalability
Pushes for more Google Cloud usage

Proprietary LookML technology

Vendor lock in and dependency

Zero margins from data hosting

Open-source MongoDB
Making Your Decision
At the end of the day, you need an embedded analytics tool that will go the distance and provide fast time to value from day 1 and continued benefits many years later.
We take pride in our flexibility to adapt to our customers' needs. Whether you're looking to upgrade your software product with analytics brick, slicing and dicing things inside your product with a freemium strategy, empowering your customer-facing teams with state-of-the-art dashboards to delight your customers or even publicly sharing your data through dashboards on webpages, our frictionless deployment experience will get you there!