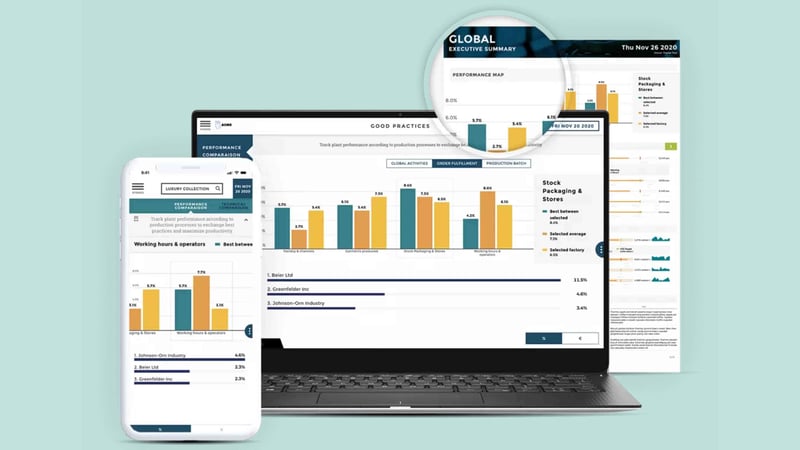 Choosing an analytics platform can be difficult, especially if you are trying to determine which one will allow for the most customization. There are many different platforms available, but not all of them have the same flexibility when it comes to customizing charts and graphs. The total level of customization is one thing that you need to consider when learning how to choose the best analytics platform. On this page, we'll talk about how to choose the right analytics platform, and specifically, what customization features that you need to be on the lookout for.
What is an Analytics Platform?
For starters, you must know what an analytics platform is. In short, it is online platform that allows you to upload raw business data from various sources. Once uploaded, it can be quickly processed into charts and graphs that can help businesses make decisions or learn more about themselves. In turn, business executives can often receive up to 20 more days a year, notice a 6% increase in revenue, and have a 100% increase in data accessibility.
However, it's worth noting that some platforms are more customizable than others. Most platforms make it possible to change the size and shape of graphs, adjust colors, and embed your charts onto your website. However, some more affordable options only offer a basic set of features that might not suit your business needs.
Choosing an Analytics Platform with Plenty of Customization
It can be challenging to identify which analytics platform will work best for your company due to the many different options available on the market today. The key point to consider when choosing an analytics platform is what your business needs are. Specifically, what kind of data you have, your KPIs, and the level of aesthetic quality you expect from the charts and graphs you view to understand your business operations.
If you want complete control over your charts and graphs, it's worth opting for more customizable platform that allows the most customization options possible. Of course, this typically means that you will need to do lots of research and develop a list of features that you need to have on your analytics platform. If you know what you are looking for in advance, you will be much more successful at finding it quickly.
Why Customization for Charts Matters
When learning how to choose an analytics platform with the best custom charts, you might find yourself wondering why it's so important to have complete control over your charts and graphs. With the right platform, you'll be able to change all the different elements in your charts so that you can visualize your data perfectly, or draw attention towards certain aspects that might not otherwise stand out on their own.
In addition, you will likely want to import graphs and charts onto your website, share them on social media, and email them across departments. The quality of your charts will be one way that people interpret your level of professionalism. This is why the level of customization and overall aesthetic quality is crucial. This will not only help you receive more information about your company, but it can also allow for a better user experience when visitors come to see what's on offer from your business.
Colors Also Have a Big Impact
Studies have confirmed that colors impact your total level of attention when it comes time to view data on charts. This is one of the main reasons why you should choose an analytics platform with plenty of built-in color palettes. Some colors will draw the eye towards certain parts of your charts, while others might cause people to look away.
For example, some color combinations don't work well together and lead people's eyes straight down a page. However, there are other types of color schemes that can help bring more attention to one part or another. Your strategy for effectively using colors needs to be a high priority!

What Are Other Popular Customization Features Offered By Analytics Platforms?
In addition to having lots of different charts and a variety of color palettes, there are other customization options that you should consider when learning how to choose an analytics platform with the most custom charts. Here are some additional features to be on the lookout for.
Intuitive Chart Creation
Sometimes, you don't know what you want until it is placed in front of you. This can be especially true when it comes to breaking down your data. Many data analytics programs come with the ability to automatically present chart ideas to you after your data is uploaded.
Data is Stored in the Cloud
Not too long ago, offline storage using file cabinets were the primary way to keep business data. Thankfully, those days are gone. If you want to access your data from anywhere globally and on any device, it's worth noting that most analytics platforms are cloud-based.
Friendly User Interface
Many data analytics platforms come with a user-friendly interface that makes it easy to upload your data and create charts. Without access to a platform that is easy to pick up and use, there will be little sense in investing in an analytics platform.
Offers Templates for Charts and Graphs
Just about any analytics platform will come with built-in templates for charts and graphs. This helps you immediately save time and get started on your journey towards understanding your company's data. Be sure to consider what type of templates and graphs are present in advance.
3-Click Customization
Imagine that you want to upload data, adjust the aesthetics of a chart, embed a chart on your website, and so on. You shouldn't have to spend much time doing this. Any of the best analytics platforms let you accomplish essential tasks like these within a few clicks.
Embed Charts Quickly
One of the most time-saving features that you'll find in many analytics platforms is how quickly and easily you can embed charts. What this essentially means is that you copy the chart into code form and then upload it to your website instantly.
The most exciting part is that this feature can also save you time. If you eventually decide to change the chart, changes will be instantly saved on the embedded chart when adjusted on the analytics platform.
Optimize Your Teams Productivity
Typically, it will take less than 3 seconds to find any insight on an analytics platform. Not to mention, this information will provide invaluable access to trends that you might have otherwise completely missed. As a result, you'll be able to make better decisions and optimize your team's productivity.
The Bottom Line
If you want to use the best analytics platform possible, customization features are everything. At the very minimum, charts and color palettes need to be bountiful and easy to adjust. This way, you can make stunning charts and graphics that help tell your data story in the most efficient way possible. To ensure that the platform you choose is ideal, be sure to do lots of research in advance and compare features across multiple platforms before deciding which platform to use.
For more information, please refer to the following pages: