In the match "built" or "buy" an embedded analytics platform, adopting a binary vision is not always the right option! Indeed, each approach has benefits and risks, depending on the technical specifications, resources, and budget your company intends to assign to this project.
There is, therefore, no simple yes or no answer. Instead, best practices for embedded analysis are neither "build" nor "buy", but are, in fact, closer to a partnership. Explanations…
Built your embedded analytics:
A great option for customization and autonomy if you have the human resource and a high budget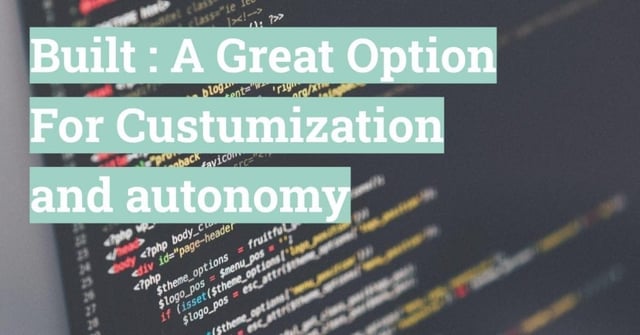 Some software companies choose to build a data analysis solution. What are their typologies and why do they make this choice?
1 – Strong resources
Building an internal data analysis solution gives software development companies more flexibility and control over the final product. However, this choice is justified by a high investment cost. It is indeed necessary to recruit rare skills (with associated costs), to invest in maintenance, and to be able to make profitable time to market that can be very long.
2 – Need for specific customization
Investing time and money in building a data analysis solution is necessary if a software company is to customize its tool according to its data infrastructure. This allows you to keep full control of your product and include the specific features needed for an industry or customer profile.

3 – Need for internal security standard
Building your own analytics tool make it possible to solve all security and stability problems internally. This may be necessary if you are working with very sensitive data that requires specific security levels.
Buy an embedded analytics solution:
Simplify the delivery of your analyses, avoid engineering costs while maintaining control over your product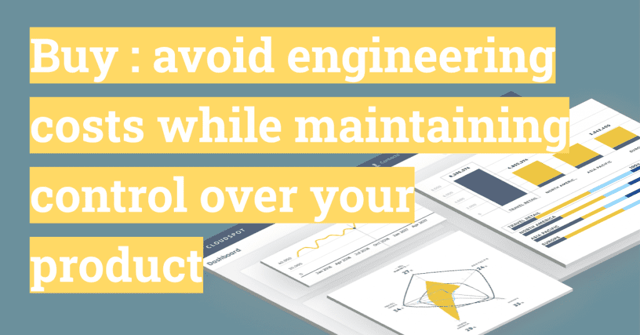 1 – Very fast time to market
The purchase of a "ready to use" solution allows companies to avoid starting from scratch, and to experience a very long time to market. The purchase of a third-party product allows data visualization 10 times faster, more robust and industrialized, which increases the value of the underlying data.
This choice considerably speeds up the time to market for your products, significantly reducing the analysis development cycle.
Your analysis tools are available in a few days, which allows your company to stand out faster, and increase its revenues sooner: you reduce by 10 to 20 the time to market for your reporting components and could improve sales by 15 to 200% – from our users' experience – by winning new clients thanks to a more attractive reporting.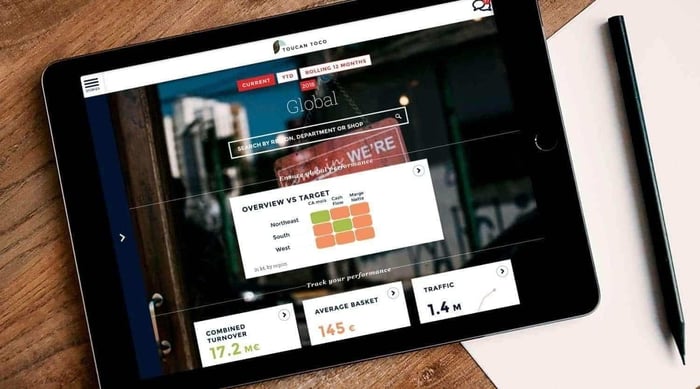 2 – Cheaper TCO
In addition to providing ready-to-use features, an integrated analysis solution covers all the hidden costs that exist in this type of project. This solution offers you a scalable architecture according to your needs and maintenance is provided by the supplier…
You reduce by 10 the cost of building the visualizations, you spare 100k per year developer you would have hired (recruiting and all implied costs like management, benefits, office, etc )
3 – Maximum security guarantees
Embedded analytics solution providers must comply with high data security standards, the quality of which is assessed by SSL security certificates. For example, at Toucan Toco application security is rated grade A by Slabs. As security is paramount for us we give you the ability to have fine-grained control on each embed you generate, handling by yourself who can see what.
Taking advantage of this level of security allows you to save high rates of server construction and maintenance internally.
4 – Close collaboration with the third party company:
The purchase of an integrated tool from embedded analytics, a software supplier, allows you to work closely with experts on the subject. Product improvements can be made without additional internal developer resources!
With Toucan Toco, more than just a simple purchase, the use of our solutions gives you access to an expert resource in this field: access to complete online documentation, training on the tool, newsletters to learn about all the integrated features…
You also have the opportunity to be part of a center of excellence to allow your teams to increase their skills in your solution. Authorization and security management are regularly tested and carried out by external labels!
—
Check our embedded offer here.
To go further on the subject you can check our :
I hope this article helped you to make your choice.
What are you going to do? Buy or build?
Feel free if you have any questions to ask them in the comments section, I will be happy to answer them.