When it comes to marketing, most people think that the only thing you need is a website. However, this isn't enough for product teams. They also might want more data about their customers and improve their overall marketing strategies. To do so, analytics platforms are one of the most common solutions that product teams turn to. If you find yourself wondering what an analytics platform is used for, namely in regards to product teams, this page is for you. Below, we will teach you everything you need to know about using an analytics platform!
First, Familiarize Yourself With Analytics Platforms and Their Features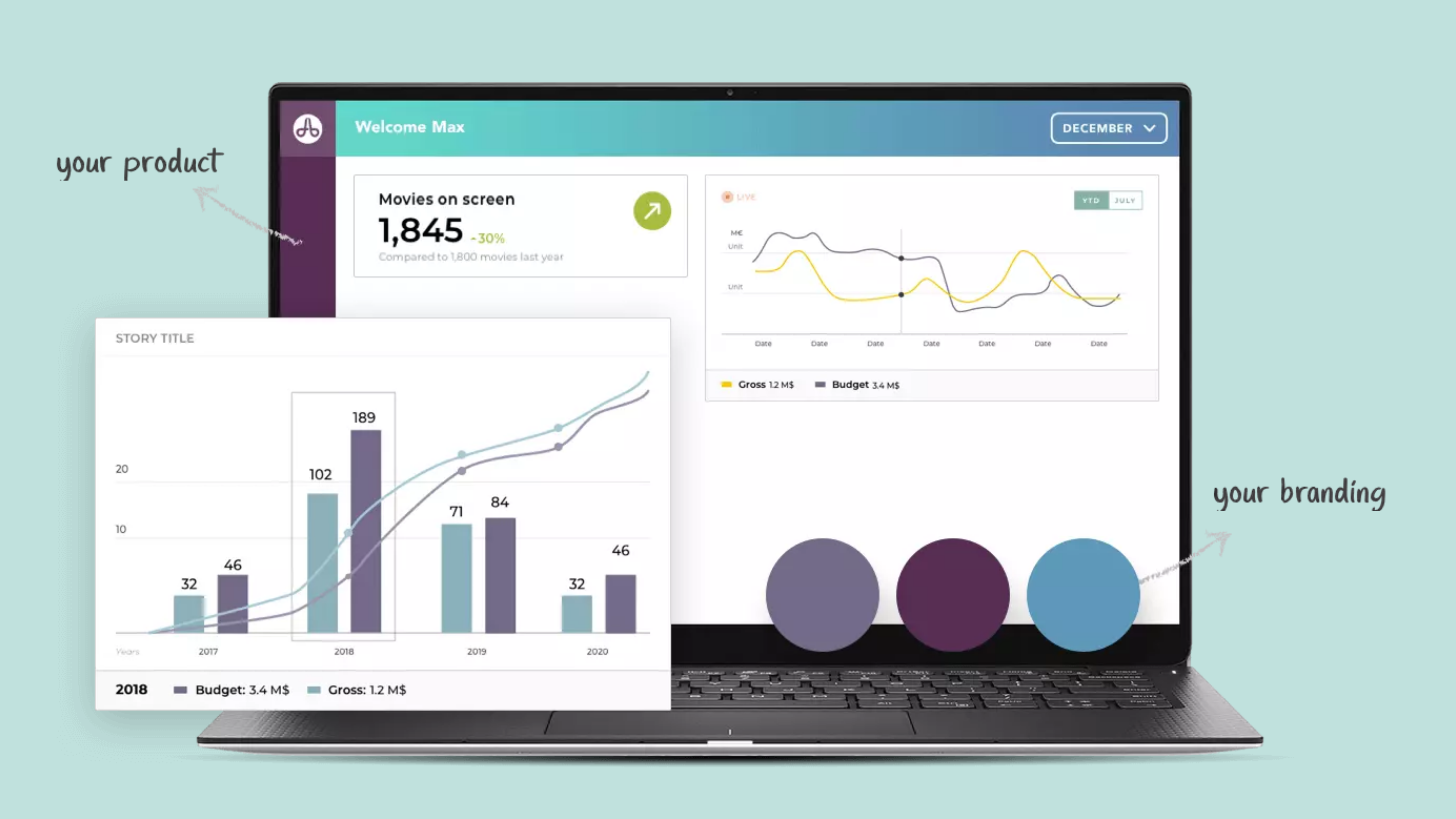 Before you get started learning things like how to embed charts & data from an analytics platform, you need first to do some basic background research on what an analytics platform is and how it can be used. Analytics platforms come with many potential features that can help you understand your data and become a more efficient product team as a whole.
What Is an Analytics Platform
Analytics platforms help product teams get more information on their customers, improve their marketing, and notice trends that need to be addressed. Product teams use analytics platforms to solve particular problems related to business performance and growth.
Analytics platforms allow you to collect data about your customers across various channels like web pages, apps, and in-person visits. They also provide the insights and analysis needed to make informed decisions about how your business can grow.
What Kind of Information Can You Gather From an Analytics Platform?
An analytics platform will help you collect different types of information, which you can then use to make better decisions. Data about your customers are available through means you might not have previously imagined. If you have spreadsheet data to upload, the platform can often automatically create relevant charts for you within minutes!
You'll be able to track when customers are browsing through your website or when they visit one of your retail shops. It can give you insights such as where they're clicking the most on each site page, how long they're spending on a page, and what time of day they're visiting or using your app, and much more, which can help you to increase conversion rates!
What Do Analytics Platforms Do For Product Teams?
An analytics platform helps product teams by providing more data about customers and informs decision-making for growth. The information made available through an analytics platform can help product teams make better decisions and learn how to improve marketing and sales for specific products.
In fact, product teams that use data analytics platforms can boost revenue by 6% within three months and notice a 7% increase in sales performance. Not to mention, your first chart can be made within 10 minutes.
Product teams use analytics platforms to solve problems related to business performance and growth. They also provide the insights and analysis needed that allow informed decisions about how a company can grow. Product managers typically use this information to solve issues related to marketing, customer acquisition, customer retention, content strategy, and much more!
Consider Your Current Data Collection Methods
When exploring what kind of adoption tools are on an analytics platform, you need first to consider your current data collection methods. Product teams should ask themselves if their current analytics process is effective or not. It's essential to also think about the type of information that needs to be collected to give insight to your product team.
How to Know Whether or Not Your Data Collection Methods are Working
Are your current data collection methods giving you the insights you need? Data that can be used for charts is collected in many different ways. You may have a spreadsheet on which you store all your information or a company's website that has analytics connected to other platforms.
Sometimes, you just intuitively know whether or not your current system is working. In fact, many people simply don't feel the need to invest in analytics. However, if you want to get a ROI quickly, then this is a viable choice. Perhaps this is also why adoption rates for analytics platforms are 85% and up. For this reason, old and outdated methods, such as the ones mentioned above, simply don't cut it!
Why an Analytics Platform Will Improve Your Data Collection & Storytelling Methods
An analytics platform will help improve your data collection and storytelling methods by giving you the insights and analysis necessary to make informed decisions to help you grow your company.
In addition to giving you new insights and access to trends, an analytics platform will also give you the tools needed to improve marketing methods. For product teams, this is critical for understanding how your customers are using your products and services, discovering what is working, what isn't working, and so on.
It's All About How You Communicate Your Data
Although an analytics platform can help improve chart creation and means of understanding data for a business, how that information gets communicated within the organization is just as important. Therefore, it's also worth noting that an analytics platform can help improve distribution methods by making it easier to embed files, share on social media, and much more.
Test Out an Analytics Platform for Yourself
Before you get started with our guide for using engagement tools on an analytics platform, for example, you should put aside any doubt and simply try out an analytics platform yourself! In fact, you can have your first chart created within just ten minutes. There might even be a promotion or even a free trial to take advantage of!
Remember That a ROI Is Almost Guaranteed
Remember that analytics platforms have high adoption rates of over 85%. Not to mention, the platform may also help you increase your sales, leading to a quick ROI (return on investment). Therefore, it's clear that you should at least consider trying out an analytics platform for yourself. The worst that could happen is that you are unsatisfied and get a refund.
How to Get Started With a Product Analytics Platform
To get started with a product analytics platform, start by researching and learning which features are available on the top analytics platforms. Search around many different platforms, consider your business KPIs, needs, goals, and so on. Eventually, you'll find a platform that will help you accomplish all of your business goals.
For more information, please refer to the following pages: