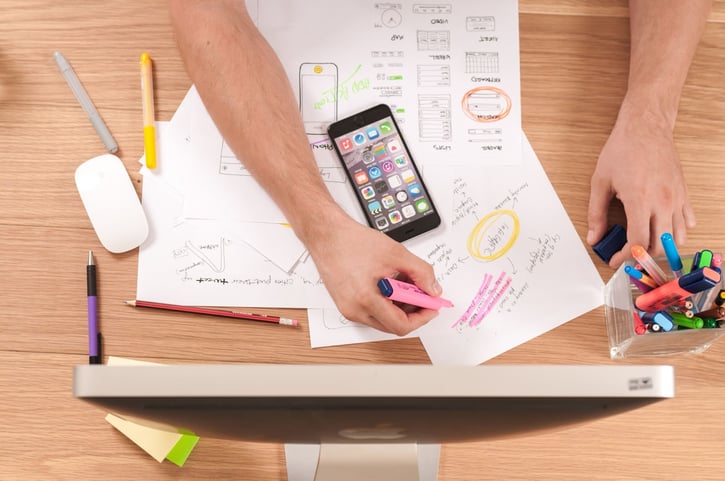 The deadline of the reporting period is approaching. It's time to check the gathered marketing data and spend hours compiling a document that executives usually struggle to follow. Does this situation cause any unpleasant flashbacks?
If you are among those who have to showcase their marketing results constantly, this article is for you!
Here we will lead you through the many helpful strategies to improve your digital marketing reports and keep off the paths that will lead nowhere.
What is digital marketing reporting?
Digital marketing reporting is an activity aimed at tracking marketing performance, better understanding the following steps, and ensuring that the marketing advances are steady. Marketing reports present this process well.
A digital marketing report is an essential and irreplaceable document for marketers and stakeholders, containing metrics, results, performance stages, progress, and other crucial marketing data. Marketing reports let you see your marketing campaign's efficiency and inefficiency. This helps you:
make data-driven decisions
have accurate predictions
shape a marketing strategy
identify marketing goals (both short- and long-term)
With the right tools and advanced analytics, digital marketing reporting will take your marketing efforts to the next level.
3 Main benefits of digital marketing reporting
From above, digital marketing reporting has many benefits. Here are 3 the most important:
Analysis of marketing performance
Marketing performance analysis provides ground for the objectives, proves experiments, testifies A/B testing, and brings new tactics on the horizon.
Digital marketing reporting help businesses grow because you can pitch new ideas to the team or management based on overall results.
Marketing decision-making
On a strategic level, marketing reports prove the return on investment of your work.
In the long term, reporting helps businesses by giving marketing teams a clear overview of objectives and results, so they can make sound and data-driven decisions.
Monitoring of customer behavior
Many channels to track customer behavior exists. Marketers should not overlook them!
Paying attention to social media, activity on the blog, time spent on the website, user onboarding process, and including that data into marketing reports display a bigger picture of your customer's actions and needs.
Types of digital marketing reports
The separation of the types of reports will contribute to their greater purposefulness. Let's view 5 of the most common types below.
Marketing performance report
When marketing leads or product owners receive the campaign results report, they want to know how it went generally. A marketing performance report should offer a summary of actions and outcomes.
Make them concise and SMART: specific, measurable, achievable, realistic, relevant, and time-bound.
You can deploy a dashboard that helps to understand the performance of campaigns and tests.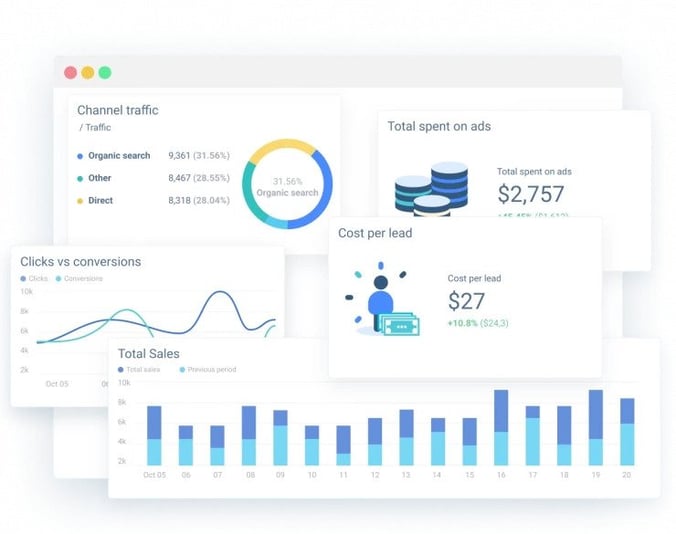 An example of a marketing performance report (marketing and sales dashboard). Source: Whatagraph
SEO report
An SEO report is a document that includes all the metrics related to search engine optimization activities. It's a source to analyze the website traffic and determine all the actions to improve conversion, indexing, ranking, domain authority, etc.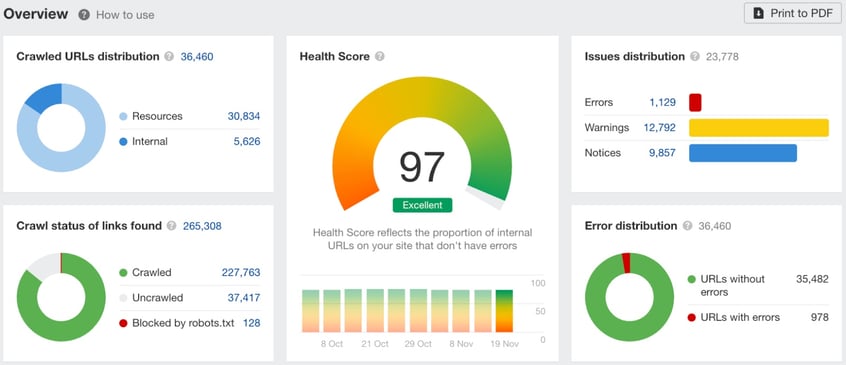 An example of an SEO report (website health monitoring). Source: Ahrefs
Also, an SEO report may include budgets and the team performance (in-house or outsource SEO services).
Email marketing report
To be successful in email marketing and achieve your goals, you need to identify and monitor the appropriate KPIs. In this way, you'll understand which email campaigns show better open and reply rates, lower unsubscribe rates, and more.
For instance, newsletter statistics are necessary to show the subscribers' number growth; you can check conversion rates for an email campaign.
All this should be included in an email marketing report.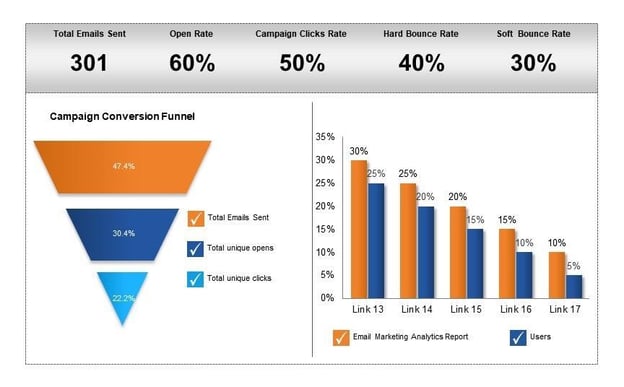 An example of an email marketing report (email campaign performance). Source: Slideteam
Social media marketing report
Make way for the analysis of the social media performance. Social media can drive traffic to the website, and those people could become users. A social media presence can also play a role in brand awareness, as well as customer engagement and satisfaction.
For all these reasons, you must analyze social media performance and embed the data in your digital marketing report.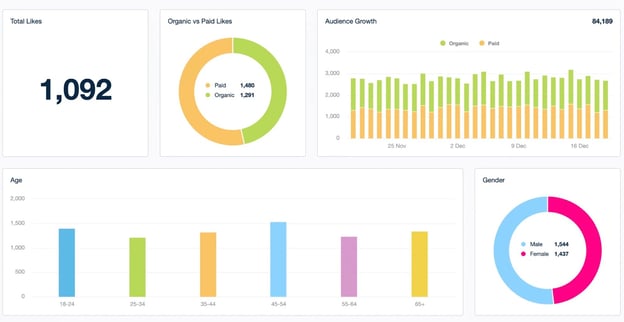 An example of social media report (main metrics and activity in one social media channel). Source: AgencyAnalytics
PPC marketing report
If you have carried out PPC campaigns, you must include the results obtained concerning the objectives.
Include information about all the ads you ran, share data on clicks, impressions, and other indicators. Also, ROI statistics are significant, especially if you share the report with business owners or clients.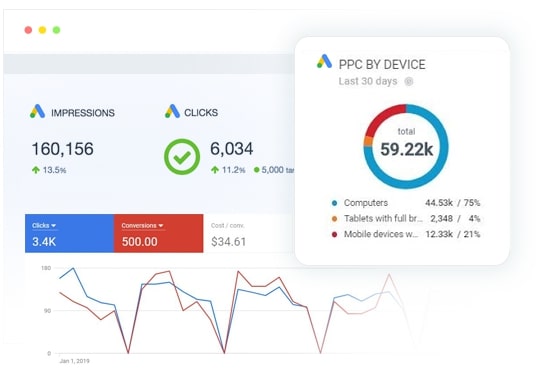 An example of a PPC marketing report (marketing channel performance indicators). Source: OpenMoves
How to leverage digital marketing reporting
Now it's time to move on to the main course and talk about practical ways to improve everything said about digital marketing reporting above.
Divide reports into types
You must adapt a digital marketing report to the audience's expectations.
Foremost, think of an audience: who will check this marketing report: C-level, marketing leads, or other people?
It is up to you to select the types to use. A distinction of types contributes to the clarity of the presentation. So it is easier to perceive even for uninitiated recipients.
You should present all the essential marketing information separately in different marketing reports. In case you want to have a single marketing performance report, choose only the highlights of each marketing activity.
Identify main metrics
As you've seen above, each marketing approach has many different metrics. They all should be included in a marketing report. Or shouldn't they?
When presenting your marketing report, you must include the main metrics. Others should be either omitted or put into an annex.
If you're presenting to business owners, it's best to highlight monetization indicators and share overall performance. If you're presenting to a marketing lead, you can dive deeper and share more advanced metrics.
Taking on an example of an email marketing campaign report:
Open rate, clicks on CTA, and a number of unsubscribers are essential metrics. While an email sharing and forwarding rate or domain click rate might not be so vital to include.
In creating your digital marketing report, you need always emphasize critical metrics not to overwhelm people with information.
Collect data
To shape a marketing report, you need to check data on the platforms you use. Some of them allow inner analytics or data export functionality.
However, often, you'll need to collect data from many data sources, compare those records, and put them into one report.
It's possible manually, but to leverage digital marketing reporting, you need to have a proper automation toolset that will help you gather data quicker.
Here you can benefit from various data integration solutions applicable to a specific task.
For example, to analyze website traffic, you'll likely need to extract data from Google Analytics 4. In this case, you can export GA4 to Google Sheets, analyze data, and add it to the report.
Visualize and interpret data
In your marketing reports, you cannot miss the interpretations of the data located under each statistical table or graph. Conclusions that can synthesize all the findings found also are a must.
To make the statistical data understandable, we advise you to:
Structure and document your analysis results clearly
Use a language and style that a non-specialist can easily understand
Keep it short and to the point
Make a concise presentation that will highlight your messages
As in the case of data collection, you'll need to have a good solution for data visualization and storytelling.
Create a visual story that is easy to follow with Toucan Toco. Check out more information about Toucan Toco storytelling studio.
Make marketing reporting periodical
The frequency of a marketing report is a matter of strategy. Different reporting frequencies give you distinct advantages.
Weekly: a report every week for personal tracking and/or for a specific channel
Monthly: this report presents ​​the figures and performance of the past month and identifies areas for improvement for the next month.
Quarterly: three months is the ideal interval for in-depth strategic analysis and, if necessary, adjusting. This also applies to a half-yearly or annual report.
Overall, doing marketing reports periodically gives you the agility to improve marketing efforts.
How not to do digital marketing reporting
Let's highlight poor practices once again to memorize them
Put everything in one report
Don't put every marketing activity in one digital marketing report because it can be overwhelming and confusing.
As we suggested, divide marketing reports into types and share them separately.
If you're creating general marketing performance reports, include only highlights per each strategy.
Present all the metrics
Cut off the narrow metrics.
Don't try to cover everything everywhere. Truly important information can be lost among unnecessary tinsel.
First, provide data that raises the problem here and now and helps to solve it.
Overcomplicate reports
A proper marketing report suits all audiences. It is understandable to anyone, not just marketing specialists.
It is a must to prepare an executive document, clear for any member outside the team who may not be in the day-to-day of the project.
Treat marketing reporting as a part of team process documentation: they should be structured and comprehensible
Final words
Remember that these are overall recommendations for preparing a digital marketing report.
However, it is important to adapt the document to the needs of your team, stakeholders, or client. The most important thing is that the report is useful and, in this sense, there may be many valid ways of approaching it.
---
About author
Dmytro Zaichenko is a Marketing Specialist at Coupler.io, a data integration tool. He has over 2 years of experience in digital marketing. Apart from experimenting with marketing tactics, he's a huge NBA fan.