"Do you want me to sketch it out for you?" We've all heard that sentence before. Corporate data is often abstract and difficult to understand. They need to be simplified and put into context to become actionable. Simplification through Data Storytelling is the answer to these problems, so let's discover its multiple applications!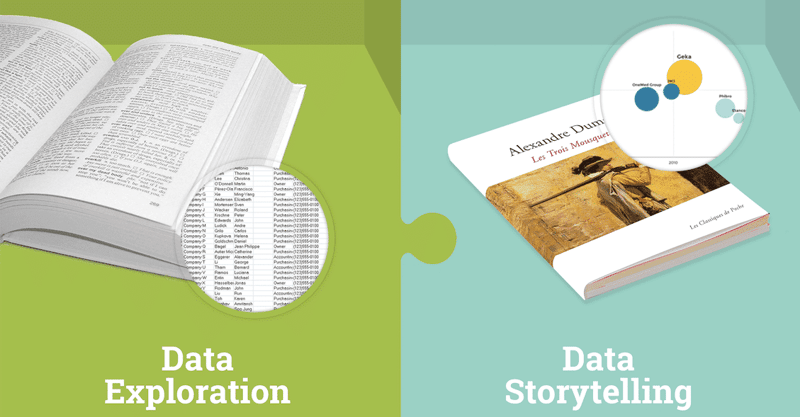 A simple definition of data storytelling
Data Storytelling is the ability to tell a story with data and to personalize the data seen according to the audience. For example, a Marketing Director doesn't have the same reporting needs as an operational manager responsible for digital campaigns.
This category of Business Intelligence comes from Data Visualization.
Data visualization (or Dataviz) is the art of telling numbers in a clear and pedagogical way, where Excel or other software lacks the capability. It allows you to communicate complex figures and information by transforming them into visual objects: graphs, diagrams, curves, maps, classification, etc.
It's no longer only aimed at the Data and Business Intelligence departments of large companies, but at all employees who want to know more about the company's activity, through the data collected every day.
Why is data storytelling the topic of the hour?
Nowadays, we live in a world flooded with information and data. These are the most common issues large corporations face with analytics:
Complexity
The myriad of analytics software available
Creating a homogeneous vision


Digital is here to solve these hiccups. Yes, companies are transforming and new projects are emerging.


A few years ago, the holy grail was the retrieval and collection of as much data as possible. Many corporations have already accomplished this mission.

Data continues to be collected, but unfortunately, it's only used by a minority (usually C-level positions) in the company. Naturally, this leads to an assembly of data scientists, data analysts, and other data experts to provide quarterly reports and insights. Sound outdated? We think so too. Researchers agree too, finding that
77% of businesses report that "business adoption" of big data and AI initiatives continues to represent a big challenge for businesses. (NewVantage survey

)

87%

of data science projects never make it into production (

VentureBeat AI

)

80%

of analytics insights will not deliver business outcomes through 2022 (Gartner)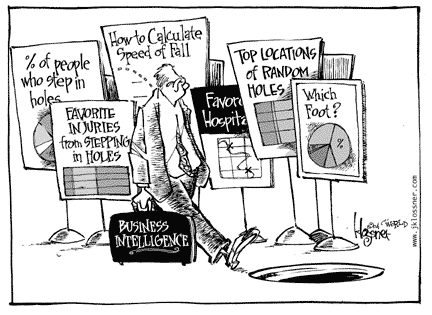 Today, mentalities and challenges are evolving. Data collection has become a means, not an end; and the objective is now to make decisions daily, simply and quickly.
Data storytelling is already here
We all love stories. Whatever their context, they allow to convey a message or complex information in a playful way and well-scripted.
Where data is available, we aim to use these figures to communicate and make the information easier to digest. Data in a narrative context is the next chapter of the industry.

To go further 10 Design & Data Storytelling Best Practices for Untrained Users
Examples of leveraged data storytelling
Road safety: Data and emotions, to change behaviors

Although we are not aware of it, Data Storytelling is already present in our daily lives. Let's take an example that we all know; road safety prevention videos.


Rather than just talking about numbers, each clip is the subject of a specific story in which each one of us recognizes ourselves. In this campaign (see video above), the goal was to raise awareness about wearing a seatbelt.
The figures mentioned support the reality of the facts: hundreds of people die every year because of a forgotten seatbelt. As data are illustrated and well-scripted, they are easily memorable and compelling.
It's the same pattern of thinking in business. Rather than simply showing the sales growth curve, let's try to add the reasons for this growth!
For example, one could draw a parallel between the last wave of sales recruitment and the success of the last promotional campaign, with figures to back it up. All this in a visual and interactive way, thanks to Data Storytelling.


Spotify wrapped, the king of music data
We'll use Spotify as our second example of the power Data Storytelling unleashes. Well ahead of the curve, in 2015, the music distributor decided to share a multitude of data about each user's listening habits:
Musical genre
Total listening time
Favorite podcasts
Top tracks


By collecting this data, Spotify leveraged Data Storytelling to inform both itself and its users through a vibrant and colorful storytelling narrative. Today, the feature awakes the internet every year, as users from all over the world share their music stories through social media, comparing musical tastes and habits.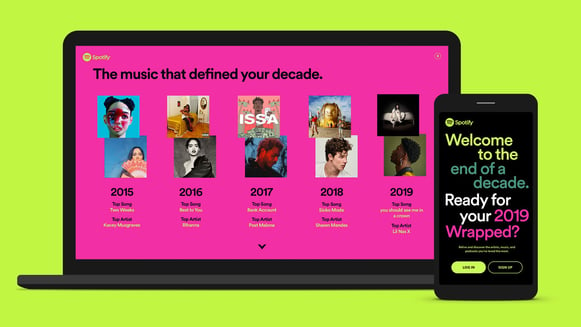 On the website or mobile app, each December, users can access their personalized data story to view their sharable experiences. The data is dynamic and the algorithm automatically generates a playlist of each user's top 100 songs which can be played throughout the year.
In this case, Data Storytelling provides the firm and user with valuable insights to improve Spotify's marketing strategy and the user's experience on the platform. This visual representation allows the firm to compare music tastes across countries and demographics to develop an understanding of which artists to propose to each target market. This example highlights the power of narrative as a vehicle for data delivery, with the UX serving to enhance the experience.


The internet and its networks!

Internet Live Stats records all interactions on social networks. It includes:
Tweets
Instagram likes
Minutes spent on Skype
Number of YouTube videos watched


All of these user behaviors are tracked to the second. Unbelievable right?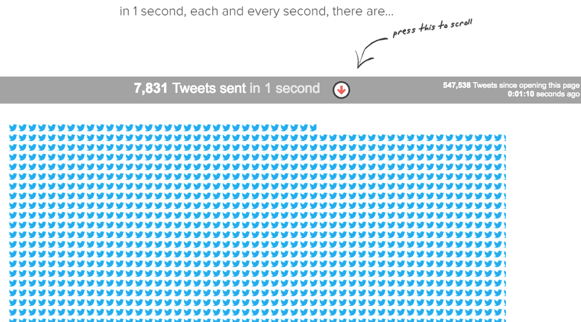 The data presented are not static, actually, they're the opposite! Stay a few seconds on the page and you will see new Twitter birds taking shape.
Again, rather than a simple number updated every second, we have a visual frieze reinforcing the message: there are millions of interactions per second, thanks to automated data!
Our takeaway: We dive into automated data and understand the phenomenon behind it.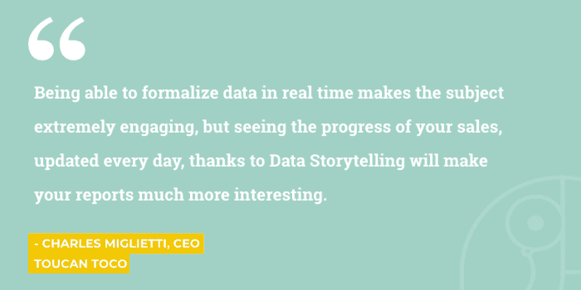 Data storytelling makes your business life easier
Data Storytelling is positioned where Excel and PowerPoint are limited.
What is the situation of large groups today? They all use traditional Business Intelligence tools, such as Tableau Software, Qlik, or Business Objects. Yes, they are excellent at data mining. But, as we mentioned, their use cases are limited to data scientists who want to obtain precise queries.
An example: I want to know the number of sales of a pair of blue shoes, ABC model, between December 20th and 26th in my shop on the Champs-Elysée.
Data Storytelling takes the opposite approach to these tools by addressing data novices. As business users' time is limited, they need a tool that can simplify their reading and decision-making using instantly available data.
Used efficiently, Data Storytelling can revolutionize your business:
Turn your data into action. With clear and usable data at your disposal, you are able to quickly identify trends and possible strategies for your business.
Improve the productivity of your teams. Data is automatically presented in a simple and interactive way. Their time is thus concentrated on tasks with high added value.
Find more agility in your decision-making. Thanks to a simple and easy-to-use tool in a context where decisions must be made more and more quickly, you reconcile your CIO and the business teams.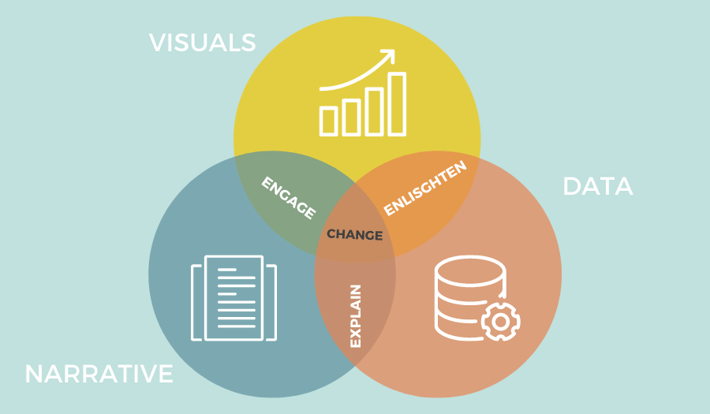 The classic meeting case
Let's take the case of a Sales Director at the monthly Decision Committee meeting. Every month, he or she presents the ranking of the top ten countries in terms of sales volume. Our Sales Director is used to making this kind of presentation. The template is run on PowerPoint with an Excel database of 5000 lines behind it. Sound like an incoming disaster? If you agree, you're on the right track.
In our example, today's committee really wants a dive deep into the stats. A question is coming up. One of them would like to have more details on the top 3 sales, in volume AND value.
Ouch, that wasn't part of the plan. The dozens of Excel files with the relevant data exist, but the information isn't directly available. Moreover, the frozen PowerPoint slides embarrass our Sales Director…
With a tool adapted to this type of context, our Sales Director's embarrassment turns into pride.
However, the question was simple and very practical: to go from a Top 10 overview to a Top 3 with a little more detail. Data Storytelling, combined with a powerful tool, could have allowed him to easily navigate through the data and retrieve the information within seconds.
data storytelling: making data actionable!
Here is how in Toucan, we give context élèments to make data actionable and trigger operational actions.
The complexity of enterprise data projects lies in the combination of indicators from different sources:
Flat files
Data from internal tools
Data from commercial tools


The objective is to link all these data to produce actionable insights.
On the scale of a large group, such a project resembles an endless labyrinth. We aren't even talking about the case where the project has an international dimension, with dozens of countries and subsidiaries to be aligned on the same frame of reference.
The challenge is to obtain a unified vision of the data, regardless of the geographical area or the tools deployed in each department.
Change in this area is incoming. We must finally be able to use the data available in an efficient UX: it's a gold mine of relevant information to make better decisions every day!
Fortunately, Data Storytelling is for anyone who wants to understand the essentials of data in order to make the right decisions every day.
Whatever your project, keep in mind that interactivity, storytelling, and collaboration work! The tools to make it happen aren't scarce anymore, and they can give you a leg up on the competition without discrimination.