In a SaaS product, the basics should be bought. Authentication, payment, search, analytics… These are basic actions performed by end-users on a daily basis. I want to be able to connect myself on the app, search for something, check some KPIs to decide my next actions… This is not a core offering to B2B SaaS software, every app need this for its end-users.
But end-users are exigent, like you and me, when it comes to the basics. Like everything basic, we all have huge expectations on this.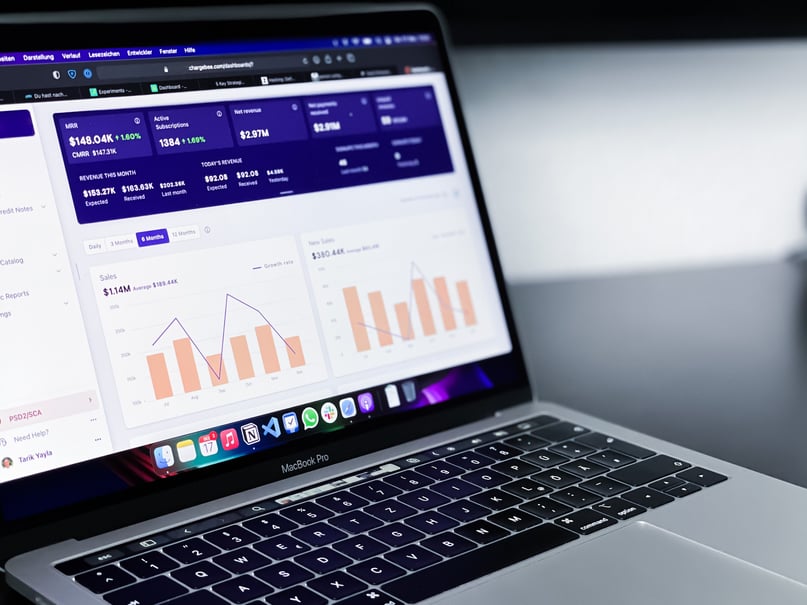 So, are you trying to find ways to allow your R&D and product team to focus on their core development tasks? Well, let's let you in on a little secret. The answer could well be embedded analytics and providing your team to access all of their key analytics from a single platform.
With embedded analytics, you allow your product team to stop wasting invaluable time and resources trying to build analytics within your product, and you start harnessing the power of analytics whilst focusing more time on product development. You can easily embed Toucan within your SaaS product or workflow and start taking advantage of advanced analytics from any source from directly within your product.
But before we get onto all of that, let's just give you a quick overview of embedded analytics.
What are embedded analytics?
Embedded analytics allows you to seamlessly integrate any analytic content into your business applications, products, websites, or portals. It makes it easier for your end-users to quickly access data and insights directly inside your software.
By reducing — and potentially even completely removing — the need to leave an application to access valuable information, companies are able to increase retention, improve engagement, and drive a better understanding of the ROI of the product by the end-user. It truly is an example of how simplified processes and streamlined experiences can increase the impact and value of information.
Common demand from end-user is to ask for raw data. So you start to open API routes, to give CSV and XLS on a regular basis, and from there, few know what's going to be use of the data. They'll likely be ingested into a BI tool, especially true if you target Enterprise customers with 6 figures deals. And yes, Business intelligence (BI) tools can be great for helping you to identify business insights, but research shows that 25% of workers only use these tools once or twice a week. That means that a lot of your business insights and analytics, from the data from your product, are going unnoticed or unused.
Embedded analytics solves this problem by inserting charts, dashboards, and data. This can have a real impact on business performance, and 93% of commercial SaaS providers say that embedded analytics has helped them to increase their revenue.
With embedded analytics, you'll be able to deliver a seamless user experience and enhance a data-driven culture of decision-making. With improved data visualization and storytelling, you can ensure that every user can understand the information that they are accessing and apply it to their specific needs and use cases.
So don't just think about embedded analytics as a way of putting all of your data inside your SaaS app. It's also about improving the way in which that data can be viewed and increasing the ability for each of your users to understand it in the quickest time possible.
More information. More easily understood. Used more frequently. Why wouldn't you want to opt for embedded analytics?
Build versus buy
Now, over the course of this article you will have probably already had the ever-present software development dilemma cross your mind. Why would you need to use third-party software to embed analytics into your product when you could just build it yourself?
You're not wrong. You could do it yourself, but it just isn't worth it. Surveys with software providers consistently show that there are several key advantages when it comes to embedding with a third-party product.
Cost: opting for a third-party solution significantly reduces the costs associated with initially embedding and then maintaining and supporting your analytics capabilities.
Time to market: it is consistently much faster to opt for a third party solution over developing something yourself — usually in the region of 3 to 4 times faster.
Resource allocation: there's a very good chance that you don't have an endless supply of developers waiting for new assignments. So, opting for a third-party solution means that they get to focus on their core tasks and your product development and you still get to benefit from embedded analytics.
Toucan's embedded analytics
When looking for the right third-party provider, you have a couple questions that you need to ask yourself. Can they support all of the integrations that I require? And can they present that information in the best format possible? When it comes to Toucan's embedded analytics, the answer to both questions is a resounding yes.
You can be certain that you are picking a solution that can support you as you scale. Not only can we connect to your current data environment, but with with 50+ built-in connector and REST API connector we are flexible enough to be certain that we will be able to meet your demands in the future. In the journey of Modern Data Stack ? We've direct connectors to Redshift, BigQuery, Azure, Snowflake. And dozens of other SQL's db.
Our product is multicloud you can deploy and manage Toucan on the availability zone of your choice on AWS, Azure, GCP, Scaleway, OVH... and even self-hosted thanks to Docker images.
With the possibility of a white-labeled approach, you can also maintain your brand identity and make data visualization a built-in feature of your core applications. Your users won't even feel like they are using a third-party solution in the process.
At the core of what Toucan does is good data storytelling and ensuring that data can be viewed, presented, and analyzed in the most easily understood and most suitable way possible.
Clear and actionable insights for your end-users leads to a huge impact for product adoption and engagement. They have their decision engine machine right inside your SaaS app.
Like our customers, you certainly built a great piece of software. We'd be glad to help you scale the analytics thanks to what we do best, full white label embedded analytics. So, contact us!