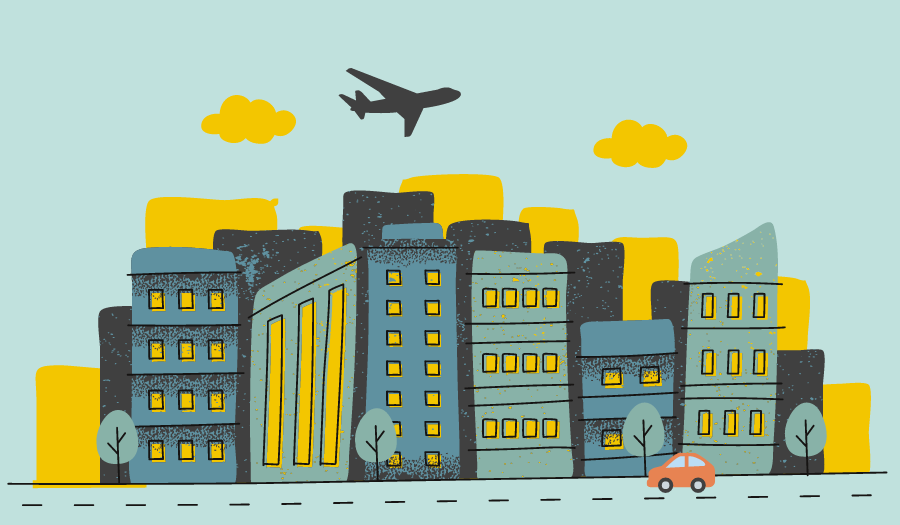 Commercial real estate is late on innovation
A Harvard Business Review study states that companies that make data-based decisions are more profitable than their competitors.
Faced with the success of data-driven companies, established sectors such as banking or insurance reconsidered their models. As a result, the appointment of Chief Data Officers has ramped in recent years. In 2019 90% of large companies have CDOs in their executive committees.
In contrast, we stated that this conversion is slower in the real estate industry. In an interview with Forbes, Louisa Xu – investor at IVP, also observed that :
"Real estate is the largest asset class in the world – worth more than all stocks and bonds combined – yet it is one of the last to adopt technology."
Actually, nearly 2/3 of the global CRE industry still runs on Microsoft Excel! This old-time reporting practice not only leads to errors but also wastes time. Furthermore, it hinders the real estate industry to meet modern expectations and maintain high performances.
Major market players are catching up. For instance, JLL's recently announced the launch of a $100 million investment fund dedicated to new technologies.
In order to be part of this evolution, CRE companies must demonstrate their ability to adopt new tools. The introduction of simple and complete solutions allows you to improve your working methods and extract better results.
The Property Manager of 700+ shop mall saved over 2500 hours of manual data aggregation by setting up a tool that allowed tenants to insert their monthly data.
Toucan Toco's experts have selected 5 reasons why data-driven strategies enable CRE actors to save time and make their business profitable.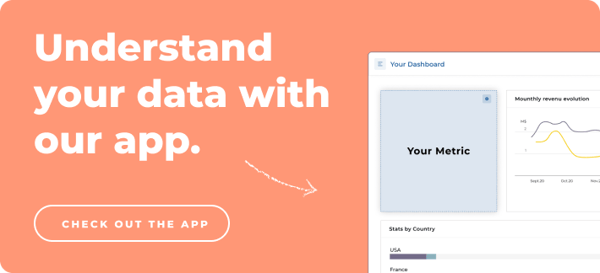 5 reasons why becoming data-driven will

put you ahead
1. Base your strategies on reliable information
70% of CRE workforces are not equipped with Business Intelligence tools. This means that a lot of decisions are based on instinct rather than factual and reliable data.
This can be largely attributed to the difficulty of navigating BI tools. In consequence, it often leads employees to abandon these tools. For this reason, they prefer to use a tool that seems more familiar: Excel Spreadsheets. However, as we stated earlier, using Excel hinders the CRE evolution towards a data-based culture.
In contrast, simple-to-use tools do exist. They are easily deployed and drive better decision-making, allowing your team to visualize at a glance all the important quantifiable information. Marketing, commercial or financial strategies are therefore based on reliable information.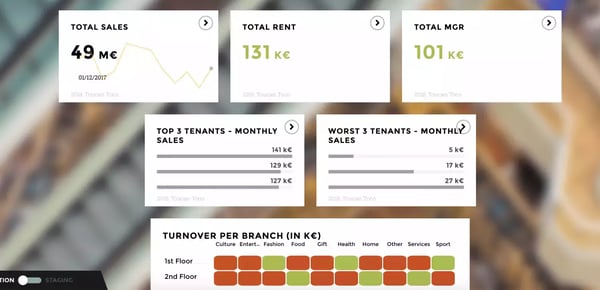 2. Reduce your cost
Reactivity is key in the Commercial Real Estate sector. To this end, real-time access to your shopping center's data dashboards is essential.
Simple visualizations help you easily point out the strengths and weaknesses of your asset and boost investor management by comparing performance with forecast, budget, or year-to-year performance to ensure cost reduction.
For instance, a leading shopping center cut its energy costs by 3% after identifying traffic heat maps and adapting the operation of their Air Conditioning. Adapting the operations of your mall based on real-time information drives the costs down simply by being reactive.
The cost can be also be brought down by automating repetitive reporting tasks. We mentioned above that 2500 hours of multi-source data aggregation were saved. This means that 2500 hours can now be invested in the analysis leading to a better understanding and management of your asset.
3. Improve your financial performance
Putting financial reports together is extremely time-consuming. Engagement can be low as reporting are overwhelming. Furthermore, your readers will get used to focusing only on a number or two. In contrast, the implementation of dashboards ensures no time is wasted and engagement rates of over 80%.
Because data aggregation is automated, these tools provide CFOs and accounting staff with reliable information. This data can be cross-referenced with other sectors: sales and purchasing data for example. This allows for better identification of the savings you can make. This changes the way you work. You have access to an accurate picture of your financial situation which facilitates decision-making.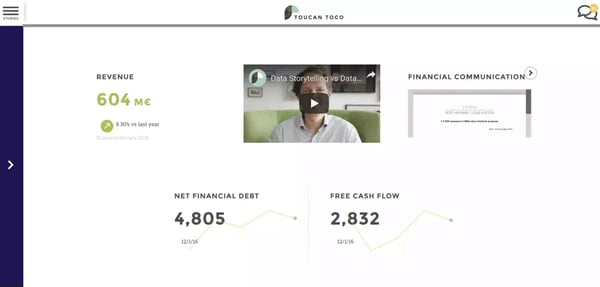 4. Enhance communication
According to Gartner, the fundamental characteristic of a data-driven culture is the simple provision of these data to all people in the company. Therefore, pedagogy is required across the organization to optimize the adoption of data analytics tools.
Actually, the implementation of automated software improves communication with all of your stakeholders:
On one hand, all aspects of real estate transactions are shared with your investors, tenants, and team through a single platform that aligns with everyone.

On the other hand, it demonstrates your transparency and the objectivity of the strategic decisions you make. Your discussions improve in quality because every stakeholder has access to the same numbers, which decreases the risk of misunderstandings.
5. Maximize customer value
Visitor rates, conversion rates… By putting visitor data from your shopping centers at the service of your tenants and teams, you enable them to put the right marketing and sales strategies in place to increase overall performance by 1-2%
You can identify days of high or low traffic, the most and least visited areas. Sharing this information makes it possible to make improvements that make sense in terms of customer experience, merchandising, etc.
By putting a simple to use tool showing them the number of people that came in front of their shop and the number of visitors who entered the shop, and comparing it to their neighbor, rent can be negotiated based on this performance. For example, 2 tenants had an 18% difference in the visiting/passing by ratio, leading to the negotiation of the next lease.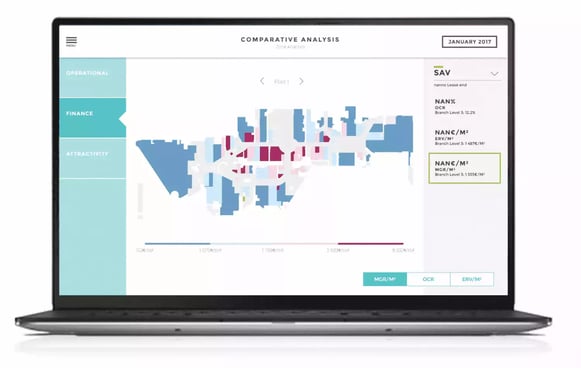 Why becoming data-driven will boost your performance?
Facilitate the regular collection and access to your data with an automated dashboard:

We use your data, by plugging the solution to your software and tools. Vacant spaces, unpaid, visits, revenue, or lease renewals, easily identify the activity trends. No training is required data storytelling dashboard, thus automating the entire process and communicating key insights throughout the organization.

Reduce time spending on managing the leasing lifecycle and help your team focus on meaningful data:

Our visualizations allow you to easily point out the strengths and weaknesses of each property or shop and take actions. Add intelligence to the commercial meeting by giving metrics that matter the client for its decisions.

Cultivate a good relationship with your tenants by ensuring clear communication and transparency:

Get the full picture of your retail park, your mall or your tenants with economic and non-economic KPIs. Share your results with all of your representatives.
Myriam Taider, Content Manager @Toucan Toco
We hope that this article gave you a better understanding of why data is such a crucial key to success in the real estate industry. Below, you can watch a success story from Marques Avenue to learn more about the company's leveraging of data storytelling to improve performance