Who remembers charts and raw numbers? No one.
Who remembers stories? Everyone.
That's why data storytelling is so successful at helping non-experts understand data. Not only does it transform raw numbers into visually appealing graphics, but it also adds the necessary context to weave a compelling story with a clear conclusion (and action items). While raw data gives you the "what", data storytelling allows you to understand the "why", "when", "where", and "what to do about it".
Helping business users build data stories has been our core specialty for more than six years. We're always trying to make data more accessible for people who don't have the word "data" in their job title, and data storytelling is a big part of this.
So when we started building Toucan 2.0, our brand new, end-to-end, guided business analytics platform, revamping our design studio was a big part of our effort. We're happy to introduce you our new and improved Data Storytelling studio that makes creating data stories easier than ever before.
You hate starting from scratch? You'll love The App Gallery
A comprehensive gallery of charts
What's the worst part about building a data visualization when you're not an expert designer or data analyst? Starting from a blank slate. More often than not, you don't know where to begin. Well, that's no longer an issue with our Data Storytelling Studio: we've packed a wide range of ready-to-use charts and graphics directly in our platform.
How did we do that? We've picked our users' all time favorite charts and organized them by department or industry. Whether you're an HR director trying to keep your turnover rate on track, or whether you manage a chain of hotels and want to keep an eye on your occupancy rate, chances are the KPIs you need the most are already included in a specialized chart in our App Gallery. You just have to pick the right one for you, and you're set to go.
And the kicker ? it's all mobile
The trouble with most analytics solutions is that, while they look great on desktop, they're not easy to use on mobile. You often have to download a specialized app that looks like a cheap version of your desktop platform, or even worse, design all your charts for every device you wish to use. That's not the case with Toucan: every chart you build is instantly available on mobile, with zero extra click.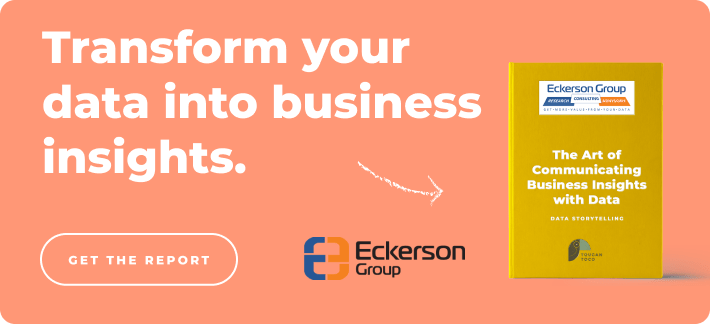 Focus on the big picture with the Guided Design
Let us guide you through it
When it comes to design, there is such a thing as too many options. It's easy to get lost among all the fonts, colors, shades, themes and types of charts that are made available to you. What is supposed to be an additional feature ends up being a hurdle. The abundance of choice might make you lose sight of what's really important: communicating key insights. This is why our Guided Design feature helps you pick the right chart for the right task. Forget about creating the perfect dashboard and focus on getting your point across. Consistency is built in, to make sure every dashboard you create has the same look and feel in order to avoid confusing your end user.
You'd like to do it all yourself? Go right ahead!
If you'd rather have all the freedom to build a dashboard that truly looks and feels like your brand, the Studio gives you complete control over the color palette (from the background to the chart elements), and font. You'll also be able to add your own logo easily and at no extra cost. You'll have all the tools you need to make Toucan your Toucan.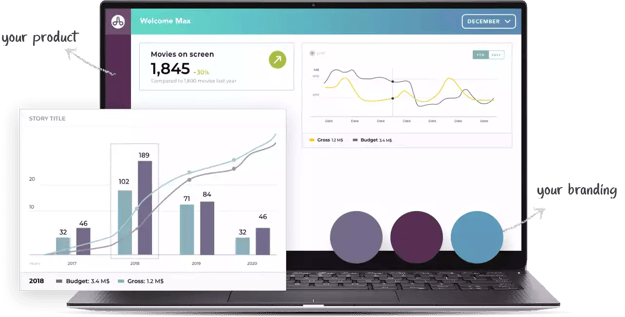 See what your end user will see
Reduce security breaches with the "view as" feature
What do you do when you want to see what the app you've built will look like for end users depending on their permission level? Well, you might create a fake login and password that you will send around your teams. This way of doing things creates obvious problems: first and foremost, it's unsafe. But it's also time consuming and confusing. It's hard to keep track of all the logins you've created. Where do you keep them? In an excel file? How do you make sure it's secure?
Our View As feature puts an end to this problem: you can instantly see what the app you've built will look like for any user depending on their permission level.
No data? No problem!
Sometimes, you have to build charts and graphics before having access to the actual data. You won't have to wait for your data teams to deliver mock data: our "fake data" will allow you to fake it till you make it and run simulations to see what your charts will look like in real-life scenarios.