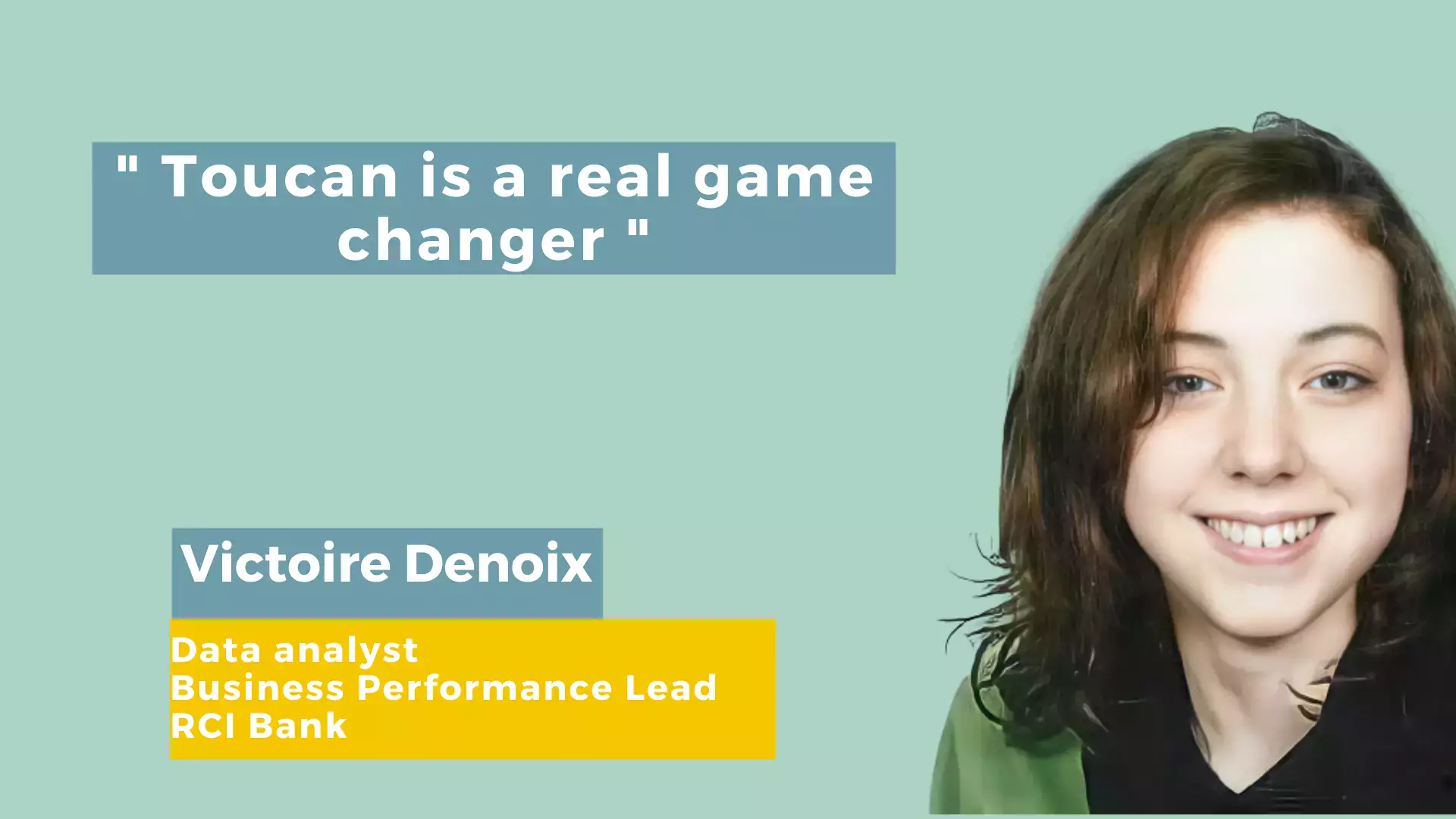 When your job is to communicate compelling insights, you can't compromise on clarity: your teams' efficiency depends on it.
While traditional BI tools are great at conducting complex analyses by expert users, they typically fall short when it comes to delivering clear and actionable insights that can be leveraged on the spot to close a deal, qualify a lead, understand the effectiveness of your marketing campaign, or see where your operations need support.
That's why data and business analysts are increasingly turning to Toucan's Data Storytelling platform to get important information across to the teams they support.
Victoire Denoix is one of them: as a data analyst and business performance lead at RCI bank, the financial services provider for Renault Group, she relies on Toucan to communicate with sales representatives and managers on the ground. She has agreed to talk to us about the impact that Toucan has had on her daily missions, and shared her feedback after just 3 months of using the platform.
Meeting the limits of your legacy BI tool
Constant phone calls and urgent requests asking you to provide information on the spot: anyone who supports sales managers has had to adapt to this fast-paced, demanding environment. 20% of RCI Banks' workforce is stationed at the headquarters of the company and tasked with providing crucial information to the rest of the team: sales representatives and managers who visit car dealers.
As a data analyst, Victoire Denoix has to be extremely responsive to inbound requests emanating from sales managers: "Our mission is to dig through all the different data tables that we have to find specific information, such as penetration rates over a certain period of time. We often have to combine various data sources to do so."
Reactivity is particularly important in the financing sector, where providers are constantly trying to cut their response times and deliver fast answers to car dealers and their clients: "If your competitor can give an answer in a few hours, and it takes you three days, it's a problem". This time constraint makes Victoire Denoix's role particularly strategic.
When it comes to legacy BI tools, here's what Victoire had to say : "These tools were designed to give experts the ability to explore an unknown data set from every angle possible. That's why they offer you so many capabilities but lack guidance. This is in line with what Legacy BI is for : exploring data ! But this type of product positioning makes communicating clear insights hard, subjective, time-consuming, and ultimately requires a lot of maintenance down the line".

"The idea was never to choose Toucan to support a data analyst in their exploration", says Victoire, "but to drastically improve their ability to deploy best-in-class dashboards in record time, with a record adoption amongst a record audience."
"Toucan took the design weight off my shoulders"
"When I've invested a lot of time in finding the right insights, it's normal for me to want to maximise their business impact. Communicating a message to a wide audience means it has to be objectively clear. But designing high quality dashboards in a matter of hours for any device was a nearly impossible mission before Toucan because of the complexity of BI tools."
The issue with Traditional BI is that it lacks the quick-to-deploy, objectively clear design frameworks that make the strength of a platform like Toucan. The way Victoire puts it: "There's a lot of things you can do with a legacy BI tool, but it also is a lot more complex and a lot more demanding when it comes to communicating insights at scale. However, when it comes to sharing these insights, you need built-in best practices that help you deploy fast, on numerous devices, while being assured that your deliverable will be of the highest quality for your users."
Like many banks and financial service providers, RCI Bank is facing the challenge of modernizing the tools and platforms they present to their end-customers. They had to find a way to come up with automated dashboards that are intuitive and intelligible without spending a lot of time on their deployment: "I would not have been able to do this on a Legacy BI tool. And even if I were, it would've taken much more time and the design wouldn't have been as easily adopted by our users.
The fact that Toucan can instantly connect to the company's network and leverage the data without any additional effort on my part is a real game changer", adds Victoire. 'It allows me to spend more time doing what I do best while still providing my teams with optimal support."
"With Toucan, you can design a new story and get it up and running that same day."
The challenge of change management
"We're always on the lookout for new ways to improve our tools and we try to be as reactive as we can be with structural changes in the company": many analysts share Victoire Denoix's call for more flexibility and agility in change management. Many also agree that traditional tools fall short when it comes to implementing rapid modifications and seeing how they fare. Toucan on the other hand, says Victoire, is much more manageable when it comes to publishing new versions of the dashboards and adding KPIs or visualizations rapidly: "Between issuing tickets to IT, validating what they do on the pre-production platforms and all the back and forth, it can take more than a week to implement simple changes with our traditional BI. This is a problem that has disappeared with Toucan. You can design a new story and get it up and running that same day thanks to its integrated workflow."
"All our sales managers need to do is open the Toucan app on their tablets or mobiles in their car before their meeting starts."
Victoire Denoix admits that her biggest challenge is changing the habits of sales managers so they automatically turn to Toucan when they need crucial information: "It takes work and effort to get managers on the ground to rely on new tools. Their first reaction was to say how beautifully designed and user-friendly the platform is. But it takes a bit more time to get the reflex to check the dashboard on the regular." The fact that the dashboard is so easy to access and to navigate on any device really makes things easier, though: "All our sales managers need to do is open the Toucan app on their tablets or mobiles in their car before their meeting starts. We don't even have to issue reports and send them." Sending the reports would be possible, however, thanks to Toucan's built-in "Convert to PDF" and "Email" features that optimize communication amongst team members.
Victoire would encourage her peers to try Toucan very soon in order to scale their practices: "Toucan really helped me do more of what I love, while also better serving my users, which is what brings me happiness and purpose."