Boost insights consultation
by your Sales Reps.
Automate
SFE report creation
Spend more time doing analysis
than designing reports.
Mobility
instant & native
Intuitive design and navigation
to supply your field teams.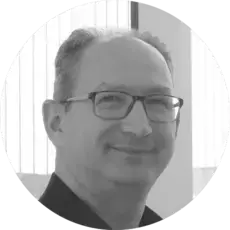 Toucan Toco is straightforward to use for field reps. They can easily access their data on their Ipad before their meetings.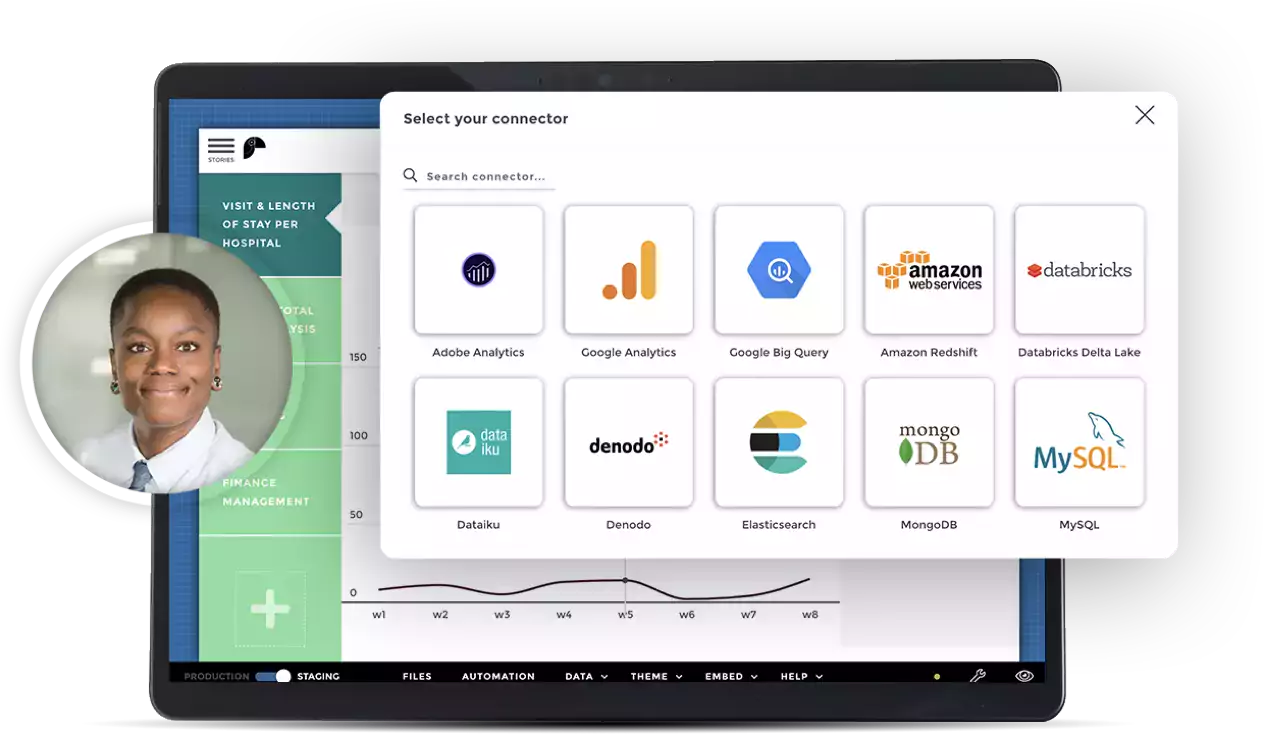 Contextualized
Multi-Source Analysis
Integrate all your data sources (Sell In / Sell Out, Internal Data) and create a single source of truth for your teams.

Anticipate business evolutions by introducing an omnichannel approach in the management of HCP's collaboration.

Provide up-to-date results & access to historical performance data.
Instantly mobile
solution even for your
bricks on a maps
Improve accessibility & empower sales reps with mobile reporting.

Integrate an alert system to communicate results quickly and ensure quick consultation.

Get a dynamic & customizable view of your bricks performances.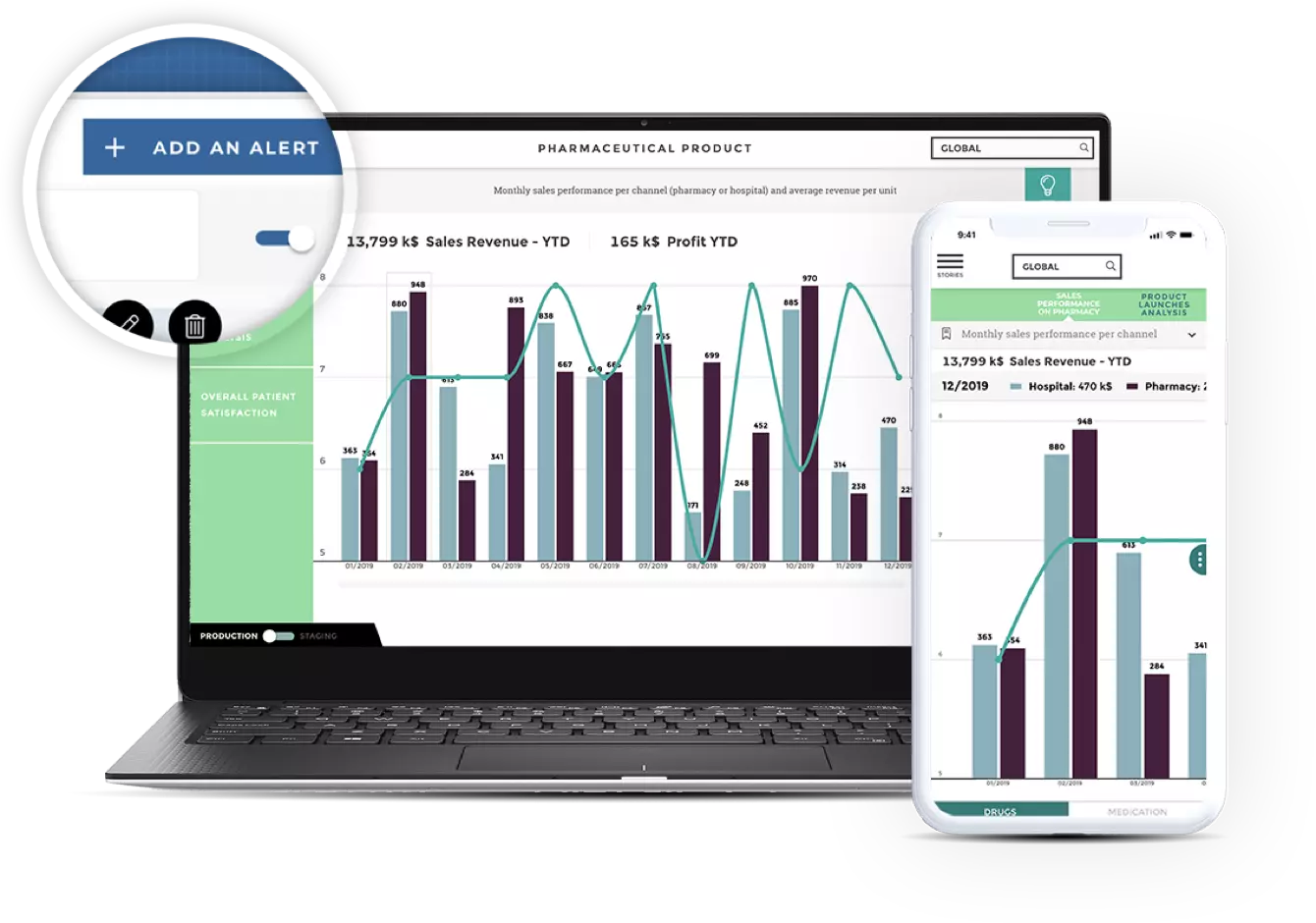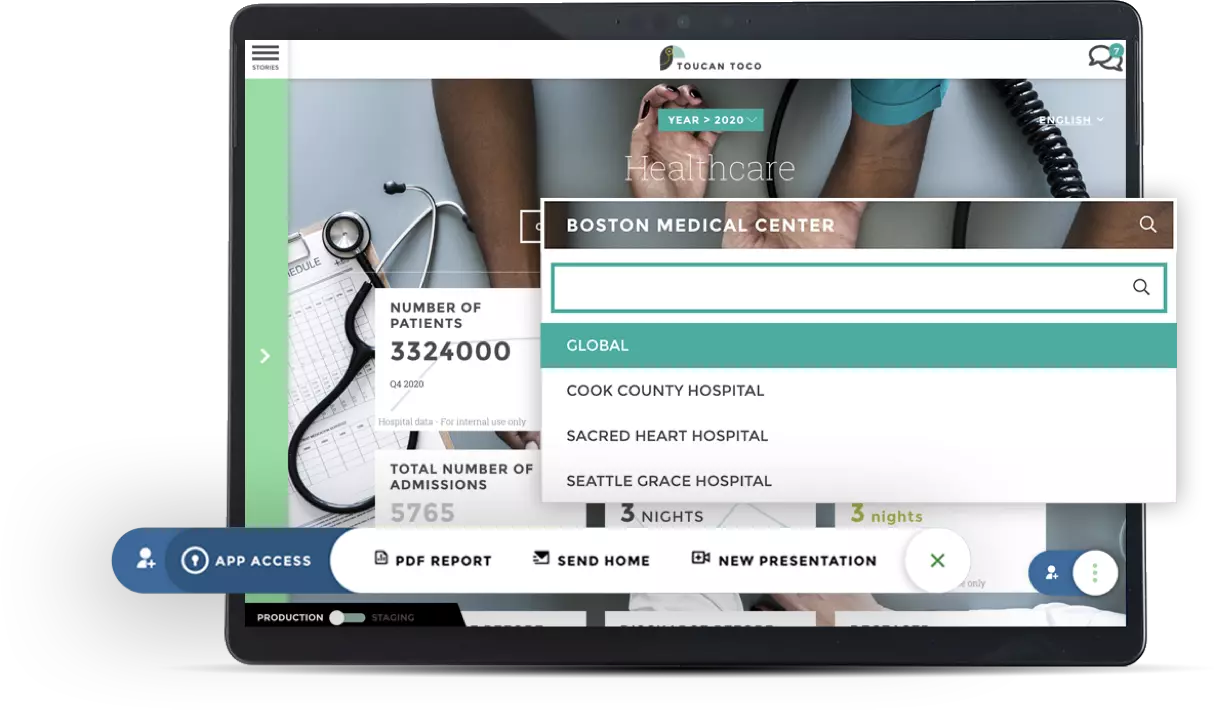 Automate your performance reporting
Secure your data with an integrated data governance system.

Spend more time analyzing your data than consolidating your performance reports by automating your dashboard updates.

Analyze prescription volumes and market segmentation at all levels (from national to UGA) with an integrated authorization system.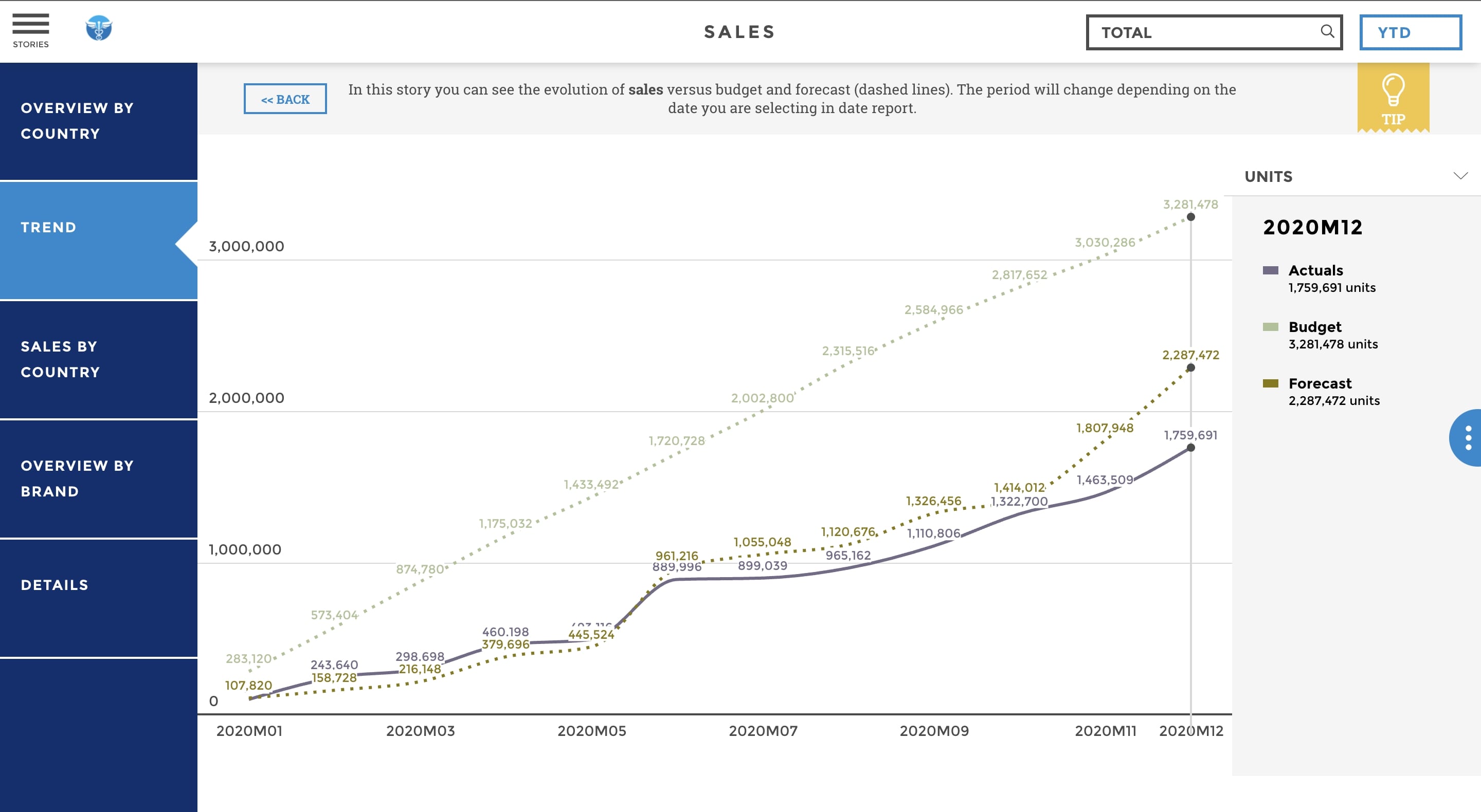 Ready to start?
Experience Toucan app now!
Customer Stories
"We provide our pharmaceutical sales teams with a mobile app to share up-to-date insights. We get a 100% usage rate & we automated our reporting creation."
Alexandre Batt - Commercial Excellence Director
BI FOR PHARMACEUTICAL LABORATORY Q&A
What is an SFE dashboard for Pharmaceutical Sales Rep?
An SFE dashboard is a modern analytics tool to monitor Sales Forces Effectiveness KPIs in a dynamic and interactive way. It provides the Pharmaceutical Sales Representative and Sales Manager with an instant visual representation of their Sales and Segmentation indicators.
Salesforce Effectiveness is a strategy that enables the Pharmaceutical sales force to target the major of their effort towards highly profitable bricks and limit coverage of less profitable physicians. SFE is driven by the decisions, processes, systems, and programs that sales leaders are accountable for.
Toucan's Pharma SFE application automates your dashboard setup to facilitate sales performance monitoring, by sector, by product, over time.
How BI tool can optimize Pharma Sales Rep's performance?
A BI tool can unify disparate data sources and allow to discover hidden insights that can help Pharma Sales Reps to be more informed, strategic, and ready for their interactions with HealthCare Providers. With an analytics solution, your Sales team will have a better understanding of the market and the HCP's objectives and needs.
An analytics dashboard provides the Sales team with an instant visual representation of their bricks and prescriptions performance indicators.
It allows your sales reps' to visualize the data sets to gain an understanding of the market performance, including turnover, sales on targets, bricks performance, prescription performance, and compensation. They are now able to explore various scenarios and optimize scenarios of visits to physicians.
Why you can improve commercial excellence with Pharma analytics software?
Pharmaceutical companies have traditionally relied on sales representatives for conducting face-to-face meetings with physicians to market their pharmaceutical drugs and drive sales.
By developing an analytics sales culture, you can enable your Sales team to make better decisions about how to connect with Healthcare Providers and promote your product.
With an analytical tool, you will be able to set up a sales strategy to help you achieve your business objectives by analyzing data through different models.
You will be able to break down opportunities by market segment and product and develop a customer targeting and coverage strategy.
What are the benefits of a data analytics solution as a Head of Commercial Excellence in the Pharma industry?
Using analytics to improve your Sales Forces Effectiveness strategies will help you focus on high-potential improvement projects. With a common data visualization platform, your Salesworkforce can access:
• To a unique application that presents market and sales data to help pharmaceutical sales reps drive their business. When they open their application, they can see the most overdue bricks to visit and prepare for their future visits.
• For managers, they will also be able to organize their visits ahead and optimize their sales forces. The alerting function will help them set up an alert system to notify their teams.
Our tool is intuitive to use, it is directly available on all supports (mobile, tablet, and desktop) to equip a field pharmaceutical sales representative. Your team can analyze its results, its objectives, and its sector, but also compare itself with the global KPIs of your laboratory. Toucan's integrated collaboration options allow you to share best practices and coach your teams in just a few clicks.