If you are looking for a new way to improve your business, creating a sales department dashboard is worth considering. These dashboards typically allow sales teams to keep track of all the vital information about their employees and company in one place.
This can include everything from how many leads they have followed up on, how much revenue has been generated, and more. On this page, we will share with you some tips on creating an effective dashboard that meets the needs of your sales department!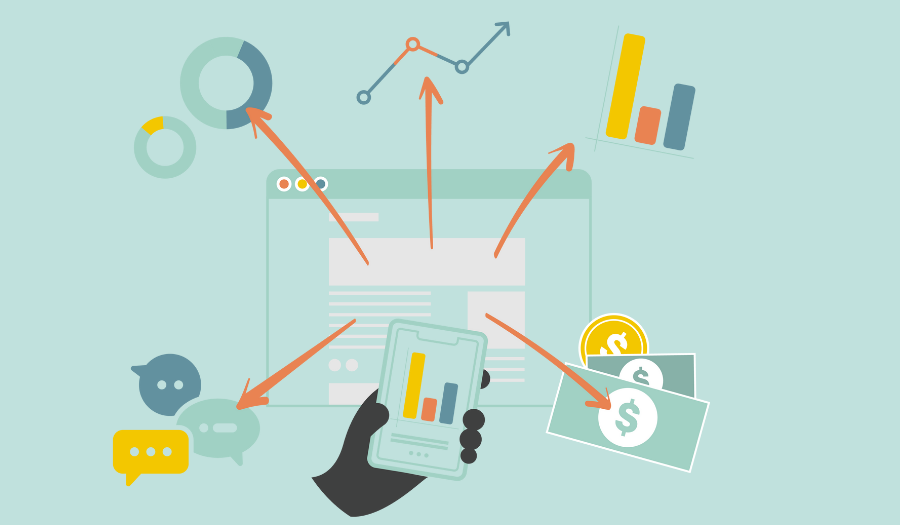 First Things First: Why Use a Dashboard?
Outside of the fact that companies typically see a 6% increase in revenue within three months of using a dashboard, there is also a high 85% adoption rate. However, one of the best reasons to start using a sales department dashboard is to help motivate your employees.
Simply put, if they know a dashboard is measuring them, they will be more motivated to work hard and do a better job. Another reason may be that it makes evaluating your department as a whole easier. It can also make providing feedback to your team more organized & data-based. Now that you know some of the benefits of a dashboard, let's explore how to create one!
Think of the Tool You Will Use to Track Data
Most people who use a dashboard will benefit from using a premium platform such as Toucan Toco. However, there are also budget tools like Google Sheets and Microsoft Excel.
For best results, look through your company's budget and sit down with your sales department to determine whether or not you could make good use of a dashboard and which platform will be best for your needs.
Brainstorm Which KPIs You Need to Better Track
Without a dashboard, sales teams will often need to go through tons of different files, e-mails, receipts, and so on to get an idea of how they are doing with their KPIs. However, a dashboard allows you to monitor what is happening right from your desk within a few clicks!
Before getting started with a dashboard, sit down with your sales department and think about which KPIs are most important to you. If you can't think of any on your own, here is a starting point:
Cost per lead
Number of deals closed (per month)
Profits & Expenses
As mentioned before, a dashboard will allow you to look at all of your KPIs within a few clicks. This is why it's so important to spend lots of time planning out which KPIs are most relevant for your sales team.
Input All the Data onto the Platform
Once you have decided which platform you want to use for your dashboard, the most challenging part of making your dashboard will be to upload all of your data. Treat this process with a high level of care, though, since it will be what the platform uses to get you visuals.
With incomplete or invalid data, you won't be able to see what's happening in your sales team. To ensure this doesn't happen, find out which type of data needs to go into the platform and make sure it is all inputted correctly before you start creating charts and graphs!
Create Charts & Visuals Using Your Data
Once you have inputted all your data, you are ready to create the graphs and charts representing the data on your dashboard. This may seem like the end of the process, but it's an important step! After all, these will be what other team members and executives see when they look at your dashboard. By creating compelling charts, you can make it easy for people to digest the information on your dashboard even if they don't know much about sales.
Spend Some Time Playing Around with the Aesthetics
Considering that you will be using these charts to help understand what is going on behind the scenes of your company, the aesthetic value of the charts should be paramount!
Most of the time, you will need to spend a bit of time with a dashboard before deciding on what charts and graphs are best for it and how to adjust aesthetic settings. Therefore, be sure to take your time! Play around until you find something that is pleasing both visually, as well as data-wise.
Come Back Routinely to Update Your Data
Remember to come back to this dashboard regularly. The data must be fresh and updated since a lot can change in a few days in sales. Once you have your sales department dashboard up and running, it will be time to think about how you will maintain and improve it.
Typically, sales teams will update their dashboard every day, week, month, or quarter. However, the frequency really depends on what type of data is being inputted into your dashboard. For example, suppose you are monitoring profit and expenses. In that case, it might be necessary to update this every quarter since there usually aren't many changes that happen in those areas within a month.
The most important thing about updating your sales department dashboard, though, is consistency.
Use the Data to Determine Which Trends & Problems Need Attention
If you fail to come back and consistently look through your data, you might easily miss a trend or two that needed to be addressed urgently. This could result in many problems for your company, and you wouldn't be aware until it is too late.
This may feel like an overwhelming task at first since the dashboard might take up quite a bit of time to maintain. However, if there's no one looking at the data regularly, then all that time and work will be for nothing.
Ready to Get Started with Your Sales Department Dashboard?
The process of creating a sales department dashboard is not as daunting or complicated as it may seem at first glance. The key to ensuring that you are successful in your endeavor is consistency and staying on top of data updates. In the end, the benefits of having a sales department dashboard far exceed the burdens that may come in maintenance.
For more information, please refer to the following pages: