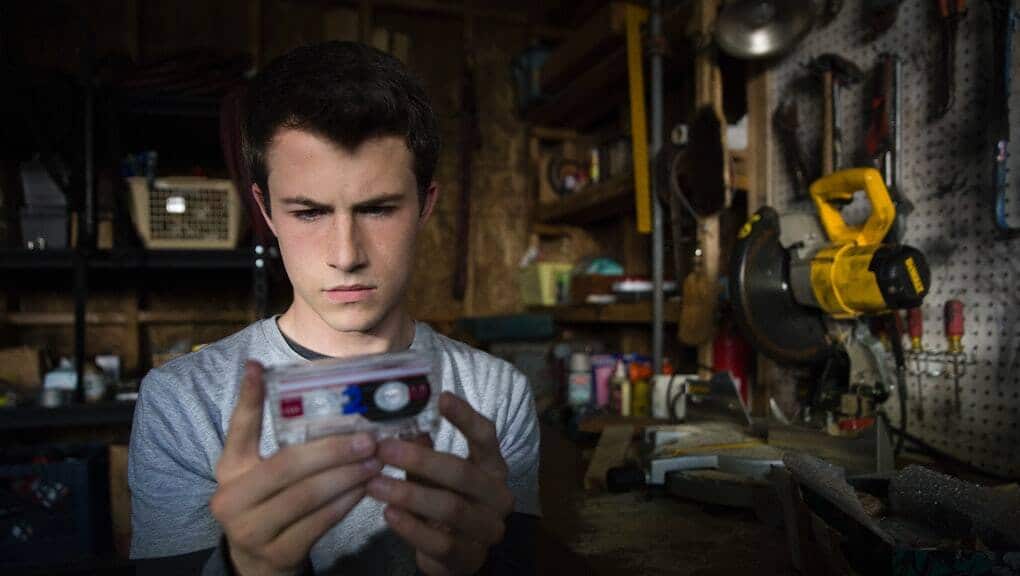 Over the past 25 years, Enterprise Performance Management (EPM) solutions have been introduced in the Office of Finance to streamline financial processes.
Instead of just using a spreadsheet-based solution, more robust software tools were introduced to handle increasingly complex processes for financial consolidation, budgeting, forecasting, and business planning. Currently, most medium to large size companies has systems in place to handle these processes in a controlled, fast, and accurate way while being able to quickly adapt to changing business requirements and regulations. More recent EPM solutions (like CCH Tagetik and Onestream) have even introduced a single platform to support all these processes in a single tool, thus reducing risk and costs for maintaining multiple systems.
Besides handling complexity and adapting to new requirements and regulations, EPM tools also needed to handle larger data volumes. Companies grew larger (organically or by acquisitions) and the need for more detailed information (both financial and non-financial) for decision-making and regulatory/statutory requirements became more important or obligatory.
Thus, modern EPM systems have grown to excel at supporting complex financial business processes and are all able to deliver accurate and timely financial reports. However, there are also a few downsides with EPM tools worth mentioning.
Due to evolving requirements and functionalities, EPM tools have become more complex to implement and maintain. Consulting firms are commonly hired to bring in their best practices implementing and using these flexible and functionally rich tools.
Too often EPM tools lack simplicity for sharing information outside the finance department. This is mainly due to large and complex data models with many dimensions to cross for extracting useful information.
As a result of complexity and data volumes, poor response times of reports and dashboards within EPM tools are more common than an exception. Many companies, therefore, have decided to implement additional BI tooling (like PowerBI and Qlik) to deliver a very performant analysis platform to their (mainly) financial and business analysts.
The next evolution of Enterprise Performance Management will be to bring data in the hands of everyone involved in the performance of the organization and combine the data with visuals and narratives to share insights that will drive change in your organization.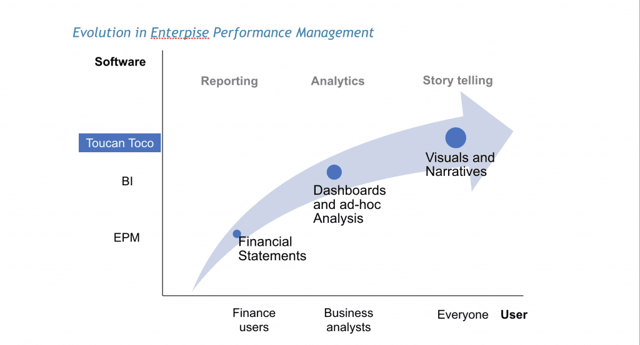 How Toucan Toco can leverage your investments in EPM and BI systems?
With Toucan Toco you can easily integrate data from your EPM system with any other critical data sources to complete the data stories you want to share across your organization. These data stories contain all necessary data, visuals and narratives to be understood by everyone 'at first glance' and can be combined with comments to share and communicate valuable insights that need follow up.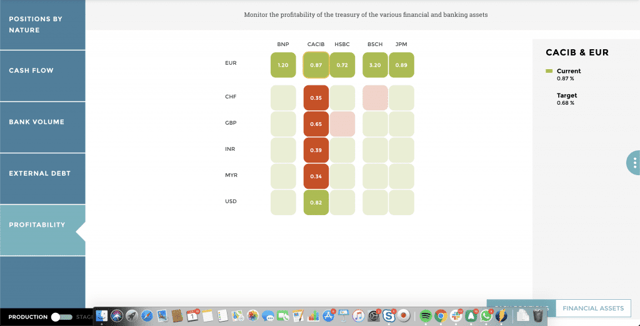 New trends in Enterprise Performance Management
Toucan Toco perfectly allows you to broaden the scope of your data stories besides the traditional processes in the Office of Finance. Topics like Corporate Social Responsibility (CSR) and Integrated Reporting are becoming more and more integral part of a company's reporting and communication process. Toucan Toco offers a unique platform to report and communicate on all types of information both coming from internal data sources, but also from external data sources (e.g. like supplier data related to carbon footprint).
One of our clients who has published their CSR report on their public website is the Airport of Paris (Groupe ADP).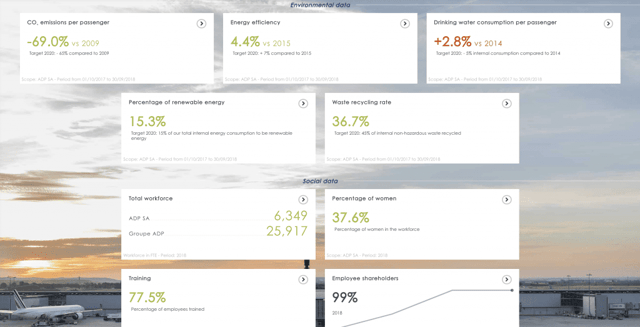 As you will notice in this CSR example, the user experience is all about simplicity and understanding 'at first glance'. That is why companies like Groupe ADP, Heineken, Danone …. have chosen to deploy multiple applications with Toucan Toco to a large (mainly non-financial) user community.
What value can Toucan Toco bring to your organization
Insights will be missed if they are not successfully analyzed and communicated into data stories. This skill is critical to deriving value from the data. Data tells you what's happening, stories tell you why. When you put them together, great change is possible. The impact and business value of this can of crucial importance, especially in turbulent times we are currently facing with the Covid-19 pandemic.
"The ability to take data – to be able to understand it, to process it, to extract value from it, to visualize it, to communicate it -that's going to be a hugely important skill in the next decades."
Hal Varian, Chief Economist at Google.