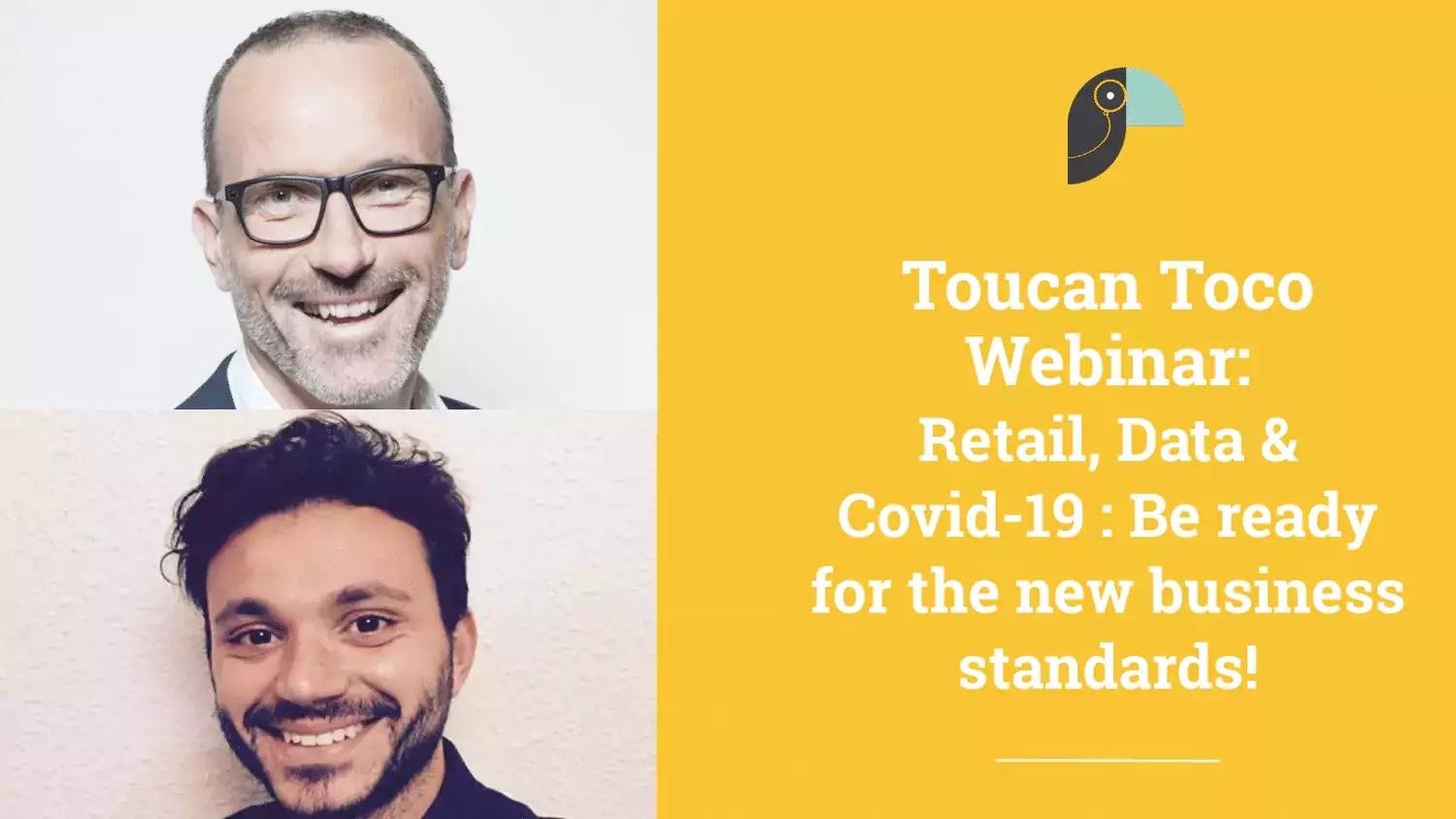 UNIFY METRICS TO CREATE A CASH CULTURE WITHIN THE COMPANY
Let's be honest, this Covid-19 exit situation is new for all of us, and all companies are adjusting their strategy to bounce back and prepare for a new "business as usual".
To secure the proper management of your retail network during this hectic period you need products offers adapted to the needs of your customers, a 360° view of the consumer's experience, to manage all your channels or share the right information with all your contacts (regional directors, department heads, promotion managers, etc.)
And what if the answer is in the data you generate every day? They are now the cornerstone to provide precise and sharp monitoring of the status of your network, every day!
In this 30 minutes webinar, we will share with you the best practices of the market and the solutions of Toucan Toco to help organizations, and especially distributed companies, to understand their data at a glance and provide insights on the status of the network.
We will offer you some food for thought on how this really applies to your retail world and illustrate these lines of thought with concrete use cases and expected benefits.
WHY WATCH THIS WEBINAR?
Help you manage your retail network
Deliver information to the right person, make sure that the right actions are taken.
Provide a readable reporting structure on a daily basis.
Adapt your product offers to better meet the needs of your customers
Offer a 360° view of the consumer's experience
WEBINAR AVAILABLE HERE ⤵️
TO DIG DEEPER
ABOUT TOUCAN TOCO
Our mission: tell Business Performance Stories through interactive Data and Data Storytelling.
Our users: Marketing, Production, Finance, Human Resources, SalesForces, and Top management of Big Companies.
From 4 partners to 100 employees in 5 years, we were self-financed until 2019, thanks to the support of more than 100 clients, for more than 300 projects, including Renault, Crédit Agricole, Elior, Icade, Nexity, EDF, GRDF, BNP Paribas, Heineken, Marques Avenue, Euler Hermes, BIC, SNCF.
We have completed our first funding from Balderton Capital and the former founder of Business Object to accelerate our development in the United States. Small apps are mobile, easy to use, made for action, and easy to set up in any information system.
You will find:
A strong culture, based on caring and goodwill. We build values together, one of them is "each one teach one". We are teachers and learners, for each other.
We are:
A strong software exciting to create, setup, market or sell.
A fast-growing company, where you can grow up too.