Every business uses analytics to make decisions, but for too long that process has been subject to gatekeeping by data experts. The cloud is bringing analytics to the rest of us by allowing organizations to create seamless cloud-based data warehouses with integrated analytics tools and compelling, accessible data storytelling capabilities.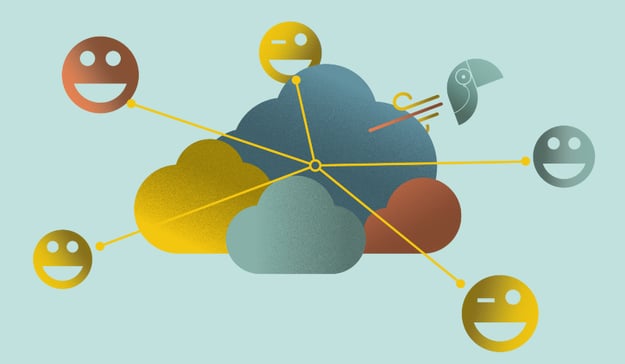 Organizations that embrace this transformation will find themselves in a virtuous cycle: when you move data and analytics to the cloud, you're able to deliver richer experiences across the entire internal and external value chain, with easier access, fueling more demand for cloud-based data and services.
In this article, you'll find out how the cloud is helping organizations to reach higher and derive more value from data for their customers. If you'd like to learn more about what cloud analytics can do for your organization, you can read our free ebook here.
What your customers want
Using cloud-based warehousing and analytics, companies can empower their customers to leverage giant datasets in seconds. For business customers, especially, that's a game-changing capability enabling a variety of constituents to unlock new value from data.
Structured data warehouses and unstructured data lakes are of little value to your users unless they can interrogate them, mine them, and turn them into actionable insights. For too long that's been the exclusive province of experts and data scientists. New cloud analytics tools are changing that and democratizing access to data using paradigms such as data storytelling, which allows users to rapidly understand and use data without needing to trawl through endless spreadsheets or datasets in order to do so.
Your customers want better stories
Data storytelling is a powerful approach because everyone loves a story. In the end, numbers don't matter; what matters are the new understandings — the stories — you can derive from those numbers. Data storytelling is a way of organically revealing and communicating those new understandings, and delivering the value they embody, without requiring your users to dig through spreadsheets or pore over rows of numbers.
Powerful UX and visual data-storytelling tools can make analytics seamless and intuitive even for non-experts. Your customers already want the power of data; through cloud-based data storytelling, you can open that door — and deliver powerful new value — to customers who'd never previously thought data insights were within their reach or accessible given their particular skill-set.
The bottom line is that you don't need a degree in data science to understand the power of data. With cloud analytics and the right data visualization tools, you can bring that power to all your users — and exponentially increase the value they find in your products.
Your customers want faster results
Scrapping archaic legacy tools and moving your analytics to the cloud can accelerate change and innovation across your business. Stick with on-premise analytics, on the other hand, and you'll find you'll struggle to keep pace with the world around you.
That's because cloud services and applications have to constantly grow and evolve to meet the needs of some of the world's most demanding, forward-looking customers. Your legacy tech stack, on the other hand, faces no such pressure: as long as it continues limping along, there's usually little institutional drive to implement potentially costly upgrades. For legacy tools, "adequate" is usually as good as it gets; for cloud implementations, anything less than cutting-edge is unacceptable.
The growing rift between on-premise and cloud technologies also creates headaches as organizations seek to integrate their legacy data-tech stack into their broader operations. The reality is that companies are already using the cloud in countless different ways, so using legacy infrastructure to manage analytics and related BI functions outside that cloud simply adds layers of cost and complication to the whole process, impeding your ability to generate value-creating insights. A unified, cloud-based approach lets you move faster and drive the innovation you need to stay on the cutting edge of your industry.
Why are most enterprises finally embracing cloud analytics? Read the ebook
Your customers want interoperable solutions
Of course, to deliver the speed you need, it's important to ensure interoperability between your different software tools, and ensure connectivity within the cloud across your organization. Despite the many advantages of cloud solutions, that kind of seamless integration isn't always a given: you'll need to look carefully to make sure that new applications and BI tools are able to work efficiently across your whole data ecosystem.
At Toucan, we take pride in having built the only platform capable of delivering best-in-class cloud analytics with the breathtaking speed and unbeatable reliability demanded by today's top enterprises. Building out your data infrastructure shouldn't feel like an ordeal, and with Toucan it doesn't have to. Simply figure out what you need, visualize your goals — and then achieve them within two weeks of deployment.
Are you ready to make the jump?
Bringing data analytics to the cloud is the right move for most enterprises. But we know how daunting structural changes of this scale can be. This is why we've written an ebook to help you determine if it's the right time for you to. You can read it for free over here