Perhaps you have been using an analytics platform for a while now, but you're unsure how to customize your charts or design graphics. Don't worry, this page will show you the ropes! We'll talk about the importance of aesthetics and then look at some best practices for designing charts and customizing graphics with an analytics platform. In addition, we will continue to elaborate on why analytics platforms are easy to install & use by providing some bonus tips on using analytics platforms.
CODE_HTML_IMAGE_1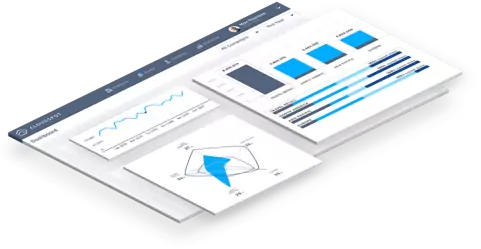 Why Customize Chart Aesthetics?
When we think of data visualization, we tend to focus on the content and statistical aspects, but aesthetics also play a role in creating compelling visualizations. When designing charts for an analytics platform, it's essential to consider what viewers will see. It should include great design overall and how you want to display specific metrics within each chart type.
In addition, aesthetics are essential for maximizing your effectiveness as a data-driven business – the look and feel of charts impact how users engage with the platform. In turn, impacting the quality and viewer understanding of your data. Most importantly, franchises that make full use of data and create great charts notice a 3.5% increase in customer satisfaction, a 7% store yield increase, and a 5% market share increase!
Best Practices For Customizing Charts Aesthetics
Think of What Your Story Your Data is Telling
First, consider what you want to display in each chart or graphic before starting the design process. You should have this information prepared already during your planning phase of creating metrics within the platform. The data that is being displayed will impact the comprehension of your data's story.
Consider What Type of Chart Will Tell This Story
No two charts are created equal, and some graphs will be better than others for telling a specific story, and some won't tell the right story at all. When choosing what type of chart to use, consider how many data points you have and if the viewer is looking for comparisons of trends over time.
Here are a few Pro Tips:
Use contrasting colors for the edges and background to highlight critical metrics
Consider color blindness when choosing a specific palette or theme
Play around with the settings and read through all platform tutorials
Choosing the correct type of chart is a crucial first step in telling the story of your data. In addition, it will help you eventually customize your aesthetics down to the most minute details!
Consider Metrics
In addition, consider how your metrics are related to one another and if there needs to be a visual cue for this connection. For example, imagine you are looking at site traffic by country or city, and it might make sense to include color-coding that matches towns or countries, but not both within the same graphic.
Essential Steps for Adjusting Aesthetics to Perfects
Each platform is different, but customization features remain similar across them all. Therefore, there are some universal steps that you can follow while trying to design the perfect chart each time.
Make Sure You Imported All Relevant Data
The work that you do with your design will have little impact without all the data you need. Before adjusting and customizing aesthetics for your charts, make sure all of the relevant metrics are in place. It's also a good idea to create some basic visualizations that give an overview of what is available before diving into designing custom graphics.
Analyze Data
After importing all your data, take some time to analyze it. This is an excellent way to get an idea of what charts or graphics you want to create and the data needed for each one.
Adjust Chart Types
Before finally deciding on which type of chart will best display your story, consider using different types of charts to see which one works the best. Each platform allows users to adjust the aesthetics of these graphs to look how you want them. This process typically begins with choosing a pre-set theme or palette and then customizing colors, lines, shapes, and other factors as desired. Play around until you get the results you need.
Look Through the Customization Settings
It should go without saying that you cannot master designing great charts if you are not familiar with all the available settings. Therefore, take the time to look through all of your analytics platform's customization settings.
Use Photo Editing Tools
Can't quite find the proper customization features? If you are a graphic designer or know someone who is, they can likely use a photo editing tool like Photoshop to make any changes you want. This is an easy way to work around any limitations that you find on the analytics platform itself.
CODE_HTML_IMAGE_2
Tips for Using an Analytics Platform for the First Time
Finally, one more aspect of using an analytics platform as a beginner might be the learning curve involved in getting started. Here are some final tips for you to consider while mastering your new software.
Remember Why You Are Here in the First Place
You started using a data analytics platform because you want to learn more about your website and its use. Don't get caught up in the aesthetics of designing graphs or customizing every feature available on a platform. Instead, stay focused on what you set out to do by using this tool: analyze data that will help you better understand business trends.
Start with Simplicity
You don't have to use all of your analytics platform's features right away. In fact, it might be best if you don't! Start by just importing some data, then create a few basic charts that are easy to understand without customization. Once you have the hang of things, start exploring other options on the platform and build upon what works for you.
Don't Shy Away from Asking for Help
Finally, remember that you are not the only one using this platform. There are experts behind it who can help troubleshoot any problems or answer questions about using specific features. Therefore, don't be afraid to ask for help if you need it!
Read Every Single Tutorial and Watch Every Single Video Introduction
As we briefly covered throughout our tips for design, watching tutorials and understanding the information given to you from the platform itself is usually the best way to master the platform.
Want to Learn More About Analytics Platforms?
Designing charts and customizing graphics is only the tip of the iceberg to understanding how analytics platforms work. We hope that this guide has helped you learn more about these powerful tools, including which features are most important for your business goals. If all of this sounds intimidating and you want help enacting these principles, feel free to keep reading other guides below.
For more information, please refer to the following pages: