The software engineering industry develops and creates computer system software for a variety of businesses. This includes customized programs based on a company's specific needs.
Because this is such an in-demand industry, there's a lot going on. This can make it tricky for software engineers to find certain data and for managers to monitor their teams. Due to this, a dashboard might be necessary.
A dashboard is an intriguing organizational tool that ensures you find information as quickly as possible. But, unlike other dashboards, software engineering ones require a few extra metrics to succeed.
This article will explain more about what a dashboard is, the benefits it offers, and why it's essential in software engineering.
Why Use a Software Engineering Dashboard?
There are countless reasons why a software engineering dashboard is ideal to use.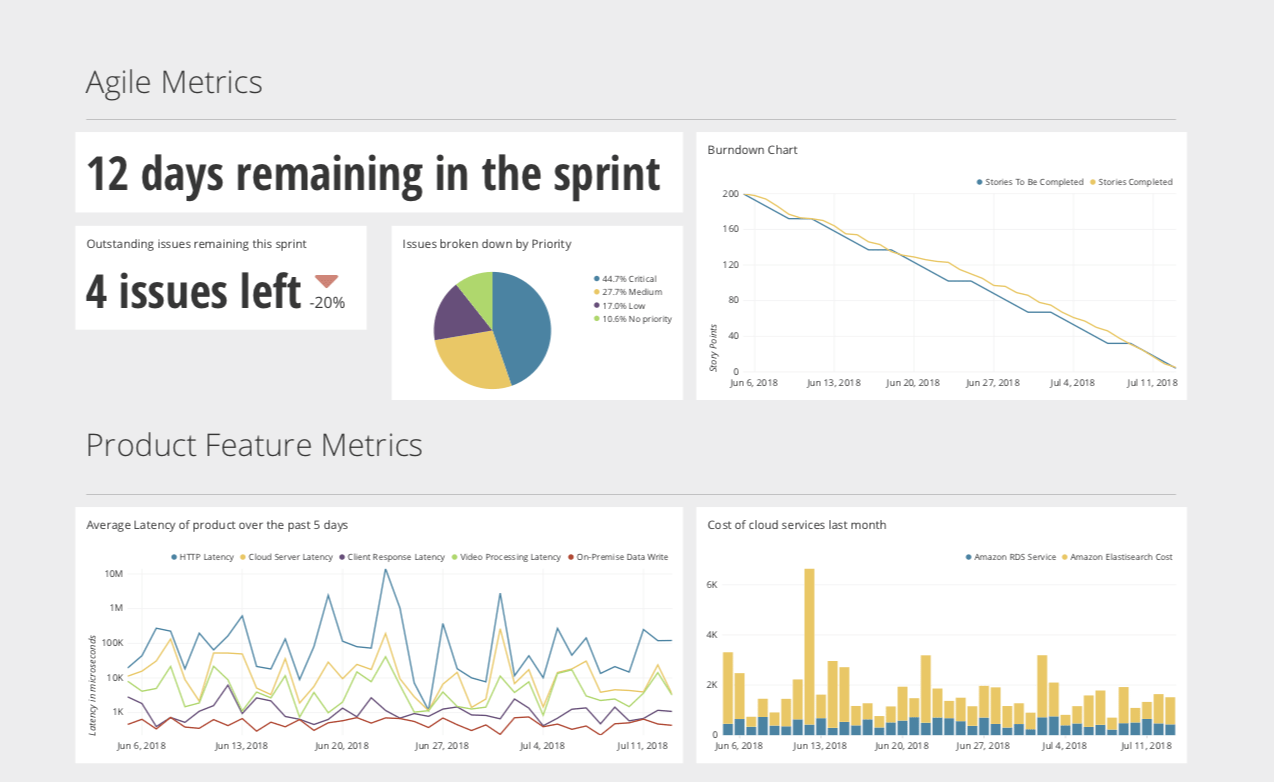 It's Easy to Navigate
Software engineers have to collect incredible amounts of data. While there are systems to aid with organizing it, these aren't always the most reliable. They might also be a bit disorganized.
Dashboards are designed to prevent this with the help of visualization. They sort through the added data and categorize it. This way, once you log in, you can find what you're looking for.
It Has Unique Personalization Features
One interesting aspect of dashboards is that they can be customized to showcase certain fonts and colors. Dashboards are a visual tool and these settings make it more user-friendly. You can adjust these details so that they correspond to a specific user or metric. By doing so, you'll notice that it's easier to find, collect, and analyze data.
It Only Shows the Latest Information
Unlike other organizational systems, such as scorecards, dashboards are always updating themselves. As soon as new data is added or found, this tool will instantly sync to relevant figures. By doing so, you can be sure that what you see is the latest data available.
5 Details to Include on a Software Engineering Dashboard
New or Outstanding Issues
One detail to add to the dashboard is new or outstanding concerns. These could include:
Software glitches
Interface problems
Application integration
By including these on the dashboard, you can monitor how often they occur and how quickly they are fixed. Besides this, it will give you greater insight into where frequent software issues are and where your department needs to adjust things.
Risks
Software engineering faces various risks. These include:
Poor project timing
Unexpected project scope expansions
Software requirement changes
A dashboard will hold data about these risks so you can see what areas are most vulnerable. You can monitor current risks and devise a risk management strategy based on them. This tool is also designed to alert you should there be negative changes in risk statistics.
Sprint Velocity
This metric analyzes how fast certain tasks are being done. It will then collect this information and compose an estimate of how long future projects will take.
A dashboard will sort this data and design a column graph. This will indicate current sprint speeds based on the days and hours. You can see how tasks are being completed and where they might be trending downward.
Task Flow
To confirm that your department is meeting expectations, adding a task flow metric is ideal. This will monitor how quickly tasks are completed.
Dashboards will usually convert task flow into a column graph. With it, you can examine how much is getting done and what else needs to be addressed.
You could also sort the chart so that it follows specific team members. This way, you can monitor how well each is performing.
Response Time
Dashboards can also inspect your software's response time. It will examine everything from how rapidly web pages load to how fast a computer's memory works. Because of this feature's intricacy, dashboards will usually update the response time metric every half hour.
Is a Demo Available?
If you're intrigued by dashboards but still not sure whether to invest in them, try out a demo. This will give you a general idea of how this tool works. Often, free demos are provided by the dashboard's creator. As you investigate it, you can contact the dashboard company with questions based on your experience.
Tips for Using a Software Engineering Dashboard
Don't Add Irrelevant Information
Dashboards are incredible tools that hold vast amounts of data. But some users might go overboard with this and add every aspect of their department to it. This can cause more harm than good because it will overwhelm the dashboard. If you include metrics that don't correspond to what the dashboard is designed for, you risk getting inaccurate data.
Due to this, think carefully about what is needed for your dashboard. For instance, if you're using an operational one, don't include a lot of analytical factors. You'll find that this will keep your dashboard tidy and functioning well.
Use Filters
It's also good to add a few filters. These are yet another way to help the dashboard sort through your figures. When you include them, you'll find that once you click on a specific one, the dashboard will upload every aspect that also has this filter. This prevents you from having to search through the tool to find them.
Be Consistent with the Design
It's also good to use a specific color scheme for your dashboard. While using numerous colors or fonts might make the interface look interesting, it can cause confusion. To avert this, stick with a few so that when glancing at them you instantly know what they represent.
Watch Tutorials
Dashboards are easy to navigate but it's still good to watch included tutorials. These can guide you toward the most efficient way to utilize the tool. They'll also point out settings, like guided frameworks, that might go unnoticed.
A software engineering dashboard is a useful tool designed to make collecting and sorting through data easier. It's simple to use and can be customized to fit your department's specific needs.
For more information, please refer to the following pages: