A manufacturing industry dashboard is a software application that helps production managers and engineers understand their operation's current state. From production to all corners of the supply chain, it can help your department do your job much more efficiently.
With access to real-time data, start making informed decisions about what needs to be done to improve performance. On this page, we will address some of the questions you should ask yourself when deciding on whether or not you need an industrial dashboard for your company, as well as the top features and benefits of using one.
What is a Production / Manufacturing / Supply Chain Industry Dashboard?
A production, manufacturing, or supply chain industry dashboard is a tool that helps all members of a business understand their business analytics more easily. To do this, it uses all the data and numbers you have handy to create intuitive charts and graphics to help you understand them more efficiently.
A dashboard will give insight into all aspects of the business, from finance and sales to manufacturing and human resources. Companies that use a dashboard notice a 6% increase in revenue within 3 months, 20 more days of free time for executives, a 90% adoption rate, the ability to pull up any piece of data within three seconds, and much more! With access to real-time data, you can start making informed decisions about what needs to be done to improve performance.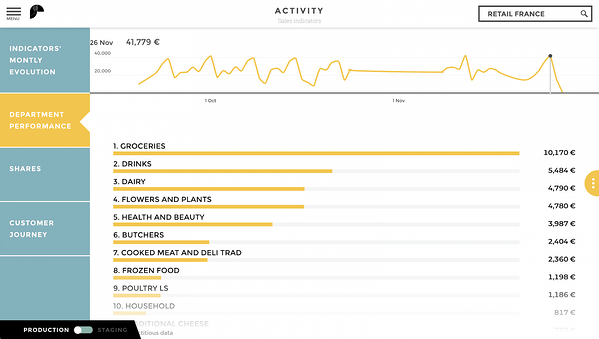 Top Features a Dashboard
Anyone involved in production, manufacturing, or a supply chain will find a dashboard useful for their work. The features we have found to be the most beneficial and make this type of dashboard so great are listed below.
Stunning Graphics and Visuals for Complex Data
Dashboards can provide more complex data in a way that is easy to understand. The visuals on the screen are so incredible. It's as if they were hand-drawn specifically for your own company. Instead of dozens of pages of numbers and text, you have metrics that can be read by all levels within an organization without much need for explanations.
It is difficult for everyone involved in production or manufacturing to get a complete understanding of the current state of their operation. They will typically rely on the help coming from colleagues who may not be in their particular department. Graphics and visuals help relay information in a manner that otherwise took much more time.
Keeps Data in One Place
With the help of a dashboard, you will be able to access all your data from one central location, giving you up-to-date information with just a few clicks of the mouse. A dashboard gives you an instant overview of your company's health and performance progress. This helps you avoid going through multiple platforms and locations to pull up basic information that is centralized using a dashboard.
Makes You More Money
If you have hit a wall and seek ways that you and your team can make a little more revenue, a dashboard might be the edge you need. Sales teams that switch to dashboard typically notice a 6% increase in revenue within three months and a 90% adoption rate.
For Everyone, Not Just these Departments
The production/manufacturing/supply chain departments are not the only ones that can use a dashboard. As you will quickly find out, a dashboard can be used across all departments to access relevant data easily. It is beneficial to everyone involved with your entire operation – from engineers to human resources personnel.
Top Benefits of a Production / Manufacturing / Supply Industry Dashboard
Now that we have explored some of the top features of a manufacturing/production dashboard, you may be wondering what the top benefits are. Here is a list of some of the standout ones we have found:
It Gives You Real-Time Data for Better Decisions
Up-to-date information equals better decisions. A dashboard will help your employees make informed and timely choices that can affect the company's overall performance.
Make Decisions Faster
Not only will you make better decisions, but you also get them done faster. Easily make decisions by being able to pull up any piece of data within three seconds – this includes information from other departments across the organization and competitors' performance evaluations.
Notice Production Trends
One of the benefits of a dashboard is that it shows you what trends are happening with your production. You can also see how your performance compares to previous points of history. Not to mention, its use of current and past data will help you to notice trends that need to be addressed well before they turn into problems. Thanks to a dashboard, many businesses had noticed potential emergencies and acted upon them before they actually developed.
Communicate More Efficiently
The use of a dashboard can help to make communication about your problems more efficient. Once you have noticed a problem, it is easy to pass on this information to the appropriate people within your organization and other departments who should be aware of these problems so that they may take action. A dashboard will shorten communication needs since you can communicate otherwise complex data using easily understood charts and data.
Have Better Data to Show Executives
Since executives, shareholders, and other stakeholders have a vested interest in their company's performance, it is important to be able to show them a clear picture of their company's progress. They want to see that their investment results are being put into good use – which is where dashboards come into play.
A dashboard can help ease the worry and anxiety of these people by providing quick access to all the relevant data that they need for making informed decisions. This alone makes a dashboard an indispensable tool for any manufacturing company.
Thinking of Using Dashboard?
A production dashboard is an indispensable tool for any manufacturing company. Capable of simplifying your work across many different departments, not just within the production, manufacturing, and supply chain network, the 90% adoption rate is proof enough regarding the usefulness of a dashboard.
For more information, please refer to the following pages: