When you are part of a software engineering team, keeping track of your hard work and data is essential to do. Many engineers and software developers rely on dashboards to keep track of their progress. They have become a necessary tool for many programmers, as they help them better understand where the kinks are in their projects. If you're looking to create your own engineering dashboard, here are some of the main essentials to keep in mind.
What is a Dashboard
A dashboard is a platform that can house data used to monitor a particular process or set of goals using charts and graphics. Dashboards are equipped with the ability to handle your data and turn it into stunning graphics and charts that you can use to understand the current state of your business. IT professionals such as software engineers have a 90% adoption rate when they use a dashboard for the first time and experience a 40% savings on their BI tools.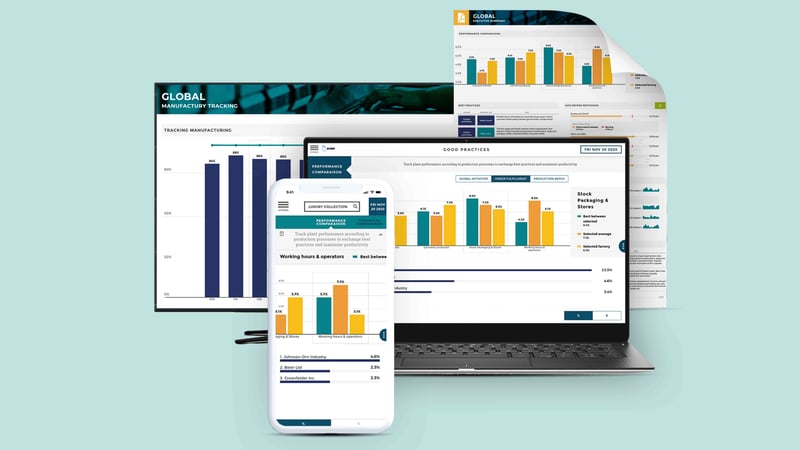 Why You Need One
Good dashboards are essential for software engineers. They provide the best way for programmers to visualize and manage their data, especially when they are accustomed to using different programming languages across their department and can't track work easily. This allows them to understand themselves better, so they can adjust their direction accordingly as needed.
Dashboards enable engineers to see the whole picture. This way, they can organize work more efficiently and find ways to strengthen specific issues, ultimately making them a vital tool for any programmer or engineering project manager.
How to Create Your Own Software Engineering Industry Dashboard
To create your own engineering dashboard, you'll first want to find a way to gather up your data. You can use whatever system you are comfortable with, but it needs to be something you can store for a long time. If you're using Excel, it is recommended that you save the information so that it can be easily uploaded to a digital dashboard.
Think of Which Platform You Want to Use
Before you can create your dashboard, you'll have to research the different platforms that exist. There are many options out there, and it's crucial to discover which one will be the best fit for you. Take some time and explore all the possibilities that exist.
Start Thinking About What Metrics You Want to Track
Now that you have an account for your dashboard, it's time to think about which metrics you want to track. Think about what you want to know about your company and input those into the dashboard. Here are some metrics to keep in mind when creating a software engineering dashboard:
Projects created by the company
Percentage of projects completed on time
Number of failed projects
Company budget spent on employees' salaries each month
Create Your Dashboard with these Metrics in Mind
Once you have some metrics in mind, it's time to start creating your dashboard. Make sure that the information is laid out clearly so that others can understand what the data means in context. Be sure to keep the information easy-to-understand and straightforward so that it is helpful for engineers, programmers, and other employees.
Don't Forget About Visualizing Your Data
Dashboards are helpful because they house many data points in one place. They can be potent tools to get an accurate picture of what is going on with your company. To make the data better, be sure to start thinking of how you will visualize it in a way that makes sense. This way, others can understand how projects are progressing and where they need to adjust their strategy.
Adding Charts and Graphs for Better Data Visualization
Once you have your data collected and have put some thought into the type of visuals you want, you will need to start creating charts or graphics that will best mirror the size and scope of your project. For example, if it's about sales numbers in the past year, a line graph may best display those numbers.
A pie chart or bar graph might be the best option if you are looking at metrics like how many projects your company has completed this year.
The more data visualization options you have available to you, the better off everyone will be when using your dashboard. Be sure to experiment with different types of visuals and layouts so that people can understand the data at a glance.
Don't Forget to Keep Your Dashboard Updated Constantly
You'll also want to make sure you keep your dashboard up-to-date constantly. There's no point in bothering to create a great dashboard if it does not remain accurate. Record any new data you regularly collect so that the dashboard is always up-to-date with the latest numbers.
Use Past and Current Data to Pick out Trends that Need to be Addressed
Once your dashboard is set up to include both past and current data, you can start to use it to pick out trends that need to be addressed. This is important because it gives you more information about what needs to change for the company or project to succeed.
In general, people like having many data at their fingertips to make better decisions and understand how things are progressing. Dashboards provide this type of information in one place, which is incredibly useful when you are not sure which decision to make.
Share Data Across Departments
Not only that, but dashboards also give you the chance to make better decisions for your company or project as a whole. They are a potent tool for team management because they allow managers and other executives to see how things are progressing across different departments at once. This way, they can make better decisions about how to distribute resources or allocate tasks.
Ready to Create Your Own Software Engineering Industry Dashboard?
Dashboards are handy tools that give you a lot of information in one place and help you figure out what's going on at one glance. It would help if you always kept them up-to-date with fresh data so the information is accurate and people can make the best decisions. Use different visualizations to allow your data to stand out, especially if you have a lot of it. Be sure to do lots of research before selecting which platform you want to use so that your dashboard ends up perfectly meeting your needs!
For more information, please refer to the following pages: