Do you handle IT for a company? If so, then you probably have a lot of different data to monitor and keep track of. You need to know what is going on in your network, how many servers are running on it, who is using the network at any given time, and so on. IT teams that use a dashboard can instead keep all data on the cloud and readily available within three clicks.
With so much data coming into your inbox every day from emails alone, things can get overwhelming quickly. As a team trying to handle this data efficiently, things can quickly turn into a mess. On this page, we will give you advice on creating an IT department dashboard so that you can start efficiently handling your department's data and experience a 40% savings on your bi stack.
First, Think of What Data You Need Help With
An IT team that needs help with data typically has unique needs for handling data, depending on the company they are working for. Some companies may need to know how many network users are on their system at any given time. Other companies might want to list all the services they provide and who is using them.

Once you figure out what data your company needs help with, it becomes easier for IT professionals to monitor this data to understand where particular needs lie.
Compile All of Your Relevant Data into One Place
Once you have figured out what data your company needs help with and are confident that you will use a dashboard, one of the first things that you should do is compile all of this data into one place. Use a spreadsheet or your favorite tool for documenting data.
Sit down with your IT team and discuss which things need to be saved and where to put all the data to be organized onto the dashboard. Once your data is in one place, you are getting closer to creating visuals and beautiful graphics to represent this data. However, quality should be of utmost concern upfront.
Think of Which Dashboard to Use
There are many different dashboards that you can use to show what your IT department needs help with. One option to consider is Toucan Toco. This type of dashboard focuses on being visually appealing and presenting data in a way that is easy to understand. Another type of dashboard is an Excel spreadsheet, which gives detailed information about specific statistics.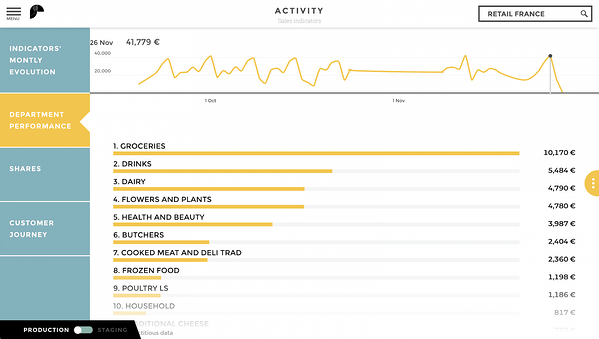 Typically, IT teams will choose a premium platform such as Toucan Toco since it's easy to use. You can also customize your dashboard by changing the background color and adding specific charts or graphs important to your company's data. Those who use a premium platform like this have a 90% adoption rate every month.
Can a Spreadsheet Be Just as Effective as a Premium Dashboard?
A spreadsheet can be just as effective as a premium dashboard but will typically require a more significant time investment and somebody who specializes in using spreadsheets. Typically, this would mean that your company would need an employee dedicated solely to data. This is why many companies see a premium platform as better and cheaper.
Think About the Type of Charts You Will Use
The type of charts you use on your dashboard depends entirely on the type of data you are trying to get across. For example, if you want to see how many active users are logged in from a specific location, using a pie chart might be best. However, if you're going to see how many users are using a service, it might be best to use an area graph showing usage over time.
Consider, though, that many companies choose bar graphs for this type of data since they give readers the option of seeing specific figures by placing them next to each other and looking at the difference between bars. This is why choosing which type of charts and graphs to use is better left up to the IT team that will be making the most use of the data. If needed, consult with your executive team.
Upload All of Your Data to the Platform
The most time-intensive aspect of moving to a dashboard will be the process of uploading all of your data. This can be done in several ways, though the easiest is to use an Excel spreadsheet or another third-party app that you know will compile all of this information into one place for easy uploading onto the platform.
Once your organization has uploaded all their data, they are ready to create visuals and graphics on a platform like Toucan Toco. Many companies choose to upload all of their data at the beginning before moving on to other steps, such as choosing which types of charts and graphs they want since they need to know that their data will be handled entirely upfront.
Don't Forget to Keep Updating the Data Once Your Dashboard is Set Up!
Make sure you have a process in place for updating your data. Typically, this will mean that someone on your team has to be designated as the one who updates the dashboard. This can be done daily, weekly, or monthly, depending on how often your data needs to change and which type of dashboard you are using.
If you don't upload new data, you can quickly start to benefit from the platform and miss trends that otherwise would have been promptly addressed. Figure out a system that works for you and your team and stick to it.
Thinking of Using a Dashboard for your IT Team?
A dashboard is a type of software that helps IT teams track all their data on the cloud, save time, and be more productive. Suppose you have been considering switching over to a dashboard. In that case, this is a great way to improve your department's efficiency, become better workers, and have much more data to use when determining which actions need to be taken before others.
For more information, please refer to the following pages: