This is why many executives are interested in the potential to do twice as many projects, save 20 days a year, and increase data availability by 100%. Executive dashboards are a great way to keep track of all your key metrics in one location and accomplish things such as these.
Executives and managers can use them to gauge the success of their departments and make decisions for the future. Executives are often overwhelmed with data points coming at them from every angle, which is why it's essential to have an executive dashboard that helps you stay on top of everything. If you're thinking about building one for your company but aren't sure where to start, this article offers some tips and advice that will help your team access more data.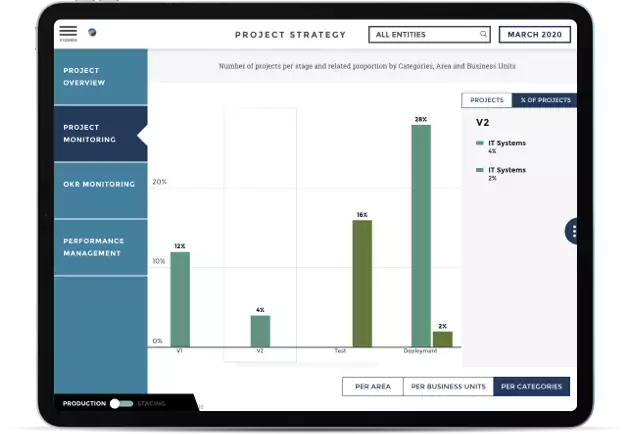 Why Create an Executive Dashboard?
An executive dashboard is a way to consolidate all of your key metrics on one convenient screen, save time, and get more done. Most importantly, you can keep track of your important information without being overwhelmed by the whole plethora of data being thrown at you.
As an executive, it's essential to know how your department is doing and what changes need to be made now and in the future. It's also important to keep track of how many projects your company is working on and any goals that need to be achieved. Having all this information in one place makes it easier for you, the executive, to monitor everything and make decisions based on accurate data points.
First, think of What KPIs You Need to Better Track
An executive dashboard will look different from a sales department dashboard, as an example, because each department's needs are different. For example, some departments focus on growth, whereas others may focus on conversion rates. You'll need to choose which metrics matter most to you.
Sit Down With Your Team & Discuss Your Priorities
As an executive, you likely have an entire board that you will want to run ideas by. For this reason, you'll want to sit down with your team and discuss which KPIs are most important to you. This way, you can collaborate to determine which metrics are most important for the executive department to keep track of. Remember that you can always have other departments track pieces of data that aren't immediately relevant to the executive team.
Ease of Access is Important
It's always lovely when a dashboard is easy to read for everyone in the company to glance at it and get an idea of how things are going. If there's one metric that needs to be seen more than others, such as the average conversion rate, it should be designed to stand out more. You also want to be sure that the colors are easily distinguishable and that there is plenty of space between metrics so that it's not too cluttered. If helpful, give your entire team access to your dashboard when finished to help them improve it.
Decide on a Layout That Works for You
There are many different visuals and types of graphs available, but they all have their benefits and some drawbacks depending on what kind of information you need to know at any given moment. For example, a bar chart might be good for seeing how an individual metric has changed over time since that information is shown visually. However, it might not work as well when your metrics are all pretty much the same, such as conversion rates and sales numbers. Be strategic when choosing layouts and graphics.
Build Your Dashboard & Track Your KPIs!
Once you have everything laid out, it's time to build your dashboard and start tracking all of the critical metrics for your department. To get started, you will first need to think about which platform to use.
Executives who are serious about cutting back on the time spent setting up a dashboard typically use a premium platform such as Toucan Toco. However, those with highly skilled users of spreadsheet applications such as Microsoft Excel might find it better to have an employee handle this for you manually.
In either case, there will be an investment required if you want to use a dashboard. Typically, premium options provide the best charts and most visually stunning graphics with a lesser investment than it would cost to hire someone to do these things manually.
Consider the Benefits that Dashboard Can Have for All Departments
Once you start to use a dashboard among your executive team, you might immediately think of the potential benefits that other departments in your company can receive if they use one for their data.
For this reason, it's always a good idea to take the time and show everyone in your company how they can use a dashboard. The more people who know about it, the better off your business will be – especially if multiple departments find value from doing things like analyzing KPIs together.
You might also be able to enlist the help of other departments when setting up your company dashboard. It's hard to do this on your own and nearly impossible for it to be done correctly without the support of those involved in other areas of business who might know more than you about specific metrics depending on what they're responsible for overseeing.
Certain executives see the act of breaking out a dashboard to be a company-wide event. One where all departments collaborate and help each other. If you do this too, you will likely be able to have other people set up your dashboard for the executive department while they handle theirs and save yourself lots of time in the process!
Thinking of Using Dashboard?
Executive Dashboard is a great way to track KPIs for your department while making your job easier. In addition to getting more data, executives that use a dashboard typically save 20 days per year and get twice as much done. Therefore, if you have been thinking of using a dashboard for the first time, this is an excellent opportunity to take action!
For more information, please refer to the following pages: