Amazon Web Services (AWS) has become an essential part of many organizations tech stack, so when they give a product or service their stamp of approval, you know that it's a good sign. That's why Toucan was delighted to become part of the AWS ISV Accelerate program earlier this year.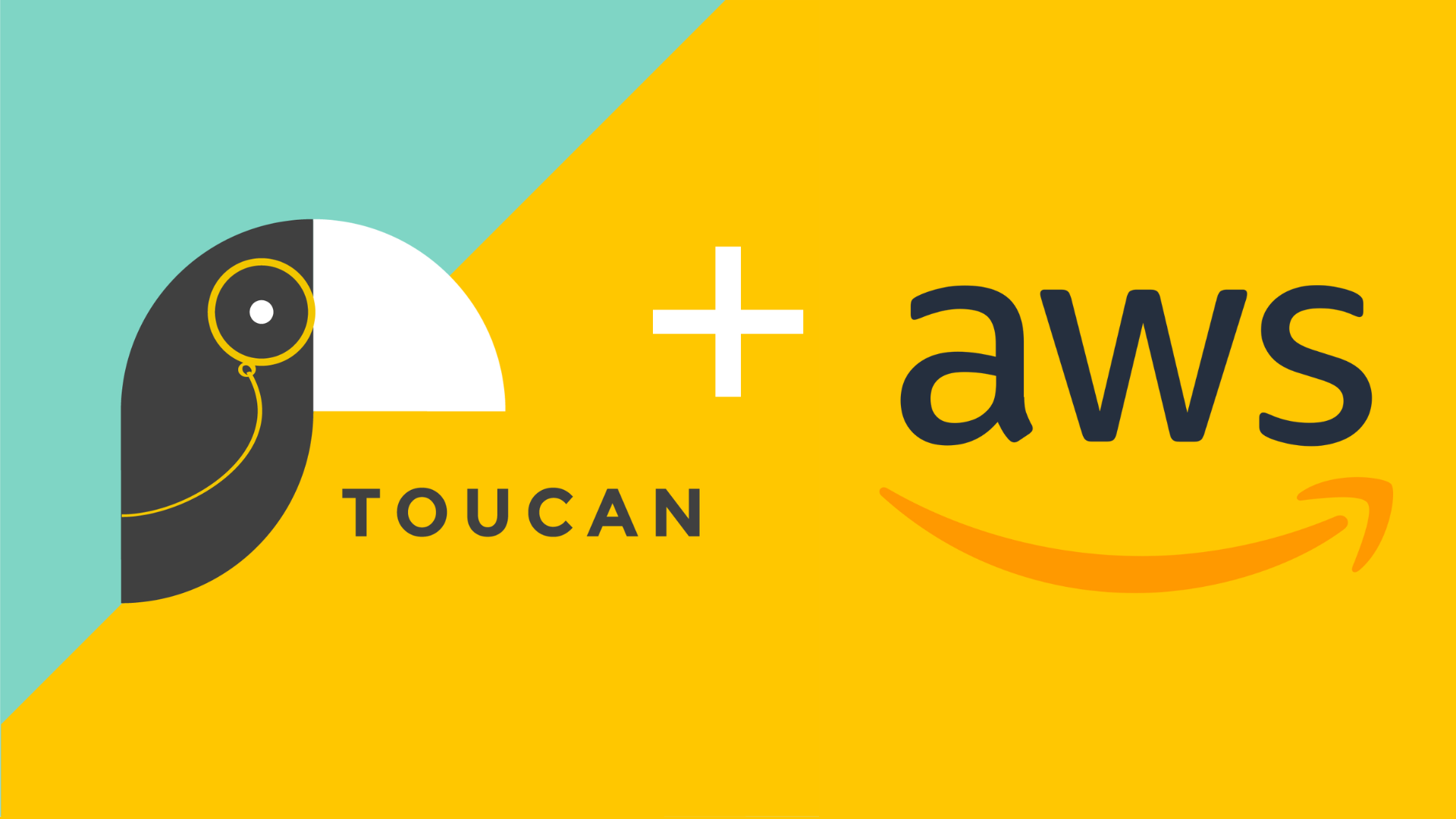 Joining the AWS ISV Workload Migration Program only furthers the relationship and collaboration between Toucan and AWS and ensures that Toucan clients can experience a seamless integration with all of services available on the AWS Marketplace.
Not only does becoming an AWS partner make Toucan's services more easily available via the AWS Marketplace, but it also comes as a stamp of approval for its groundbreaking data analytics platform.
Groundbreaking cloud analytics
Toucan helps customers to make the most of their data and analytics by allowing them to integrate all of their data sources with a single platform and use their Business Intelligence (BI) dashboards and visualizations to improve collaboration, knowledge sharing, and understanding.
Part of Toucan's groundbreaking approach is to allow users to easily adopt a data storytelling approach to all of their analytics. Data storytelling improves the understanding and application of analytics by presenting information in the ideal format for each specific user or audience.
Adapting the way in which analytics are presented significantly increases their ability to be understood and remembered and helps users to identify business insights and make data-driven decisions. Toucan's guided analytics removes much of the complexity that surrounds advanced data and increases data usage and application by 300%.
Toucan's no code platform makes turning complex data into actionable business insights easier than ever before and means that every user, both technical and non-technical, has access to intuitive guided analytics. This approach encourages cross-team collaboration, knowledge sharing, and provides every user with full access to all of the data and analytics that they need.
Part of what makes the Toucan platform so powerful is the ability to easily integrate any third-party data source. This ensures that you can access all of your data and analytics on a single source and Toucan's presence on the AWS Marketplace and status as an AWS partner means that AWS clients can easily start using Toucan in just a few clicks through their AWS Console.
Delivering seamless AWS integration
Toucan has a long history of working closely with AWS and the combination has been a popular choice for both Toucan clients. Becoming a member of the AWS ISV Workload Migration Program further cements this relationship and makes it even easier to combine the two services.
As a result of this partnership, Toucan and AWS clients can now:
Seamlessly integrate data sources, whether they are in the cloud or on-premises
Support thousands of concurrent real-time queries
Leverage historical data with 400+ days accessible guided analytics
Arnaud Simon, Cloud and Technology Alliance Director at Toucan explained the significance of the relationship with AWS as bringing 'significant value to clients, helping them deliver better salutations that are brought to market faster. AT Toucan, our mission is to drive value, speed, and agility on the cloud'.
In addition to offering a no-code guided analytics platform, Toucan also allows users to embed analytics within their products. This means that AWS clients can develop a fully-integrated dashboard within their existing product without having to dedicate internal resources to its development or maintenance.
Toucan's advanced platform means that users have a single source of truth for all of their data and have access to more powerful analytics than ever before. Further developing this relationship with AWS and becoming a more significant AWS partner ensures that migrating to Toucan can be done in only a few clicks.
AWS ISV Accelerate Program
The AWS ISV Accelerate program is cross-selling gram for organizations that offer solutions that integrate with AWS. It aims to provide members with sales assistance and more direct access to existing AWS customers.
The aim is to deliver a program for AWS partners that both helps them to continue their growth and ensure that AWS offers clients the very best in software solutions and integrations. It helps independent software vendors (ISV) workloads to AWS via a repeatable migration process that will make it easier to migrate and manage workloads with Toucan on AWS.
In addition to joining the program, Toucan was named one of the 'hot startups' of 2022 and everyone involved is excited by the company's growth and what the future has in store for the platform and cloud analytics.
Interested in finding out more about Toucan's guided analytics or how you can migrate to Toucan on AWS? Schedule a demo with our team to learn more about the platform and the simple migration process.