One thing is for certain, if you're providing a SaaS product then user retention is going to be one of your top priorities. We all know how hard it is to win new deals and get new users, so the last thing you want to do is see them walk away after you've gone through the effort of getting them onboard in the first place.
There are several ways in which you can increase user retention, but the real key is to ensure that your clients truly understand the value of your product and that you can easily monitor their usage rates and activity from a single platform.
The problem with that is that you may not have planned on delivering advanced analytics to your users directly through your product. But there's good news, as Toucan's Embedded Analytics feature allows you to easily provide access to advanced analytics from within your platform without barely breaking a sweat.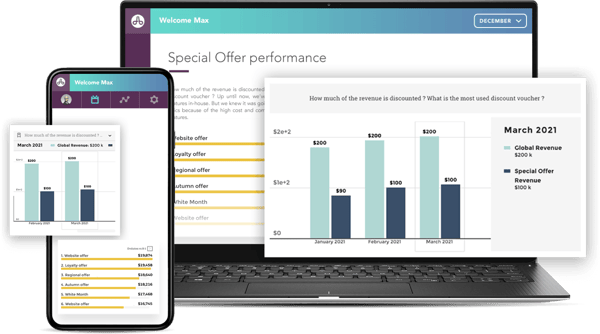 Intrigued? We thought you might be. So let's take a closer look at how embedded analytics can significantly increase your user retention.
Why is user retention so important to SaaS providers?
Few metrics will be more relevant to SaaS providers than their user retention. It is crucial to better understand and predict your current and future revenue. But it's about more than just projections.
It's 5x cheaper to retain a customer than it is to sign a new one. So, in order for your business to grow, especially in the current economic climate the first step is to make sure that you aren't losing users.
The impact of user retention is further displayed by the fact that a 5% increase in retention can increase profits by up to 95%. Better user retention makes you more efficient and that means you'll make more money.
How your organization tracks user retention may vary, so here's a brief overview of some of the most common ways in which it is measured both in real terms and in impact.
Customer Churn
Customer churn simply measures the number of users who unsubscribed from your service within a given period. This is the most basic way to measure user retention and it goes without saying that the higher your churn rate the slower your growth will be.
MRR Churn
Unlike customer churn, monthly recurring revenue (MRR) churn focuses on the loss of revenue rather than the loss of individual users over a given period. This means that rather than simply seeing the number of cancellations, you will actually see the revenue that is being lost through poor user retention.
Customer Lifetime Value
Customer lifetime (LTV) value calculates the total amount that a user will spend throughout their lifetime as a subscriber. Existing customers are capable of spending up to 67% more on average than new ones, so understanding your customer lifetime value can help you to fully appreciate the impact of poor user retention.
Customer Acquisition Cost
Customer acquisition cost (CAC) is the calculation of how much you have to spend to acquire a new user. Similar to LTV, this helps companies to further understand the impact that churn can have on their business.

Net Promoter Score
Net Promoter Score (NPS) is the first of these metrics that can help you to actually predict your churn rate. They are surveys that allow you to gauge how satisfied your customers are with your services and a low NPS will be a strong indicator of a high churn rate.
The problem for SaaS providers and any company with a subscription model is that there are often few financial or contractual barriers preventing a user from churning. So, in order to increase your user retention, it is essential that you can carefully monitor their usage and make it easier for them to better understand how your products and services can help them.
Tracking user retention
There is undoubtedly a myriad of ways in which your company can increase user retention, but the best place to start is by ensuring that you can accurately monitor each of the metrics that we listed above and track your users' behavior and performance.
There's no way that those metrics will come from a single data source and most companies will store and track them across multiple platforms, meaning that information can often be incomplete or, at the very least, siloed. User retention is an area of focus for every team within your company, so if your product, sales, marketing, and customer success teams are now able to access key information then there is a high probability that key insights will be missed.
Toucan solves this problem by allowing you to use the Toucan platform as a single source of truth that aggregates data from all of your data sources. Embedded analytics then allow you to integrate this within your existing product to ensure that it is accessible without having to switch platforms — significantly increasing engagement in the process.
Toucan's embedded analytics will allow you to accurately track all of the key metrics surrounding user retention. What's more, it will also help you to identify key business insights and ensure that will ensure that you more effectively combat churn rates.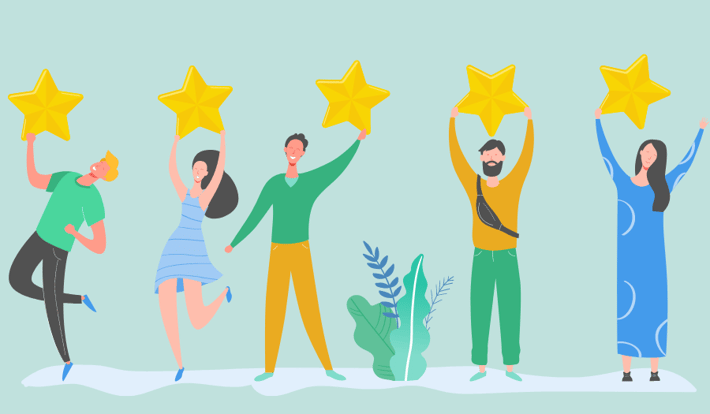 Increasing user retention
Beyond tracking user retention more effectively, the first step to reducing churn rate is to ensure that your users actually appreciate the value of your product and services. We often overlook the fact that our users will not understand our products as well as we do and that they might not be able to measure their value efficiently.
Embedded analytics can address this by allowing you to integrate advanced analytics directly within your product and providing your users with access to metrics and KPIs that track their usage of your product and its impact on their own projects.
Helping your users to better understand how best to use your products and how impactful they can be is a major step toward increasing user retention.
Toucan's embedded analytics
We've already explained some of the key ways in which Toucan's embedded analytics can increase your user retention, but let's finish by exploring some of the finer details surrounding its integration and features.
With the ability to design and deploy a white labeled embedded analytics platform within a month, you won't have to worry about diverting key resources away from your product. Whilst automated workflows, unlimited data sources, and a fully customizable platform means that embedded analytics is suitable for organizations of any size in any domain.
It's the easiest way to put advanced analytics at the fingertips of your organization and users and the single-platform approach increases engagement and collaboration.
Contact us to find out just how easy it is to get up and running with embedded analytics and to find out more about how it could improve your user retention.