While we provide all the tools and guidance to make your project a success without further investment in software complexity, we are also striving to adapt to your existing data workflows, following the pragmatic engineering motto :
"if it's not broken don't fix it!"
At Toucan Toco we are delivering useful projects and delivering them fast. As a result today our partners and customers trust us for increasingly large projects across teams and in wider areas of their businesses. For our Customer Support Managers and our Data Team this means working with larger data sets, heterogeneous sources and complex data processes.
Enters Talend
Today it is very easy to create a Toucan Toco Small App: look up a relevant chart in our expanding documentation, drop an Excel file in the Studio and in a few clicks you can write a new chapter of your data story. We want to make it as easy to use Toucan Toco with more advanced data systems.
This is where Talend enters our picture. Talend Open Data Studio has sustained the outiying performance of data teams around the world for the last ten years. It is versatile, it runs on your desktop while seamlessly deploying production jobs to the cloud.
Talend packages in a single platform multiple solutions to the very complex problems arising from the increasingly important area of large businesses data management. Quite a few of our customers and prospects are already using it and are very satisfied.
The good news here is that you can integrate Toucan Toco effortlessly in your Talend jobs.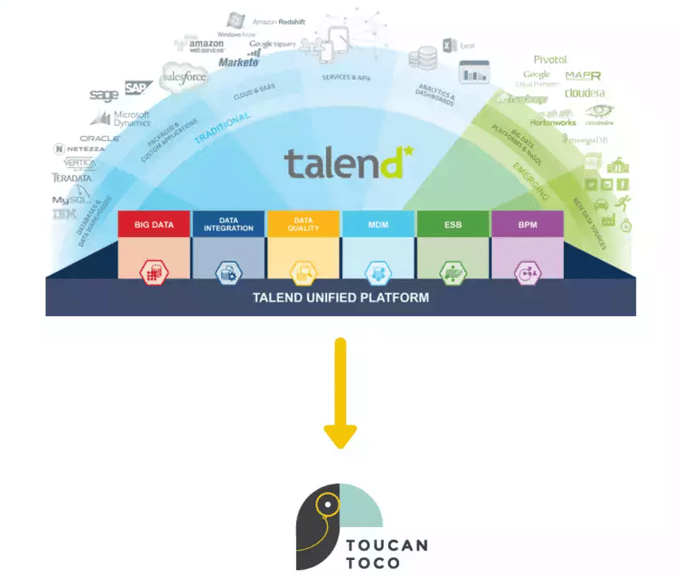 Fluent in your environnement and proficient with our tools
I recently stumbled upon an old school photography family business. I decided it would be great to print photos from my phone to send to my sons great grandmother. I went to a shop with an impressive array of kiosks with tens of different data cables, wifi, infrared and bluetooth, the owner even had advices on USB stick formatting for you. But after quite a few visits and enjoyable discussions they never manage to print the photos.
This reminded me of so many of our client's experiences, who started by buying "all in one integrated reporting solutions" including data storage layers, custom query languages and dashboards tools, but struggled to put useful data stories in the hand of their boards or teams.
In the meantime, I was in a Paris neighborhood known as Little Sri Lanka. Out of curiosity I entered a large wedding photography studio. The shop keeper did not speak french or english. I just showed him my phone and which gallery software I'm using. I selected a few photos, which he transferred to his industrial printing station, cropped, color balanced and printed it in 5 minutes for less that 5 euros…
What I find striking here is that:
we obviously shared a common "narrow" goal, to make my project succeed
he was fluent with my environnement and proficient with his tools
This is also how Toucan Toco brings operational excellence to your business. We are familiar with your data environnement, you can expect us to understand quickly how you work, and we are focusing on building a product which "just works" when it comes to transforming your data insights into actions.
Does one… okay, two things well :)
There is nothing mysterious about our Talend integration. It allows you to automate your Toucan data pipieline from Talend. This is built from simple Toucan features, tested on numerous projects:
Remote data sources allow Toucan Toco to get your data wherever it is, instead of uploading it to our servers. In this cases I use a secure FTP server. The Toucan Toco Operations API allows you to completely automate the import, validation and publication of data in a Toucan Toco app using a simple HTTP REST API.
In conclusion, here we have been focusing delivering simple features based on very widespread standard. They are easy to understand and use, but their combination can lead to quite advanced use cases and workflows.