I recently asked my team "Why do you like working at Toucan". And I was amazed at how closely aligned their opinions were on the subject.
Today I share with you the 6 key points that make our Tech Team thrive at Toucan.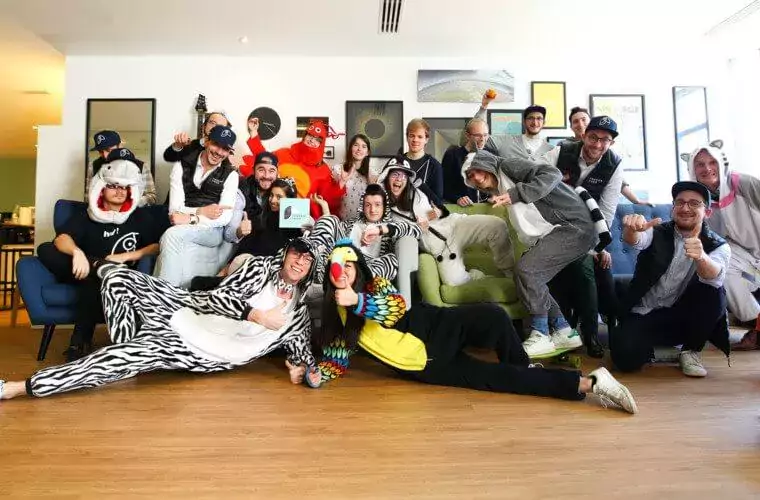 1. Healthy and Participatory Engineering Culture
The Tech Team at Toucan is organized in squads. And in each squad, we foster a collegial atmosphere that allows for constructive exchanges and informed decision making.
We take feedback & contributions from squad members before making a decision. We listen to suggestions on team organization, task distribution, and technical choices. We encourage feedback as much as possible. This allows us to tackle issues before they become real organizational or technical problems. Everyone is the guardian of his or her environment.
In the end, when a decision must be made, it may not always be in everyone's favor, but it will be enlightened.
According to Nino, "we're very mature in our ability to question our code. We have frequent feedback with the whole team and we list the keep/drop/try. That allows us to define clear action points. Therefore, there are very few painful subjects that we let grow."
2. A Qualitative approach to produce Serenely
Creating a healthy environment involves several aspects. One of them is in our opinion the ability to produce something qualitative within a reasonable time frame leaving room for reflection & iterations.
This allows us to do things really well, not to leave big problems behind, and to produce code that we can be proud of.
Molka says it very well: "We bet a lot on the quality of our code, so we don't hesitate to take time to refactor when needed and make the code clearer and easier to maintain."
3. Culture of Learning and Growing Together
What often comes up when Tokars are asked why they enjoy working at Toucan is the opportunity to learn and grow professionally.
At Toucan, it's all about helping each other and the culture of feedback… #EachOneTeachOne
A high level of collaboration can be observed in the Tech teams. This translates into the possibility of soliciting each other when you are stuck. Team members always ensure they have time in their agenda to provide code review, give constructive feedback, do peer-programming, share knowledge on a topic via Tuesday Tech Talk, etc.
When a team member reaches the end of their adventure in a squad, or on a topic, we are able to switch them to other challenges, and integrate them into other teams in view to continue their development with us.
4. Trust at the heart of our Productivity
At Toucan, we believe that trusting is essential. Giving everyone the space to organize themselves and create their own balance between professional / personal life is what allows for a good level of productivity and well-being at work.
We all have OKRs to reach, a team to support. We also all have a life outside of work. Having a balance between professional and personal life is important. But above all, we don't all have the cursor in the same place and don't all produce at the same pace.
And that's why we have allowed a lot of flexibility in the organization of work time and environment. Here are a few examples:
Flexibility on working hours: Everyone organizes his day as they consider necessary and according to their professional & personal imperatives.

Occasional remote work at everyone's discretion: We do not monitor or regulate remote working. Everyone is free to work from home when they need to. #InTokarsWeTrust: Trust is at the center of our practices.
5. A software product rich in possibilities
We are developing a Data Visualization software product, whose mission is to to turn data into clear insights for everyone through pedagogy
We are working in an industry that offers an almost infinite number of subjects, with a high level of complexity and therefore with infinite possibilities. What's more, we're taking the subject of Data Visualization from a new angle. We are prototyping new ways to visualize Data. So our daily work consists of trying, iterating, and finally industrializing. It is a complete and complex production cycle, and it is very rewarding to see the product evolve over time.
6. Last but not least: a close-knit team
What comes up very often is the high level of collaboration, and the fact that the team is very close-knit. Our teams are made up of very heterogeneous profiles, with all kinds of different backgrounds and very scattered degrees of seniority. However, when we ask them what they like about Toucan, and why they stay with us, this answer always comes back: My team.
We have managed to create a strong bond within the entire Tech Team through mutual help and moments of sharing (game nights, hackathons, Tuesday talk) without falling into the bad habits of the start-up world -> everyone is free to participate or not, there is no pressure or obligation. Because once again, we all have different needs and desires.
Here are the reasons why our Tech Team is thriving and our environment is healthy. If you feel related to what you've just read, know that we are recruiting !
Visit our career page now: https://toucantoco.com/fr/team.html#jobs