If you're in this situation, it might be tempting to put the migration off for as long as you can, but it's in your best interest to do it sooner rather than later: in the next year, BIME will not be focused on new feature development, support, and maintenance…
Instead of sticking with a solution that will not be updated or optimized, you can move to a new one that makes customer satisfaction a priority, stays ahead of the R & D so that you don't have to, and who ensures you (and your customers) don't lose critical insights that will help you make better business decisions.
Why choose Toucan?
Choosing Toucan as a partner to support this transition, your migration will only take a couple of days. We're helping out Chart.io users who are dealing with the headache of a post-acquisition transition by offering them a customized migration solution, and the results speak for themselves. We're excited to announce that we're doing the same for BIME users looking for a replacement.
Your migration will be painless, easy, and will leave you with an improved version of your past platform. You'll have a team with you every step of the way (from inception, to execution, to post-sales).
If you're anything like the rest of our clients, you might be thinking: all of this sounds great, but is Toucan the right fit for me?
How to know if Toucan is the right fit for you?
We get it: with so many solutions out there, trying to choose the right one can quickly become overwhelming. When faced with many purchasing options, it's always a good idea to refer to user feedback.
Toucan's superpower: data storytelling for everyone
Here at Toucan we are obsessed with data storytelling and our mission is to democratize data insights to all users, even (especially!) those who don't have a technical background. Not everybody can decipher complex graphs with multiple parameters and metrics, with Toucan you can quickly become a must-have decision-making tool and help stakeholders become data-driven, which, in turn, will have a direct impact on your engagement and adoption rate.
Elevate your customer experience and give your users superpowers—with none of the headaches that come from drilling down into complex data and statistical reports.
Turn to Toucan if you're looking for:
Zero downtime for your clients: Toucan provides you with the power to build fast and scale to meet future needs quickly.
Great UX: Unlock dashboarding opportunities for your users by creating powerful analytics and reports that will look great to your end-users.
Built to embed: you'll be able to seamlessly embed what you create inside your application.
Support for non-technical teams: empower non-technical teams with a toolbox of 0-code solutions to build dashboards in full autonomy.
More focus for technical teams: keep your tech teams focused on your main roadmap and accelerate your analytics' time to market.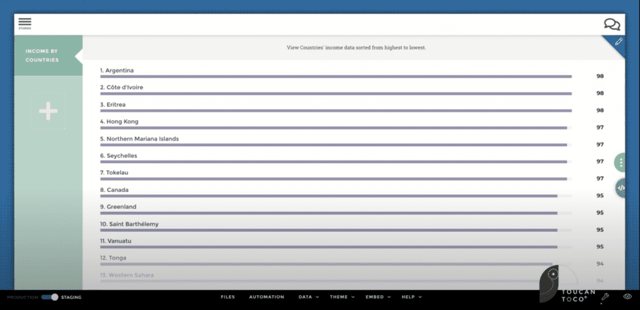 How to migrate from BIME to Toucan?
If you think Toucan is the solution you've been looking for, we have great news: we offer special options to make sure the transition is as smooth, fast and frictionless as possible.
If you join us, you'll be supported by a team that's entirely dedicated to your success: ongoing care, support, and best in class R&D. Their mission is to stay ahead of your users' needs so you don't have to.
You'll find that every step of the process runs smoothly:
Connecting to your data:
Toucan can connect to most databases. If you're already using BIME with a partner, we have a native connection with standard market tools in our library. We even have a generic REST API connector to give you access to any open REST API, and the list of native connectors is always growing. But we haven't forgotten the basics: you can also drag and drop or copy and paste CSV files or Excel files into the studio.
Transform your data:
If you like BIME's Queries interface, you're going to LOVE Toucan's Visual Query Builder. It allows you to perform on-the-fly data transformations and adjust data on demand: join multiple files, group data, apply formulas…. It was built with non-technical populations in mind as it offers an intuitive visual interface where your builders interact with the data without writing a single line of code. For more information, head over to our documentation.
Create a story:
With Toucan you're not just building charts, you're building stories. Each story is an in-depth narrative of a specific metric or a question that your business, or your end-user, cares about and paints a clear and concise picture, supplemented by contextual elements to make it easier to understand. Toucan offers a point-and-click intuitive interface to help you build great contextualized stories for your users. Here's a sneak peek.
Build once, deploy everywhere:
With Toucan, everything you build is deployable via different mediums while keeping the same level of responsiveness (desktop, tablet, mobile). You can even use Toucan to send programmatic PDFs, your users get just enough information in their inbox to know what is going on, to spark an interest or a question before heading to your product to dig deeper… all of this and much more!
Replace BIME easily and seamlessly
Here at Toucan, we've proven our ability to support organizations on that exciting journey of exploring the world of embedded analytics. In fact, we're the acknowledged #1 embedded analytics partner for growing teams who want to add a dashboarding experience inside their software or SaaS product. And don't just take our word for it: your peers have spoken on G2.
If you have more questions about your migration from BIME or want to know how Toucan can work for you, get in touch today.