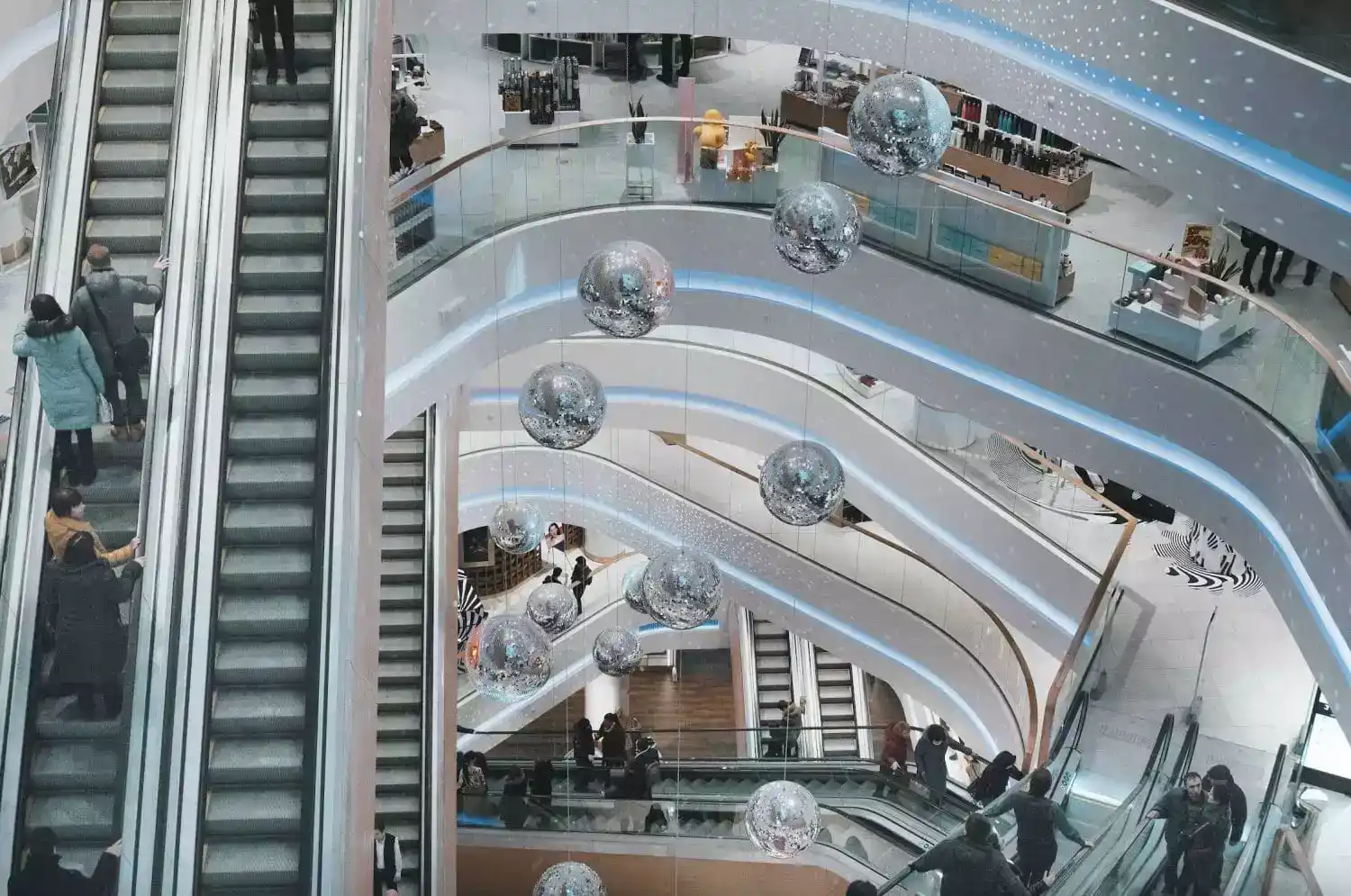 DEFINITION
KPIs (Key Performance Indicators) are quantifiable measures used to evaluate progress towards a set goal. They help you make decisions and prove the sustainability of your property… Measuring KPIs is also fundamental in re-evaluating past actions and re-adjusting them accordingly.
THE 6 MOST IMPORTANT KPIs COMMERCIAL
REAL ESTATE MANAGERS
TRACK
AND SHARE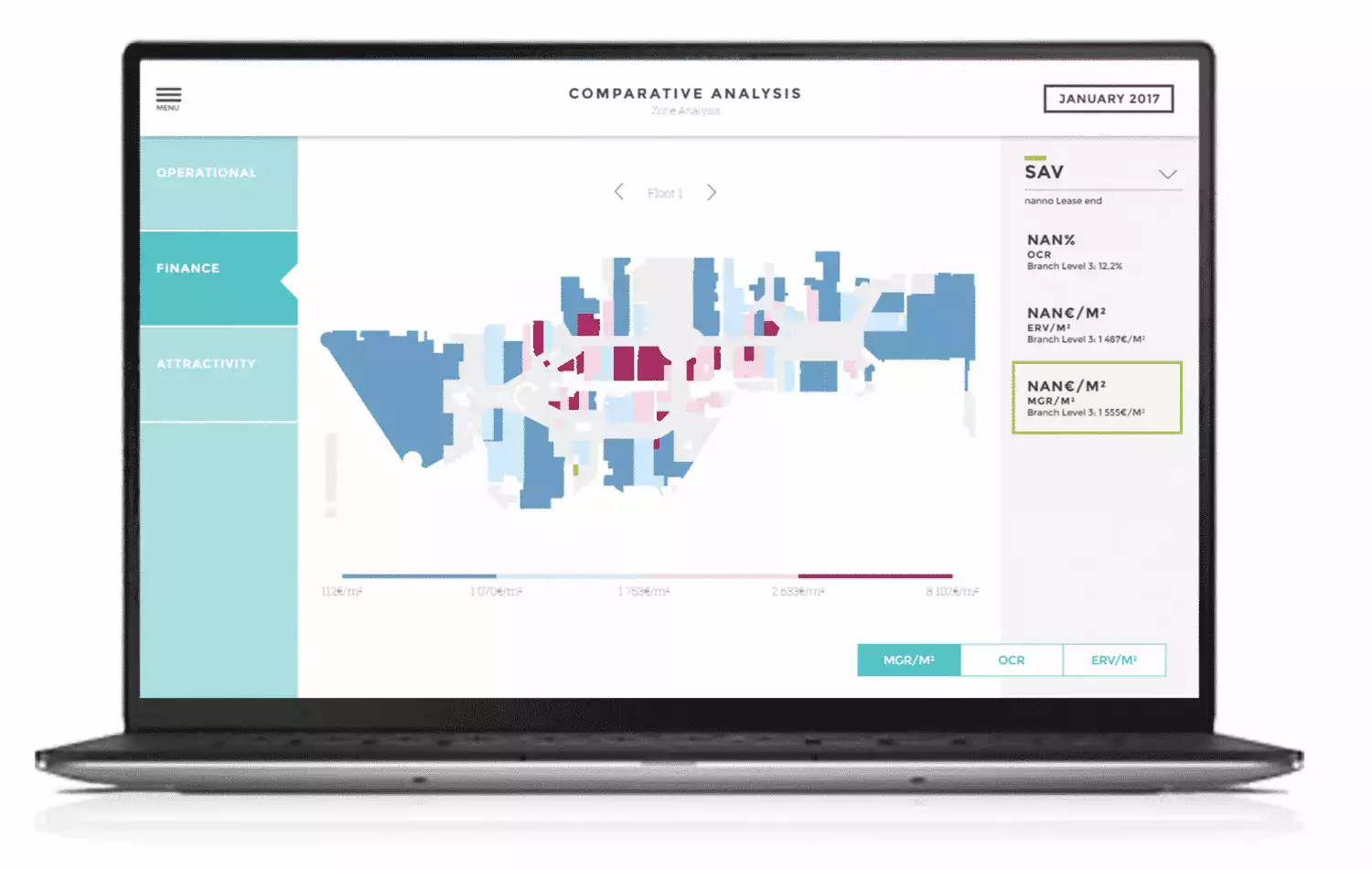 KPI #1 – REVENUE GROWTH
The most efficient way to evaluate your revenue growth is to compare your results from year to year. Thanks to data storytelling, a simple glance permits you to assess whether you need to intensify your efforts, or whether your results are satisfactory.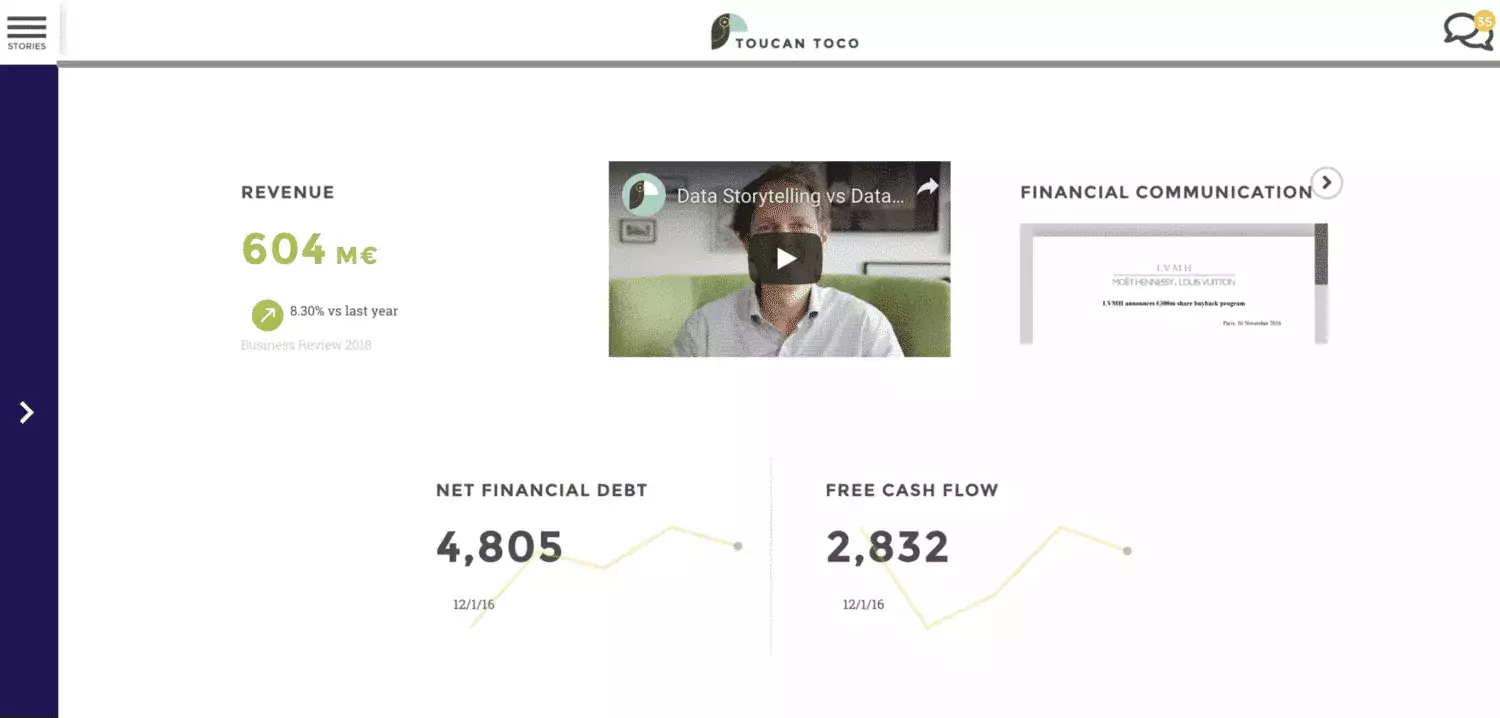 Why sharing this KPI?
Sharing this data with your investors, via an automated dashboard or embedded dashboard, facilitates your report creation, encourages a collaborative environment and maintain a transparent relationship. Every representative will have access to the same data in real time, which facilitates exchanges and decision making.
KPI #2 – RENT PRICES
Regular comparison of your average rent with your market is essential, in order to ensure coherent rent prices. Being attentive to this KPI will enable you not to lose your good tenants to competitors – whose prices are more advantageous. On the other hand, if you rent prices are too low compared to your market, this could mean that you're losing money.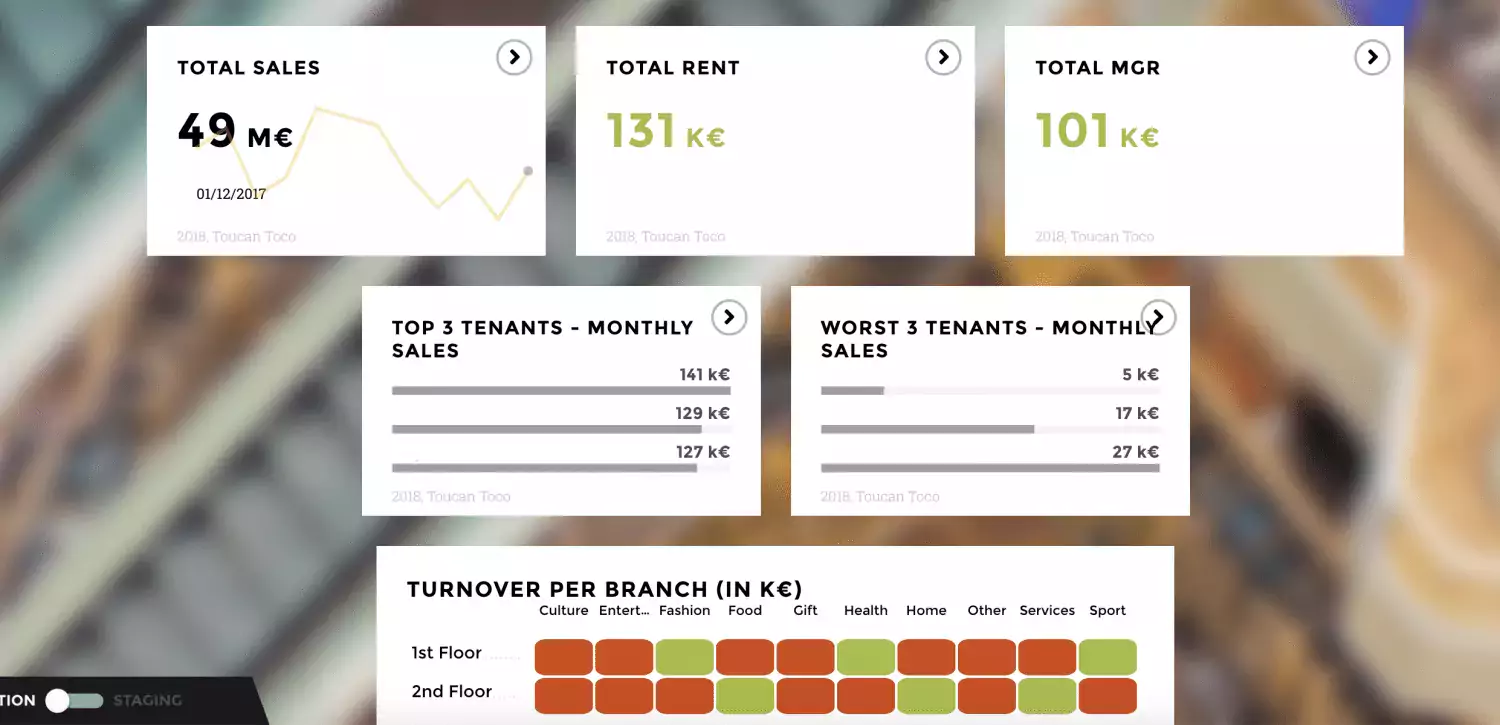 Why share this KPI?
Enable your tenants' access to this data, via a dashboard, will help you to establish a transparent relationship and to justify your prices. If your rent price positioning is good, this can be a very effective argument to improve your average occupancy.
Concerning your investors, access to this information will allow you to prove the consistent positioning of your mall rents. This is an effective argument to prove that your business is well managed and sustainable.
KPI #4 – TENANT TURNOVER
Finding a replacement tenant can cost up to three times more than renewing a lease. It is therefore essential to track the tenant turnover to measure the sustainability of your business.
The average tenant turnover is 12 to 24 months in urban markets and 24 to 48 months in peri-urban or rural areas. If your turnover rate is much higher than the average, it is necessary to identify the reasons that may explain this rate. Are rents too high for your market? Are the repairs up to date? Is the footfall rate satisfying?
Why share this KPI?
Sharing this KPI in real-time, with your investors, is a good way to demonstrate the sustainability of your mall. Indeed, that data is a convincing way to prove the state of health of your structure, and ultimately its attractiveness.
Internally, facilitating access to this KPI via an easy-to-use dashboard will be a motivating element to encourage your teams (marketing, project manager, management and maintenance) to maintain a low turnover rate
KPI #5 TENANTS MONTHLY SALES RESULT
In order to follow and communicate the health of your mall, you regularly inform each of your tenants on sales results. Thanks to a data storytelling dashboard, you can compare access to the global sales of the mall and compare the results of each store in the blink of an eye!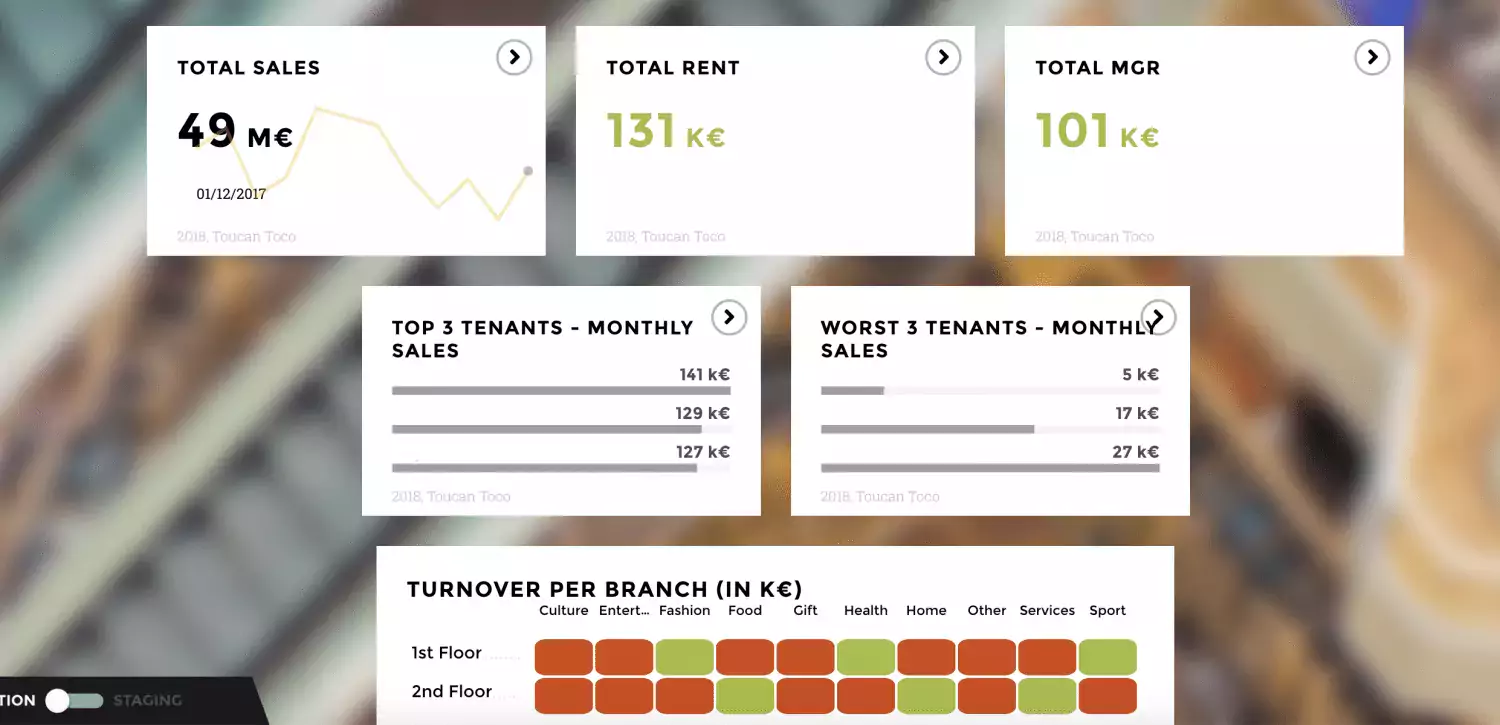 Why share this KPI?
Sharing the tenant's monthly sales results with all your stakeholders permits you to reduce miscommunication. When teams work from the same source of information they have the same interpretation of the data and communicate better.
Furthermore, providing real-time data optimizes sales teams' performance. Indeed, it allows managers to closely monitor their activity and performance of outreach efforts. This gives reps greater control over their sales output and can help them refine their strategy.
Finally, enable shop managers to situate their sales in relation to other stores in the mall offers them a stimulating solution to evaluate their efforts.
KPI #6 – FOOTFALL RATIO AND CONVERSION RATES
Footfall refers to the measurement of the number of people entering a shop and shopping mall. This KPI is measured in hours, days and weeks basis, in order to target peak hours, days or weeks of high traffic and, ultimately, optimizing store performance. This data also contributes to the conversion rates analysis.
Why share this KPI?
It is relevant to share this data with your tenants, to make sure they are informed of the overall performance of the shopping mall. It also helps them to build their marketing and sales strategy, by contrasting the performance of their shops in relation to other shops in the mall.
In addition, allowing your investors access to this information will help them to monitor the health of the mall in real-time.
Internally, your sales and marketing team be able to identify trends and have a better understanding of customer behavior. Visualizing this KPI can also enable better allocation of human resources properly, by forecasting the peaks of the hours at which safety must be improved and also to better manage maintenance hours.
KPI #7 – REPAIR AND MAINTENANCE COSTS
Repairs and maintenance represent a major part of your property management budget. Tracking this KPI regularly can save you significant costs. Indeed, this will allows you to put in place an effective process to report maintenance problems, deploy contractors and make payments.
Why share this KPI?
Sharing this information, via an intuitive dashboard with your maintenance team and project managers, ensures consistent and real-time access to repair data. A time saving that will improve the quality of your communications with your stakeholders.
THE VALUE OF DATA STORYTELLING IN PROPERTY MANAGEMENT REPORTS
Using data storytelling dashboards improve your teams' productivity. The data is automatically presented in a simple and interactive way. Their time is thus concentrated on tasks with high added value.
Data storytelling dashboards ensure access to homogeneous and reliable data for all your stakeholders. It reduces the risk of miscommunication due to the presence of different data.
Data storytelling dashboards allow you to focus on analyzing your results, rather than on processing your data. Your reports are automated.
Data storytelling dashboards help to establish transparent communication with your stakeholders
TOUCAN: A SINGLE APPLICATION COULD MERGE ALL THESE KPIs TOGETHER WITH DIFFERENT VISIBILITY LEVELS AND ACCESS RIGHTs FOR THE USErS
Storytelling Guru Toucan Toco is the number 1 Data Visualization platform in Europe. Founded in 2014, Toucan Toco is a French innovative company that has helped more than one hundred listed companies to reconcile business with business intelligence. Thanks to its platform, Toucan Toco deploys an app to return in a sexy way business metrics coming from multi-sources data. It aims at democratizing access to the information thanks to the 'ubiquitous' capabilities: all your data at fingertips whatever is the terminal (Smartphone, Tablet, and PC). Data complexity and data un-accessibility are no-brainers anymore.

Our Ebook explains how Dataviz is a huge asset for commercial real estate property manager :

"A dataviz tool improves communication processes by creating a centralised platform for collaboration, and it also improves visibility onto a business whilst unifying operating and financial data to help managers work efficiently. "
Toucan's platform enables companies to have a clear view of their business across the entire organization in a simple and easy way with best-in-class user experience. Thanks to its coding-free studio, business users can make in 1-day time their own app with the business metrics they want to track.