Mobile data visualization is making waves in the data analytics space, especially for executives. For the past two decades, analytics surged in the hopes of gaining insights to break through the competition. The thing is, a lot has changed in the past 20 years.
The innovation of mobile devices is the most impactful change that has transformed businesses. Let's take Amazon as an example. The online shopping giant struck at the right time when mobile phones had the capability to surf the web and download complex applications. Amazon leveraged this innovation to its advantage, both for consumers and employees.
While the warehouse employees of the past used paper and pen to track inventory and track goals, Amazon's employees are provided with a mobile device to track inventory and employee productivity, allowing the firm to provide the consumer with accurate ETAs of their orders. Although the use case for mobile data analytics is compelling for employees, the benefits it can provide executives are unlimited.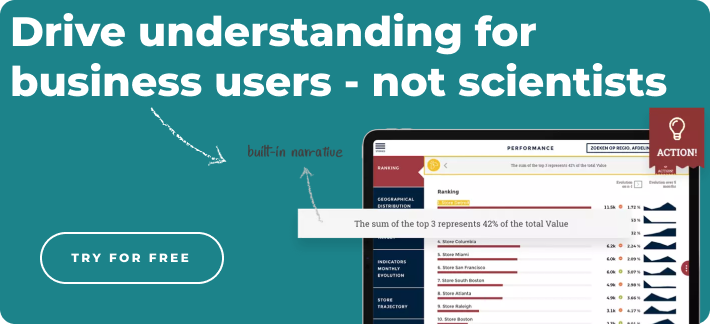 Executives are the figurehead of every firm. Because these decision-makers are constantly on the move trying to grow their businesses, mobile analytics is the perfect solution for executives. Building out mobile dashboards for a firm's executives allows them to see the puzzle pieces of their firm's data story, which they can then piece together to optimize operations.
However, creating executive mobile dashboards involves a different process from traditional desktop visualizations. Here are some tips on how to build a mobile dashboard for executives looking to extract the maximum benefits from their data.
Executive Mobile Dashboard Tips
Mobile analytics has obvious differences from its traditional counterpart, but the most important is screen space. Traditionally, the recommendation for KPIs and visualizations on a desktop range from 4-8 depending on visualization size. With the lack of traditional space the phrase "less is more" could not be more applicable for mobile analytics dashboards.
Although adding more visualizations is a possibility with the ability to scroll, executives don't want to be bothered with scrolling through similar-looking KPIs for minutes. Including the most important KPIs for executives is the best plan of action when creating mobile dashboards to reduce the possibilities of confusion and frustration.
Other important functions of mobile dashboards include the ability to comment and collaborate. Executives should be able to check their mobile dashboard and comment directly on the application to ask colleagues for a drill down of a negative trend. Without the ability to collaborate, mobile analytics becomes a much less resourceful tool.
Executive Mobile Dashboard Examples
Although decision-makers share a lot in common, the data each department collects is different and makes up an important piece of the puzzle. A general template can only achieve a limited result and catering to each executive's needs should be the goal of mobile dashboard builders. We'll break down each department of C-suite executives and provide a mobile dashboard example for each.
CEO Mobile Dashboard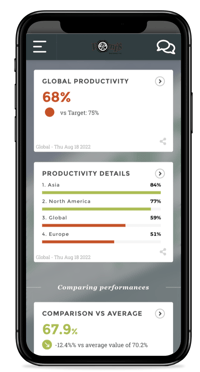 CEOs are the ultimate decision-makers and bear the responsibility of managing all departments and operations. Because they are placed under significant strain, providing them with the most insights possible promotes company growth and success.
Because CEOs are almost always on the move to get to meeting rooms, building out a mobile dashboard for the most impactful executive at a firm can increase a CEO's involvement in the data analytics process. Read our dedicated piece on the topic to learn more about the KPIs and considerations to keep in mind when building a CEO dashboard. (Link to building CEO dashboard article).
CFO Mobile Dashboard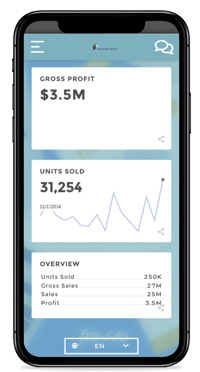 CFOs stand to benefit from mobile dashboards. 81% of finance executives believe that data storytelling is an essential skill for finance professionals. By transitioning data storytelling to the device that executives spend most of their time on, CFOs can view their data stories anywhere, at any time.
Because the finance world is changing at the fastest pace in human history, having a mobile dashboard of a CFO's most important metrics that update in real-time can bring in tangible returns. If you want to learn more about incorporating data storytelling in your CFO dashboards, read to learn more.
COO Mobile Dashboard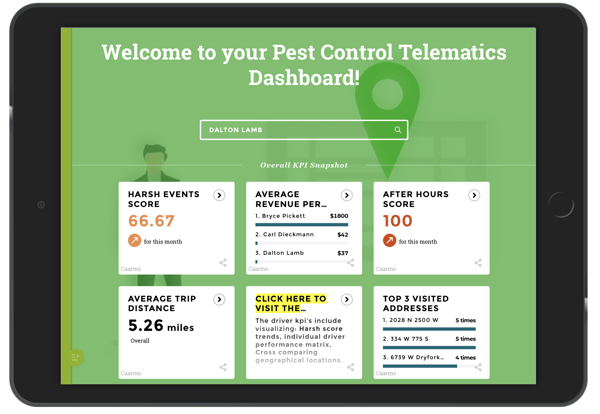 COOs arguably are the most in need of dashboards to track their organization's operational efficiency. Because mobile data visualization tools like Toucan update KPI metrics in real-time, COOs can keep a constant watch for negative trends.
We'll take the hospitality industry as an example for this mobile dashboard. The hospitality industry is known for its enormous amount of employees and its focus on employee training to optimize operations. The example KPIs we included in the example are:
Average Daily Rate (ADR)

Occupancy Rate

Employee Performance

Labor Costs as a % of Sales
These KPIs offer a big picture story of hospitality operations that a COO can access on the move. Because COOs operate in industries with different operational KPIs, it is important to narrow down the most important metrics to track operational efficiency.
CMO Mobile Dashboard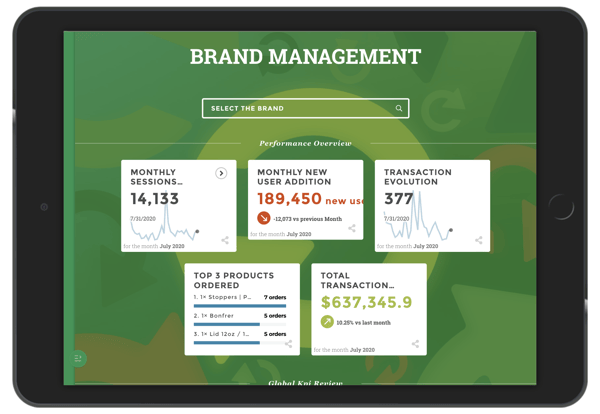 Marketing has undergone an evolution in the past decade. With the internet generating an explosion in advertising, marketing is now a science. CMOs must now track countless marketing channels to improve weaker performing ones and redistribute resources on the fly. Learn more about the most important KPIs for a CMO to track here.
In this example of our CMO mobile dashboard, we included the following KPIs:
Conversion rate

Customer acquisition cost

Revenue

Marketing ROI

CMOs must track many more KPIs to have a clear image of marketing operations. Because firms employ different marketing strategies, it is important to research your most important CMO metrics to incorporate in your mobile dashboard.
CIO/CTO Mobile Dashboard
Let's talk about the executives who are making the decisions to expand or reduce their data stacks, the CIOs. As experts, CIOs must track the current performance of their tech stacks to optimize performance. These metrics update constantly, and creating a mobile dashboard for CIOs can prevent tech outages and other short-term issues.
In our mobile CIO dashboard, we included the following KPIs:
Security incidents

System uptime/downtime

Hardware usage as a percentage of capacity

Network traffic
Depending on a firm's technology budget, you may want to construct separate mobile dashboards for its cybersecurity division, or even build mobile dashboards to evaluate the performance of your most expensive investments.
The Mobile Executive Dashboard Solution
Using a mobile executive dashboard is the next step in modernizing a firm's data stack. New generation tools like Toucan can provide a seamless dashboard building platform without the headache of a steep learning curve and data education.
Toucan's mobile analytics cater to specific use cases for several industries and departments, carefully tailoring its applications to the requests and needs of a client. By optimizing its traditional desktop capabilities to a mobile form factor, executives can be sure that they won't lose collaborative capabilities.