One of the most challenging parts of running a company is deciding what to do with your time. There are so many different tasks that need to be completed at any given time. This can make it hard to decide what to work on first. One way you can make this process easier is by creating an executive department dashboard. Dashboard organizes your company's priorities and lets you see them in one place, making it easy for everyone to get on board with your vision. We'll discuss how a dashboard can help increase productivity and reduce stress in your business on this page!
1. See Your Company's Analytics & Data in One Place
The beauty of an executive dashboard is that it allows you to see all your company's analytics in one place. This way, if someone at the company wants to see how a particular project is going, they don't need to go through half a dozen different reports. This also cuts down on the number of places people at your company need to visit for information, making their day more productive and less stressful. Businesses with dashboard usually go through a 100% increase in data availability.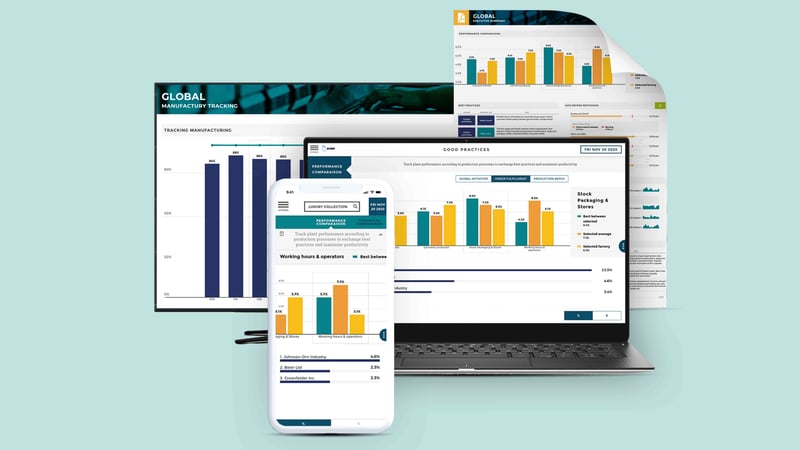 2. Assign Tasks to the Right People
The dashboard makes it easy to assign tasks to the right people. With one glance, you can see who's already allocated to what and how much time they have left. This way, if someone needs help with a task or wants to trade responsibilities, it's easy to do. Best of all, executives can instantly access this information without human contact. With a dashboard, businesses can save up to 20 days of time a year and do two times as many strategic projects!
3. A Clean, Easy-to-Read Platform
Are you tired of working on a cluttered, messy platform for analytics? Dashboards are laid out cleanly and straightforwardly so that you can quickly identify your company's priorities without having to dig through crates and file cabinets. Not only does this make it easier for an executive team, but it also makes for a more efficient work environment for the people at your company.
4. See What's Happening at Any Time of the Day
When you're trying to make decisions for your company, it can be challenging to have information readily available. That's why dashboards allow executives to see what's happening in real-time, so they can make the best possible decision for their company at a moment's notice.
5. Improve Productivity & Reduce Stress in Your Business
Dashboards improve productivity because they allow executives to make decisions faster and more accurately. This means employees don't have to spend time searching for information or waiting for a response from an executive, which can increase their stress levels. It also helps with deadlines because there is less back-and-forth between the people in charge of the project to complete.
6. Easier to Communicate Your Vision to the Rest of Your Staff
One of the benefits of an executive dashboard is that it allows executives to efficiently communicate your company's vision to the rest of their staff. This way, everyone knows what their role is and how they're contributing to the business overall. It also reduces stress because employees know that they're not just a cog in the wheel. Instead, they're an integral part of the whole operation!
7. Easier for Employees to Know What's Happening
An executive dashboard makes it easier for employees at your company to know what's happening. This reduces confusion and stress and encourages them to be more engaged in their work. Dashboard platforms such as Toucan Toco simplify the management of your company for executives and employees. Employees can easily see what's happening at any time with access to the dashboard. This allows the executive team to filter down information and analytics to anybody they see fit in the company.
8. Instantly Remind Your Staff About Deadlines
One of the benefits of an executive dashboard is that it allows you to remind people about deadlines for tasks instantly. This means that employees will be less stressed and more productive because they know what is expected from them. Not to mention, there will be no confusion on due dates.
9. Helps Executive Team Make Swift Informed Actions
An executive dashboard also helps a team to make quick educated decisions. Dashboards such as Toucan Toco make it easier for executives to see what's happening in real-time and make the best possible decision for their company. Not only does this help with efficiency, but it also reduces stress on execs by allowing them to spend more time working and less time trying to find information.
10. Shows Executive Teams Room for Improvement
If people at your company are not doing their jobs properly, they may need some assistance and guidance for their work. Without analytics, noticing problems like these as an executive is more complicated than with a dashboard. With an executive dashboard, you can see which areas of your company need more attention or improvement so you can quickly make adjustments.
11. Access More Data Than Previously Thought Possible
By providing executives with access to more data than ever before, an executive dashboard can be a massive help in terms of making more intelligent business decisions. This is especially true for larger companies, as the volume of data they need to monitor regularly can strain internal resources. Not only does an executive dashboard allow you to improve your daily work processes by simplifying them and making them more efficient, but it also can make the life of your employees easier.
Ready to Get Started with Dashboard?
As we explored, an executive dashboard is an excellent way for leaders to make informed decisions and get on top of their team's workload. It's also a valuable way for employees to know what's expected of them without all the confusion. With one glance on the dashboard, executives can see who's already allocated to what and how much time they have left. This way, if someone needs help with a task or wants to trade responsibilities, it's easy to do. If you want to make your life easier as an executive team, consider using a dashboard such as Toucan Toco.
For more information, please refer to the following pages: