Data visualization tools are part of an industry worth over $8 billion and it is growing.
These are tools that allow you to represent data in a visual format, so that information can be more easily communicated. Our modern world relies on data visualization. However, knowing which tools are the best for you can require a bit of research and comparison.
While the market is full of different tools and types with different costs and quality, this is a list of our top 10. Whether you are a seasoned professional or someone just getting into data visualization, these tools can help you.
Before this reading, be sure to understand what data visualization is.
1. Infogram

Infogram is based in Latvia. It allows you to make charts and graphs and share them with others. It works well for those who are looking for a slick final product without having to devote the time to learning excel or other programs.
Mains features
Infogram does have issues with a complicated interface and difficulty for Google to read the text presented. This can ruin a project, or make it textless. Also, if you want to change the size and scale of text you will have to upgrade your service to the premium service which starts at $25 per month and goes up into the hundreds.
Pricing
Starts at $25 up to $149.
2. Visme
Visme is a tool offering the ability to create presentations, infographics, and other visual content. This tool is intended for small or independent operations that want an easy-to-use data visualization tool.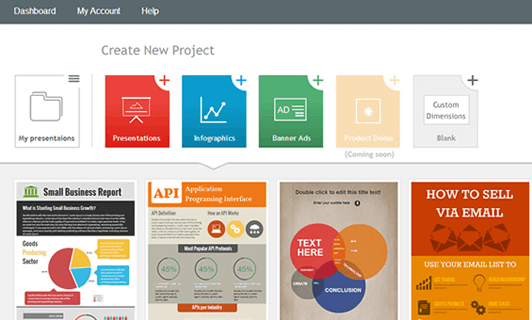 Based in Maryland, Visme is great for those who want beautiful infographics, reports, or social media images. It is possible to use completely free, but you should be aware that only 80% of its features are available without paying for a premium account. To unlock all services, it will cost you $25 a month.
Mains features
This makes it a great choice for small or independent operations that want an easy-to-use data visualization tool. For those who are more professional or serious, there are better tools for the money.
Pricing
Starts at $0 up to $39.
3. Canva
Canva is a free graphic design platform that allows you to edit photos without extensive photo editing knowledge or experience. It's a web application that has made the design easier for everyone, even the non-designers.

Canva is great for students or others who are just wanting to make a nice-looking background or infographic using stock images. It is easy to use, however, nothing you make using their stock templates can be copyrighted. This limits it for professional use considerably.
Mains additional features
Canva Pro, Canva Enterprise, Canva for Education, and Canva for Not-For-Profit users also get access to an additional set of features to make creation easier, including background remover, magic resizes to instantly change your designs to fit where you're planning to publish, and additional premium images, videos, animations, music and fonts.
Pricing
Starts at $0 up to $129 for professional use.
4. Sisense
Sisense is a business intelligence solution. They provide advanced tools to support businesses with complete data analytics features and reporting. Need for business intelligence skills to unlock the potential.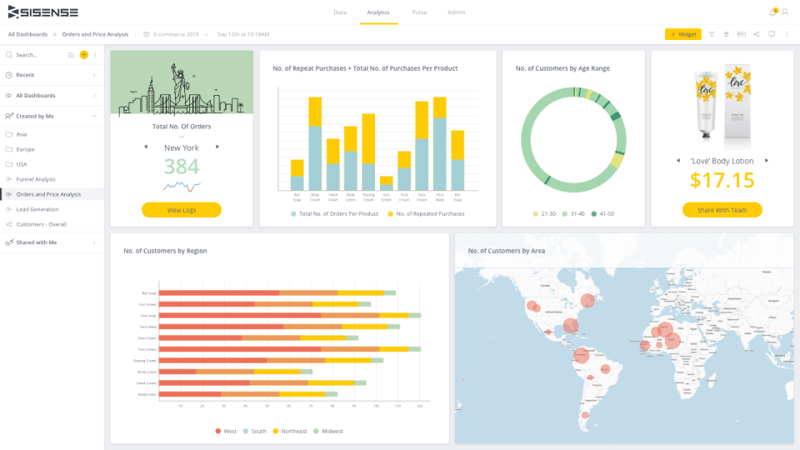 It's a professional tool that is often regarded as one of the top data visualization tools based in New York. You can build great dashboards and other infographics using Sisense. While this is a professional tool, the high cost of use means that not everyone will see as much value in using it.
Mains features
Ad-hoc analysis of high-volume data
Centralized data hub
Handles data at scale on a single commodity server
Interactive browser-based dashboards
Integrates with web portals
Exports data to CSV, PDF, Excel, Images and other formats
Pricing
It is one of the most expensive tools that cost $83 dollars per person and goes up from there.
5. Toucan Toco:
Connect people with data - no Ph.D. required. If you need data storytelling or apps built fll businesses, Toucan Toco is a great solution.

Toucan Toco is a fully cloud-based, end-to-end analytics platform built with one goal in mind: destroy the friction that exists between people and data. Users can connect to any data, cloud-based or other, streaming or stored, using Toucan's AnyConnect™ — a suite of hundreds of included connectors.
Targets
Toucan Toco could work for a larger, more established business but they are focused on small business solutions. If you have a small business and want tools to make your data visualization more accessible, Toucan Toco is a great option.
Mains features
Data Transformation
Data Modeling
WYSIWYG Report Design
Integration APIs
Connectors
Data Governance
Pricing
The price is based on the complexity and duration of each job, so you won't be paying an arm and a leg for a service you're not using.
6. Google Data Studio
Google Data Studio is a great, free data visualization tool that lets you build interactive dashboards, and customized, beautiful reporting.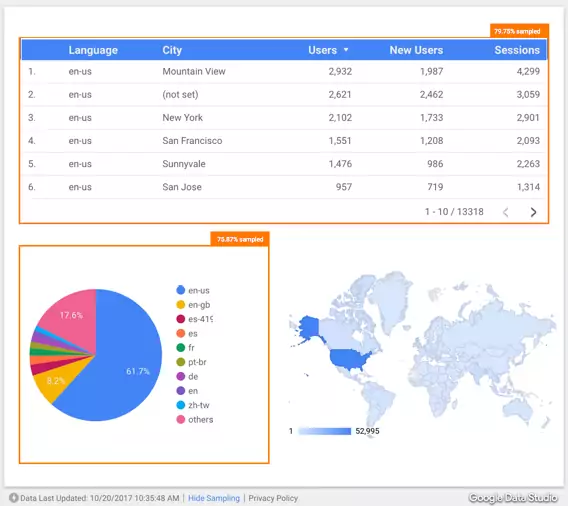 One of the only truly free data visualization tools on the market, Google Data Studio is great for translating raw data into reports and dashboards. While it lacks the templates and organization of some of the other tools, it does remain completely free with all of its services intact.
Google Data Studio is tied into the Google Analytics suite of offerings. This makes it easy to use if you're depending on that structure, but less advantageous if you're using your own systems or data input.
Mains features
Add Data.
Add Charts.
Theme and Layout.
Blend Data.
Adding Pages.
Edit vs View.
Pricing
Starts at $0 up to $29- 299$ for paid connectors
7. Tableau
Tableau is a powerful and fast-growing data visualization tool used in the Business Intelligence Industry. It helps in simplifying raw data in a very easily understandable format.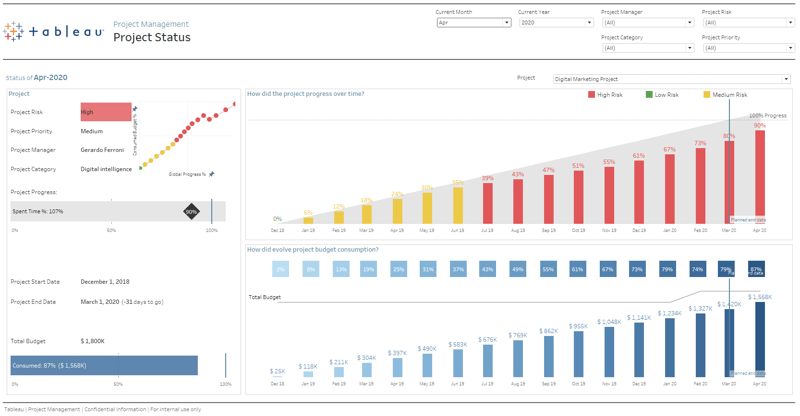 Tableau is a great and complete toolbox to get insights from your business data. On the other hand, you can't build your dashboard without dedicating a significant amount of time and with business intelligence skills.
Mains features
The Multipurpose Dashboard

Data Extraction and Blending

Predictive analysis and forecast
Pricing
Problems with Tableau come in due to the high cost of it, as well as the relative lack of support after purchase.
For a single user, the price is $70 per month.
8. Whatagraph
Whatagraph is a cross-channel reporting tool that helps businesses to track, measure, and analyze marketing performance with clients and teams.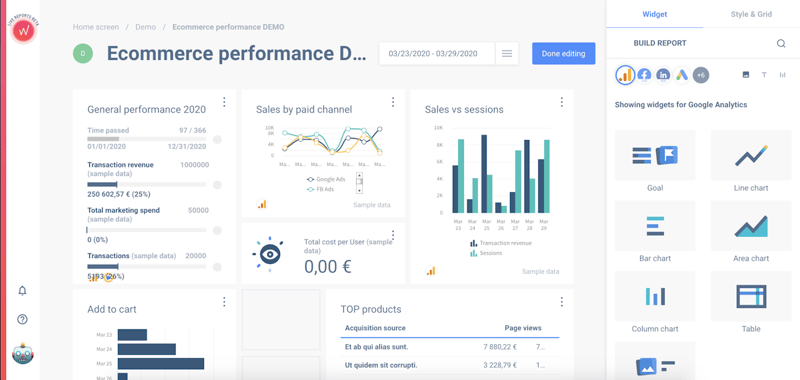 Whatagraph is a great solution for those who are building reports for clients. It has an easy-to-use and easy-to-understand format. It helps bring together data and automatically makes graphs and charts for your use.
Mains features
Data Visualization.
Data Automation.
Custom Data Reporting.
Data Source Centralization.
Integration.
Pricing
A big downside to Whatagraph is the cost of the service.
With professional packages costing $119 a month and premium packages over $200. There are even packages that will cost you $699 a month if you want to unlock all services.
9. DataWrapper
Useful for anyone who wants to build tables and maps, Datawrapper is a versatile tool that can help anyone from a journalist to a student. A lot of the Datawrapper services are free, but not all.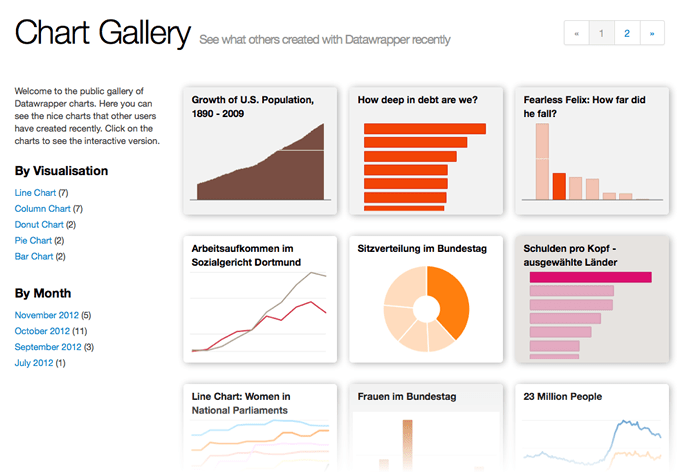 Datawrapper is an innovative data visualization software developed by Datawrapper GmbH for journalists, developers, and designers working in fast-paced newsrooms. It's an open-source solution that enables users to create and visualize charts and maps that are responsive, interactive, and embeddable in the organization's website.
Mains features
Maps
Export as PNG, PDF
Full chart styling customizations
Own custom layout
Discrete colors
Live chart updates
Pricing
DataWrapper does suffer from inflexible costs with a lot of free services but there are also professional packages costing around $600 a month. If you need more, you have to contact them and expect to pay even more.
10. ChartBlocks
ChartBlocks is great for making presentations and is good for those who don't want a steep learning curve.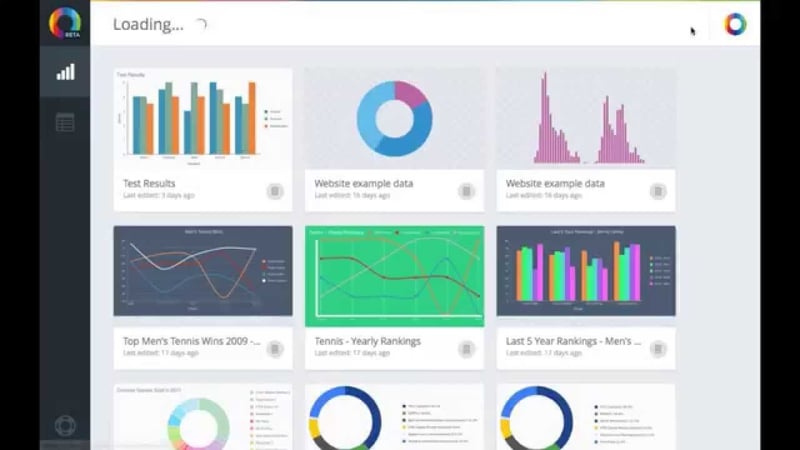 Chartblocks is a cloud-based data visualization tool for SMB to large companies. The platform offers different chart types for your data and contains pre-made templates with editable sizes, colors, fonts, grids, and legends.
Mains features
Analytics

Templates

Data Import

Social Media Integrations

Chart Building Wizard

Multiple File Support
Pricing
Data can be imported, and the cost is relatively low starting at around $65 dollars a month.
The Best Data Visualization Tools for You
What data visualization tools you go with will depend on what you need. Pricing, ease of use, and who they are designed for are all important factors. Make sure you choose a data visualization tool that works for your business.
If you want a tailored experience that is agile and appropriate for any business, Toucan Toco is ready to help you out. If you have any questions about what we can do, or what we offer, please don't hesitate to contact us.