The current issue is to be able to extract the right data at the right time to make the most of it.
Outdoor advertising company JCDecaux wanted to create a digital version of the media kit used by their sales and marketing teams, a cornerstone of their digital transformation strategy.
A true challenge: transforming the customer experience
"Our tools were neither up to date nor aligned with the vibrant world of advertising", says Alban Duron. We had to find a way to make our media catalog "more appealing, more dynamic and more interactive".
To tackle the issue, JCDecaux chose to work with data storytelling solution Toucan Toco in June 2016. Only three months later, the Power store was set up. Power Store is the new interactive application combining all networks on which JCDecaux operates.
Today this solution enables all sales teams located in France to present JCDecaux's services in a more dynamic format. It includes mapping of display materials and media segmentation related to socio-economical and behavioral data for customer targeting.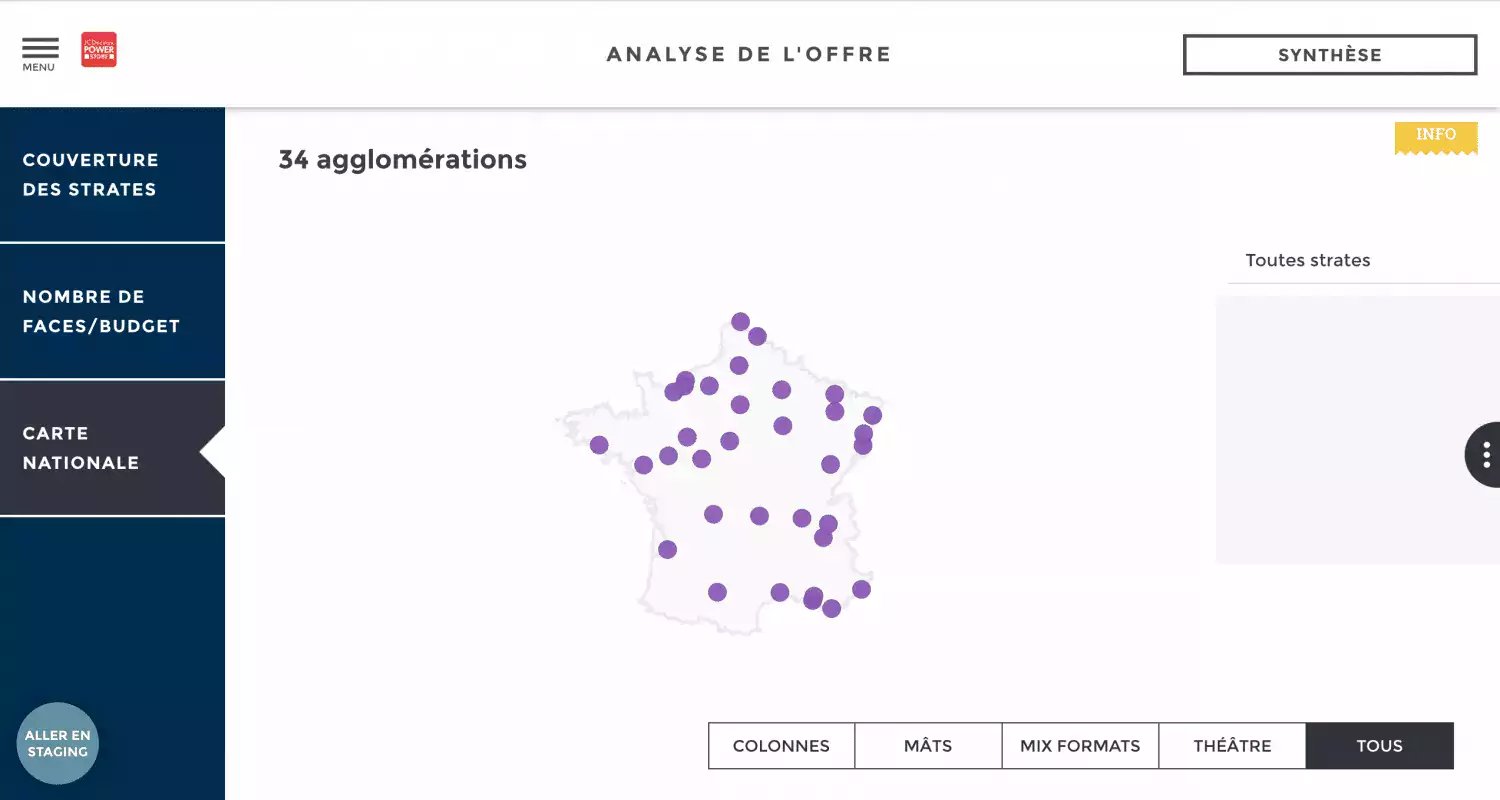 Contextualize client issues
Sales teams have been using Power Store in two ways. First, to introduce services clearly during sales meetings. It provides clients with better understanding, in a way that allows them to relate to their own issues.
Second and just as interesting, is the way this application is now becoming the preferred access point for the teams to get marketing information. This joint project "brought stakeholders closer and optimized exchanges between sales and marketing teams". Usage is currently at 250 regular users with more than 90% of employees saying they would recommend the product.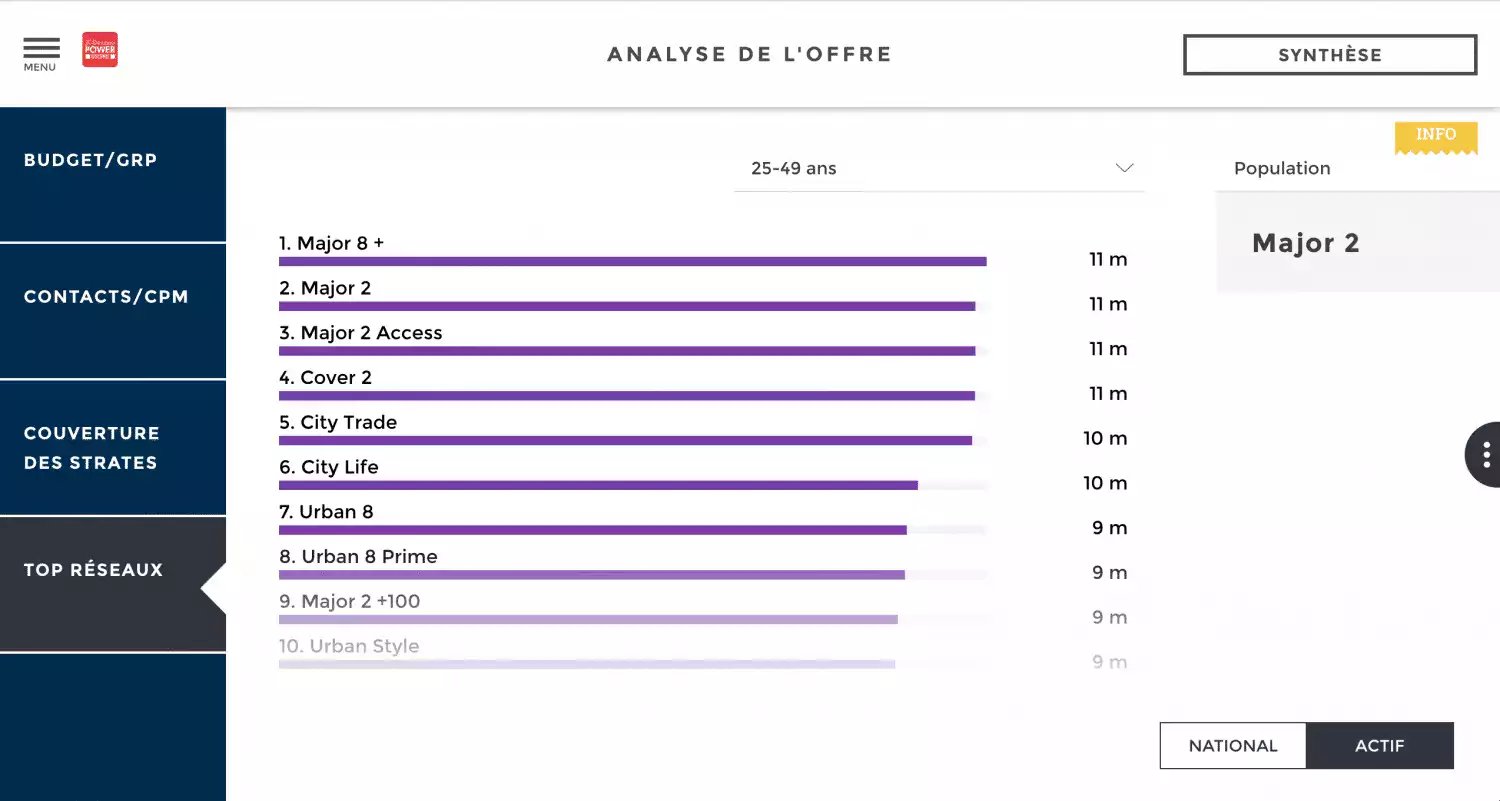 An improved client relationship
This application "transformed the day-to-day relationship of our salespeople with their clients", adds JCDecaux France's Marketing Director. "We went from a face-to-face relationship to a side-by-side relationship with our clients, by infusing dynamism into the exchanges thanks to data storytelling".
Indeed, the application is used for 12 minutes on average, 3 times a day by each individual user. It also provides close to 20 relevant indicators presented during appointments.
JCDecaux and Toucan Toco achieved this result by implementing the application through an agile process. Although agile methodology wasn't part of JCDecaux's culture, it proved itself efficient for quick production and easy iteration.
Post-deployment operational follow-up is essential
Ultimately, a good tool means nothing if proper training and follow-up for the teams are not well thought out beforehand.
To ensure adoption, usage, and satisfaction, Alban Duron also insisted on how important it is to support the teams without underestimating the need for training on the field. As a result, the group set up online training modules to teach how to rethink the sales meeting in its entirety.
. . . . .
Toucan Toco was founded in March 2014 by Charles Miglietti, Kilian Bazin, Baptiste Jourdan, and David Nowinsky after noting that only expert analysts managed to get easy access to performance data in companies.
Since then, they decided to widen access to information for beginners and to give them back their decision-making power through a new specialty: data storytelling.