Why Look for an Alternative to Sisense?
Sisense is known for its powerful, complex solution that can meet most business intelligence requirements. However, it is also marked by legacy architecture, limited customizations, and a confusing set of APIs. You're going to think "it's easy to say bad things about your competitors", except that's not the point. Sisense is a good tool if it's intended for data scientists or people who are very acculturated to data and numbers manipulation.
The good news is that this population of technical people exists and Sisense meets their needs.
On another hand, the use of data is being democratized in companies and everyone should be able to get the most out of it and have clear and up-to-date information about their business.
Three other factors come into play:
The tech team is often a precious and limited resource. Evaluate how much the solution fits with your stack and your workflows
Their non-technical colleagues (Product Managers, Customer Success Managers, etc..) are often best placed to iterate directly with the users, in full autonomy
You will engage in a long term relationship. That doesn't mean you shouldn't have an exit plan! What would it mean to switch tool?
Don't take our word for it! By all means check out peer companies' feedback such as the G2 report comparing the top embedded analytics tools in the market.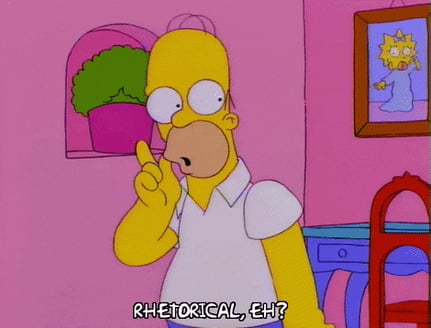 What are the right questions before you buy? 🤔
How much will this cost me to maintain in the long-term?
Can I set it up in any environment and connect any data source?
How easy is it for my end-user to get started?
Am I depending on proprietary technology, and will this cost me later?
Can I customize the analytics to fit my product design?
A modern-era data tool like Sisense is designed for exploration, not communicating data. So ask yourself, what are my users after? How much time will they spend on the tool? How data-savvy are they? Do I want them to onboard in autonomy or am I ok with training them before they can use the tool?
As you move from the legacy or traditional tools of the 1980s, through modern data explorations tools of the 2000s (e.g., Sisense), to embedded analytics-based data communication, Toucan Toco offers a smarter alternative.
Here's why.
4 Reasons to Choose Toucan Toco as the Perfect Sisense Alternative 🙌
1. Save on setup
Again, setting up a tool as Sisense can be difficult, with a confusing decision to make between three different APIs. It proved so challenging that Sisense was compelled to launch a tutorial trying to explain which one to select, why, and the multiple configurations involved in the process. And if you change your mind, the entire thing needs to be rebuilt with a new API.
OMG 🙈 are you starting to see the point here? If Sisense set-up was easy they wouldn't charge tens of k$ for it, would they?
Our alternative to Sisense has a single API setup, with clear toggles for interactivity. You build once and then deploy as needed standalone applications, full web pages, single widgets or PDFs,
We also use the tools that you do.
You want an on-premise set up? You choose your technology. Sisense is a pain to set up on anything else than a windows server.
You don't have to learn a proprietary querying language to use Toucan. In fact, we even built our Visual Query Builder on open source technology (MongoDB), and we open-sourced it. You're welcome to contribute!
2. Simplify customization and maintenance
In addition to effort savings during setup, Toucan Toco offers deeper customizations than Sisense.
As one user mentioned, "My biggest gripe right now with Sisense is the limited UI customization and visual options. I get they are trying to go minimalist but not even being able to set the dashboard/widget background is wild."
Well, we hear you, and we completely empathize! That's why our solution enables minute customization, including fonts and colors – meeting your needs and the end user's expectations. As a result, they now feel comfortable in an environment they recognize.
What's more? We solved what's been a major bugbear for developers: product maintenance.
We offer version control via GitHub so that your tech team can track changes as per existing workflows. You can monitor every customization across every embed with easy rollback if necessary, all from a centralized admin interface.
Fun fact: G2 rates us 98% for ease of admin, compared to 82% for Sisense. Check it out.
3. Amplify end-user gains
Highly sophisticated business intelligence isn't everyone's cup of tea. What percentage of your users have data science skills, realistically? And when you give them complex, hard-to-access analytics, what will their adoption curve look like? This is among the biggest drawbacks of solutions like Sisense which is only addressed to one category of employee: technical profiles.
On the opposite, our Sisense alternative follows data democratization principles to amplify the benefits from data for every end-user (technical and non-technical alike).
We do this in three ways:
First, we ensure that the user experience (UX) is easy, engaging, and mobile-first for greater accessibility.
Next, we provide in-app onboarding, guiding the user through contextual tips and dynamic tutorials. You can add zero onboarding costs to your list of savings.
Third, we add collaboration features that allow users to make the most of the data – such as insightful alerts and PDF bursts.
4. Scale without a worry
We know that sometimes you have to start small and iterate fast to go big.
We're flexible enough to work with 2 people start-ups and help them get their first customers as well as scale-ups with tens of thousands of users.
When you scale data volumes, hosting cost will become a challenge. Sisense runs on proprietary data management technology.What are the chances they do a better job than best of breed cloud providers such as AWS, Google or Azur and database providers? Toucan Toco's alternative to Sisense does away with a proprietary base in favor of open-source MongoDB and its cloud counterpart MongoAtlass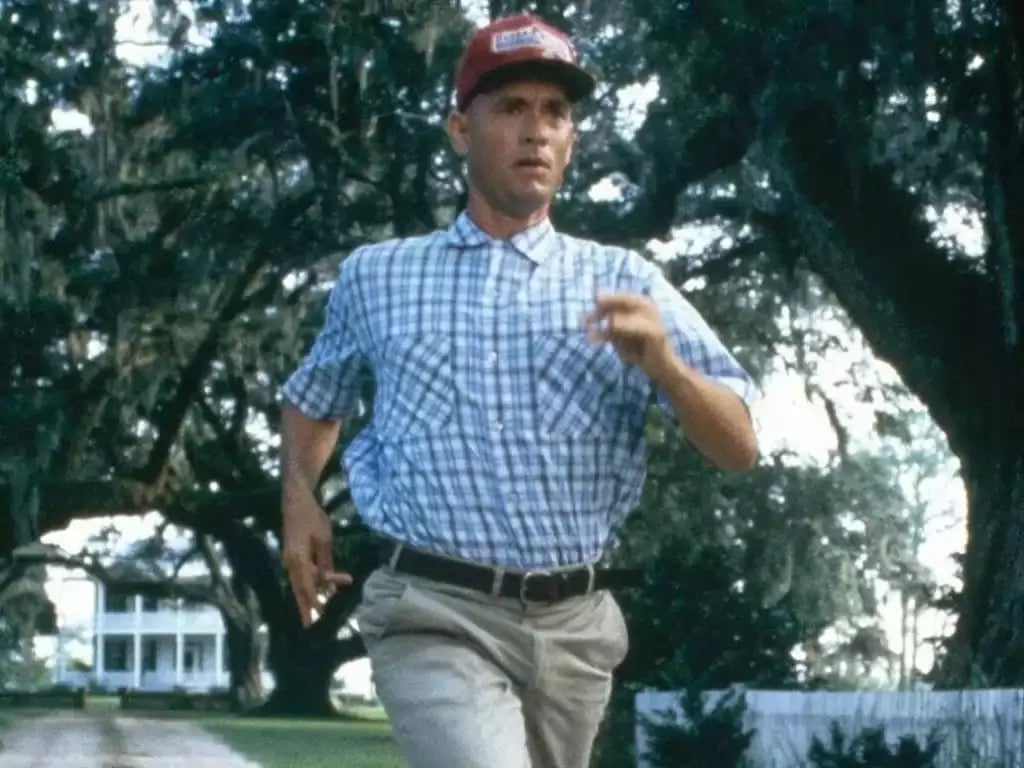 Simplicity Today, Scalability Tomorrow 🚀
Here's a quick recap of how our embedded analytics tools stack up as an alternative to Sisense.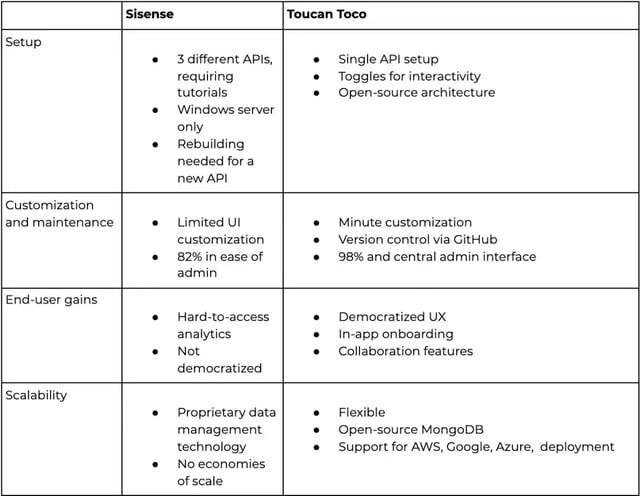 To know more about our Sisense alternative and how it's helped hundreds of product companies, email me at florent.rambaud@toucantoco.com