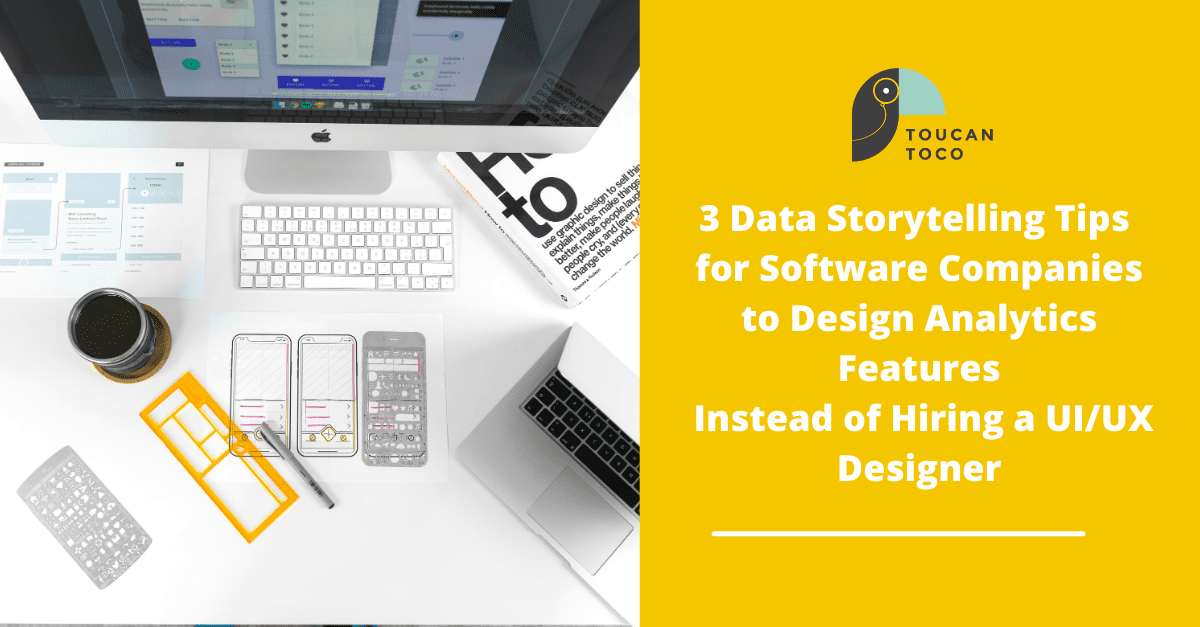 So, no matter the industry you're in, empowering your customers with insights through reporting features has become a must. But making these insights understandable and, most importantly, actionable is the real challenge.
This is why software providers try to improve the user experience (UX) of their analytics features in a bid to drive up adoption, boost customer engagement, and build retention.
The problem with hiring a UI/UX designer for the job
In the digital world, users now expect a fast, smooth, and intuitive experience on every interface. Non-technical users particularly, won't discriminate between consumer-grade apps and a data analysis portal for enterprise use when it comes to setting their UX benchmarks.
This is probably why UX has become a top priority for software providers: the number of companies prioritizing UX increased by a full 8 percentage points between 2018 and 2019.
This also leads to a rise in demand for UI/UX designers. Last year, it was the 2nd-most in-demand job, making it difficult to find and hire the best experts for the job. Assigning a dedicated internal resource for this purpose could delay your overall product timeline—meanwhile, end-users struggle with a sub-par UX and an underutilized product with great potential.
Done right, a good UX could transform your product experience and its impact.
For a simple website, a well-designed user interface (UI) can increase conversion by a whopping 200% .By leveraging UX design to boost customer retention by 5%, you can unlock a profit increase of 25%.
Let those numbers sink in for a second.
Investing in UI/UX brings exponential benefits, and interestingly, you don't have to hire a designer to get it done. A dedicated resource would need additional training on your industry and product functionalities. They would have to collaborate with Customer Success for months before they can come up with a UI/UX refresh that aligns with your users' needs and feedback.
There is a smarter alternative to this: follow data storytelling best practices.
3 data storytelling tips to optimize your UI/UX
Data storytelling is the next step in the analytics evolution.
It positions each data point, visualization, and dashboard like a word, sentence, chapter, or story element – which together form a coherent narrative. After going through the end-to-end data story, the user can glean actionable insights from their data, without crunching the numbers.
This is the biggest difference between data storytelling and data exploration.
The latter is great for technical users, business analysts and data scientists who aren't necessarily looking for a killer UX. But for business users (most of whom fall into that untapped 70% discovered by Gartner), analytics usability, data storytelling, and adoption are intrinsically linked.
Here are three tips and best practices for a data storytelling-led reporting feature that doesn't require designer intervention:
1. Keep the options limited; go for a guided framework
Once you've decided to create a reporting feature, users won't be navigating out of your product to export data, feed it into a BI engine, and generate reports. They will stay on your app and play with the filters, parameters, and tools instead.
It is vital to know how much freedom to offer in this type of self-service environment. Data storytelling will lay down structured workflows that fit the usage habits of a non-technical audience. It will reveal only the most relevant and "eye-catching" insights, minimizing the risk of white page syndrome.
Consider the example of VoiceBase. The company uses AI to convert voice into analyzable data as well as actionable insights, and these are presented via data storytelling dashboards.
"Often, you have to tell users what they need or what they want. This is because [business users] may not know there is a needle pointing in the right direction. Help them to see what's there, what needs their attention. That's why you need a way to guide them, by making things obvious and highlighting the starting point," Walter Bachtiger, CEO of VoiceBase.
2. Approach each graph like its own story
The majority of your audience isn't looking for a BI tool. They either built it internally or they already have a dedicated vendor for it. Your job is to solve their business problems, powered by data. To do this, your customers want actionable insights that can inform their decisions.
You can make your analytics blocks more intelligible by reimagining them as self-sustaining stories. First, segment all the information you're conveying through the graph into categories – think of these as chapters.
Next, use these chapters as a navigational guide, each chapter indicating an area of added value. End-users can zero in on a chapter depending on their business role and catch the relevant insights. When all the chapters come together, it tells a full story.
A good rule of thumb here is the KISS principle: Keep It Simple, Silly.
3. Introduce personalization wherever possible
Just like we could all read a story and still find different takeaways, a data analysis UX depends on the user sitting in front of the screen, their business problems, their goals, and the decisions they're looking to take. Research suggests that 1 out of 5 consumers would pay 20% more for a personalized product – you could take advantage of this trait by building personalization into your data story.
#ProTip: Offer role-based access to the reporting feature for power users, managers, and the average Joe.
Now let's see how you can apply these best practices :
The first thing to remember is scalability.
As your product grows, reaches new platforms, and addresses more use cases, the UX quality should keep up.
Next, plan for mobile UX. An overwhelming number of users will log in from their smartphones, and 40% will abandon the page if it takes more than 3 seconds to load. UX design that's not just adaptive but also mobile-first will help you engage your users.
Fortunately, white-label embedded analytics makes it much easier to apply data storytelling principles, even without a UI/UX designer at hand. C to know how to get your dashboarding features off the ground quickly, easily, and without hiring extra resources (or distracting your teams from your main roadmap).