A human resources department dashboard is an organizational tool that can be used to streamline HR management. It brings together all the pieces of information HR professionals need in one place, making it easier for them to do their job and generate more revenue for your business! This page will go over 11 benefits of a human resources department dashboard.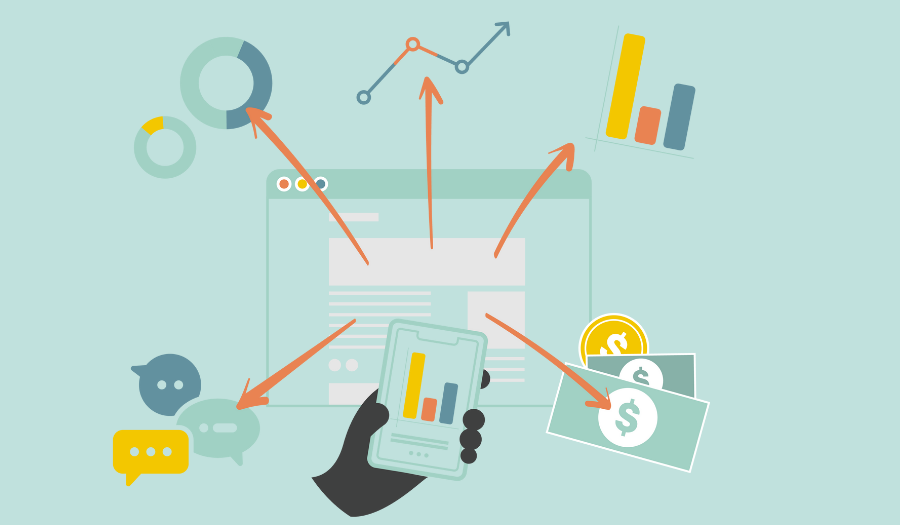 1. Combine Several Source of Data into One Source
Do you know how painful it is to combine various files and PDFs into a readable manner so that you can show your executives that you know what you are doing? Yea, this isn't fun. A human resources department dashboard allows you to combine data from different sources, making it easy to access all the data your HR team needs in one place. This simplifies the process and makes it easier for HR professionals to do their job.
2. Share Insights Across Your Entire Company
With so much data at your fingertips, your HR team will likely want to share their data across different departments. When you use an online dashboard, you can easily share data with other departments in your company. This allows everyone to be on the same page, so they all know what's going on and work together more efficiently! The dashboard might turn into such a hit across your company that other departments start to then use it for their own purposes!
3. Simplify Payroll & Benefits
Being able to track your payroll distribution and comparing it to industry standards with a human resources department dashboard can help make the lives of your HR department much more straightforward. It can also integrate with other information management systems, making it possible to update new hire paperwork with recent salary changes, onboarding dates, benefits offered, and much more within a few clicks!
4. Never Lose Your New Hire Paperwork Again!
Any experienced HR manager knows the pain that can come with losing paperwork on one of your new hires. Without an HR dashboard, new hires' paperwork is typically scattered around various places in a company (such as in email inboxes or shared folders). With an HR dashboard, all paperwork is available in one place and can be accessed easily without searching for documents!
5. Access Workforce Data in Three Clicks!
Just 15 years ago, HR teams might have laughed at you if you told them that all of your workforce data could be stored and quickly pulled up on digital devices within a few clicks. Now that using a dashboard is an option, nobody is laughing anymore.
In reality, your HR team likely has many different KPIs that they need to track. An HR dashboard can simplify and reduce the number of steps it takes to access information, making data more accessible for your HR professional to find and manage.
6. High Usage Rates After the First Test
An HR dashboard can generate complete reports within a couple of hours and help teams turn around projects father than previously imagined possible. Due to the simplified process of gathering and sifting through data, 85% of HR teams that try out a dashboard for the first time become regular users.
With such as high usage rate, the experience and actions of previously unconvinced HR teams speak for themselves. The reality is that a dashboard is so simple to set up and use, making it seamless for HR team members of varying technical skill levels to collaborate on a dashboard easily.
7. Track Time, Attendance, and Employee Activity
HR departments should focus on improving employee productivity and not struggle with efficiency problems themselves! A human resources department dashboard can help with timekeeping by potentially integrating with your organization's payroll system. In addition, track attendance in real-time, so you know when employees come into work, leave for lunch, have scheduled meetings, and so on.
8. Reduction of Systemic Errors
Having a dashboard in place can help reduce the possibility of systemic errors. By streamlining processes through an HR dashboard, it becomes easier to detect errors before they happen, which reduces operational error rates. Your HR team should arguably be the most organized department in your company. Therefore, there should be no more tolerance for errors now that using a dashboard is possible!
9. Performance Management
Your HR team is likely always on the lookout for ways that they can improve workforce efficiency. Before the idea of a dashboard came around, options were severely limited. A human resources dashboard can help you benchmark your HR metrics against other organizations so that your team knows exactly how well your employees are performing. Using a dashboard is the ultimate tool if you want to bump up your team's performance and have real-time data to help you make decisions.
10. Budgeting and Reporting
An HR dashboard provides valuable information that helps with budgeting decisions, such as data on the cost of new hires or managing overtime expenses. Previously, your finance team would have to look through various accounts and pieces of paperwork before valuable financial decisions could be made. Budget reports and coordination across different departments have turned into an instant process now that dashboard is around!
11. Reduce Paperwork Burden
The days of having an endless stack of paperwork to sift through are over with the induction of dashboard! Paperless workflows can reduce stress for both employees and managers by making it easier to store and pull up information. Best of all, companies that use a dashboard typically see a 6% increase in sales within three months! You can do your job better than ever before by handling information paperlessly.
Want to Try Out an HR Dashboard?
A human resources department dashboard is a powerful organizational tool that streamlines the process of managing your company's human resource needs. If you want to learn more about this topic or implement it in your organization, contact us! We would love to help make your business thrive with our expert knowledge and technological solutions.
For more information, please refer to the following pages: